This post may contains affiliate links for your convenience. If you make a purchase after clicking a link we may earn a small commission but it won't cost you a penny more! Read our full disclosure policy here.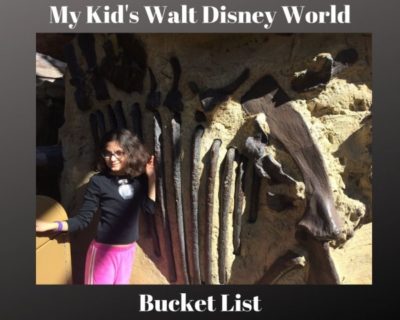 This kid has been to Walt Disney World three times but she's got a bucket list!
The other day, I starting writing my blog post about my Walt Disney World bucket list. My daughter was sitting in the same room with me, and asked me if I wanted to hear her bucket list! Some of the things she said surprised me. Others I could have guessed. And one of them made me laugh out loud. Without further ado, here is her list: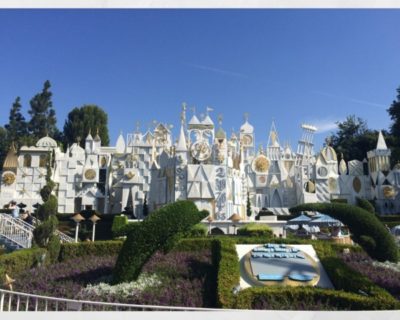 She rode it's a small world at Disneyland four times in a row once!
I'd like to think that she'd change her mind after an hour or so, but I'm not so sure. When she turned four, we celebrated her birthday at Disneyland, and she insisted that we go on four times in a row in honor of her fourth. But an entire day? I wonder….
EAT EVERY SINGLE PASTRY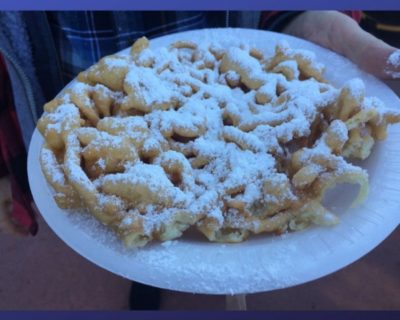 I tried to explain to her that this would 1) take decades 2) give her a terrible stomachache or 3) both. But I don't doubt that she would try. Just thinking about every single sweet treat at every single restaurant, snack stand and kiosk at every park, resort, water park, golf course, Disney Springs…..I think my blood sugar went up just thinking about it!
LIVE IN WALT DISNEY WORLD
This one, although highly unlikely, is actually a possibility. Disney's Golden Oak is a private luxury community on Walt Disney World property. Mind you, the least expensive option starts at two and a half million dollars. But if my kid fulfills her dream of becoming a Disney Imagineer, who knows? Maybe she get promoted to the head of Imagineering, make a boatload of money, and buy a home here. And when she does, hopefully she'll remember her doting and kind mother who pushed her in a stroller throughout Disney theme parks more times than she can count….
GO ON FLIGHT OF PASSAGE ONE MILLION MORE TIMES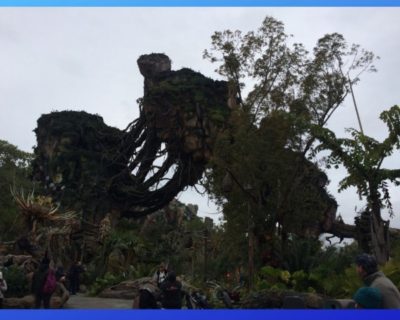 My daughter's school keeps telling me that she's a math genius, but even she couldn't calculate how many days it would take to accomplish this. But it makes me so happy that she even wants to. On our last trip, my daughter reluctantly agreed to go on Flight of Passage but changed her mind at the last minute, right as we were about to get on the vehicles. A very kind and patient Cast Member took the time to crouch down and talk to my daughter and explain the mechanics of the ride and how there is no actually flying involved. After hearing that, my daughter decided to try the ride. And she LOVED it. Enough, apparently, to want to ride it a million more times….
GO THERE ON CHRISTMAS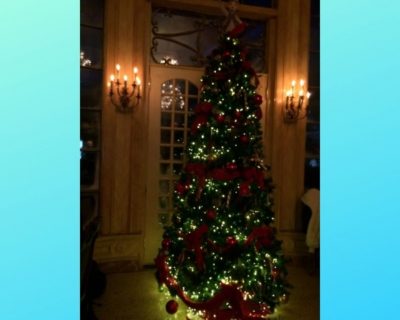 This is probably the one bucket list item that she's most likely to do. The kid was blessed with a Mom who absolutely adores Disney travel. But she was also cursed with a Mom who is a classical singer with a church job and cannot possibly miss Christmas Eve. I supposed we could leave right after midnight mass and fly to Orlando, but with the time change, the likelihood of us actually getting to spend any part of Christmas Day there is slim. Not to mention the fact that I am terrified of Christmas crowds. But one day my girl is going to grow up, and once she is planning her own Disney trips, I'll bet she arranges to be at Walt Disney World on Christmas Day!
What items are on your kids bucket lists? Let us know your thoughts in the comments, or on Facebook or Twitter!
Did you like this article? Make sure to share it with your friends! Check below for easy ways to share!
Want to visit the Walt Disney World Resort? Contact The Magic for Less Travel for more information and a free, no-obligation quote.

Incoming search terms:
disney world bucket list for children