This post may contains affiliate links for your convenience. If you make a purchase after clicking a link we may earn a small commission but it won't cost you a penny more! Read our full disclosure policy here.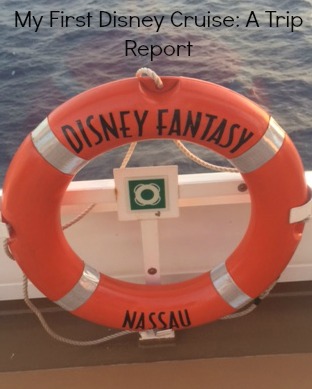 I recently took my very first Disney Cruise, and I have to tell you, I foresee more cruising in my future! My mom and I took a 3 night cruise on the Disney Fantasy from May 17-19, 2017; this cruise was extra special- it included a "double dip" at Disney's private island, Castaway Cay! I've taken two cruises in the past with other cruise lines, and just like with everything else, Disney went above and beyond to provide an exceptional experience at sea. Here, I'll give you some of my thoughts about my very first Disney cruise!
DAY ONE: SAIL AWAY PARTY AND A NIGHT AT SEA
We boarded the Disney Fantasy around noon on our first day, took a look around the ship, and headed to our stateroom, where we found our luggage already waiting outside our door! With the help of our fantastic Magic For Less travel agent, we secured a deluxe family stateroom with a large porthole, full size bed, and plenty of storage space for our things. Being a New York City resident, I'm used to tiny living spaces, but cruise ship staterooms are exceptionally tiny! We quickly unpacked, headed to Cabanas buffet for lunch, and hit the pool!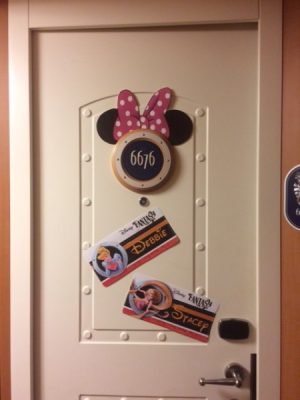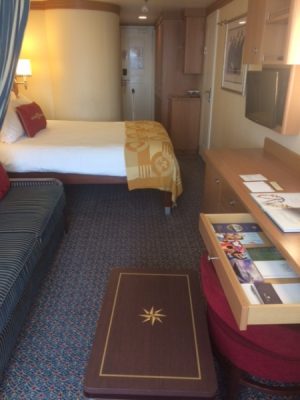 After a little swimming, a trip down the AquaDuck, and an ice cream cone (all you can eat ice cream is located poolside!), it was time for the Sail Away Party! Mickey, Minnie, Donald, Goofy, and more hit the stage on the pool deck, singing and dancing as the ship left Port Canaveral. We stood on Deck 12 so we could look out at the ocean and enjoy the performance down on Deck 11. The party definitely got us in vacation mode!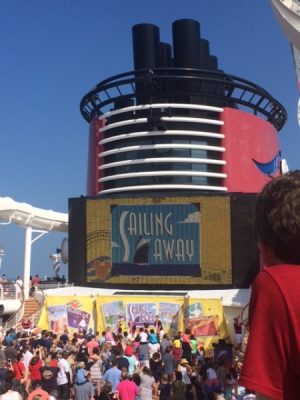 We chose the early seating for dinner, 5:45 PM, so we headed down to our stateroom after the party to get ready for dinner. Disney Cruise Line does rotational dining, so each  night you, your table-mates, and your servers rotate to a different restaurant with a different themed menu for dinner. Our first meal was at the Enchanted Garden; if you're a meat eater, I recommend the prime rib! We finished dinner and headed to the theatre to enjoy a Broadway-style show, took a walk around the ship, and headed back to our stateroom. I had been told to order cookies and milk from room service, so I made sure to include this in our evening!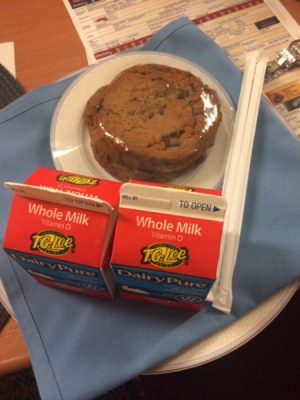 DAY TWO: CASTAWAY CAY STOP #1
We woke up early on our first day at Castaway Cay; a free 5K is available to all who want to participate, so we decided to get some exercise in (to make more room for food, of course!). We hit the island early, did our 5K, and grabbed the tram over to Serenity Bay, the adults only portion of the island. After a bit of relaxation, it started to drizzle (just for a few minutes), so we decided to grab lunch. The adults-only dining location was packed, so we walked back over to the family beach and dined at Cookies Too. We spent the rest of our trip in the family section of the beach; it was surprisingly quiet, and we were able to easily snag a few beach chairs!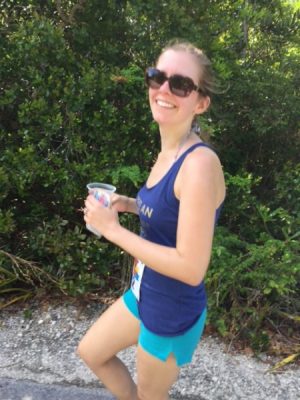 Though I was rocking the motion sickness patch, day two brought on some seasickness for me. I left dinner early (my mom stayed and enjoyed a 3-course meal, per my insistence!), and headed back to the stateroom to lay down. I called room service (included in your cruise price, but be sure to have some cash for tips!) and ordered some chicken noodle soup and peppermint tea to settle my stomach. Less than 5 minutes later, my meal arrived, complete with a bunch of crackers, perfect for an upset stomach!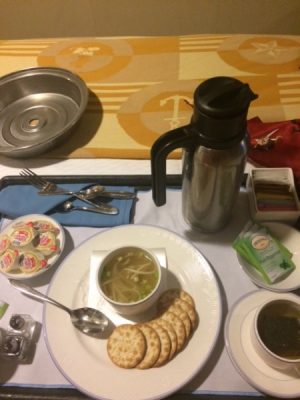 I ate, watched a little bit of Tangled (there are tons of movies on demand for free!), and we headed out to enjoy Aladdin, my favorite of the theatre productions. Since it was pirate night, we went up to the deck to enjoy a pirate show and some fireworks! Afterward, the pirate-themed buffet opened up at Cabanas. My mom enjoyed some crepes, petit fours, and other treats, while I stuck with a fresh baked cookie! We finished our night at the movie theater, catching an 11:00 p.m. showing of Beauty and the Beast.
DAY THREE: BACK TO CASTAWAY CAY!
What's better than one day at Castaway Cay? Two, of course! This island has to be one of the most beautiful places I've ever seen. Pristine beaches with powdery sand, water so clear that you can see the fish swimming past your toes, plenty of beach chairs and umbrellas, and unlimited food! My stomach, unfortunately, wasn't 100% by day three, but I was feeling much better!
We got up early, enjoyed a breakfast at Cabanas, and headed straight for the family beach on Castaway Cay. We were one of the first families to hit the beach, and Mickey Mouse greeted us for a photo (with no line!!). We grabbed a giant plate of watermelon, got our books, and relaxed on the beach all morning.
We headed back to Cabanas for lunch, since the selection was so much greater than at Cookies or Cookies Too. If you're a barbecue fan, Cookies will absolutely satisfy your needs (we really enjoyed dining here on day one!), but we were looking for more selection, and Cabanas has just about every food you could imagine. While dining at Cabanas, our server, assistant server, and dining room director saw me eating lunch, and all stopped by to ask how I was feeling, and offer some tips to getting back on my feet! The service is truly unparalleled, and I felt so touched to have been remembered!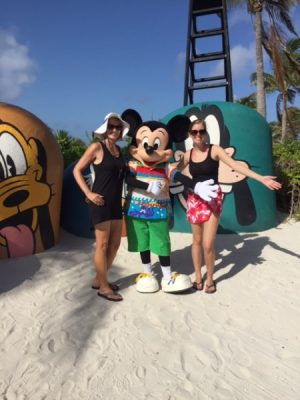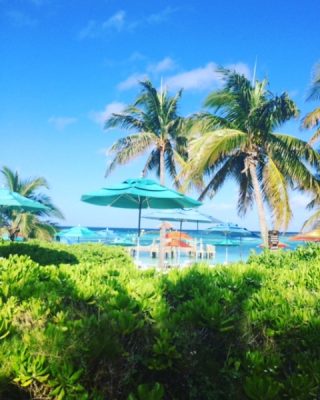 Once back on the ship, we decided to enjoy the pool deck instead of heading back out to the island. We rode the AquaDuck again, met Goofy as he walked past our lounge chairs, watched a few movies on Funnelvision (the giant movie screen over the pool!), and took a few dips in the pool to cool off. A perfect day!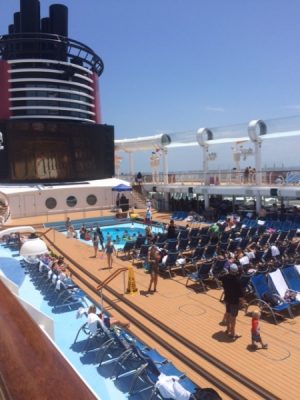 Dinner on night three was my very favorite. We dined at Animators Palate, an animation-themed restaurant with interactive illustrations on the walls! It reminded me a lot of Turtle Talk with Crush at Epcot. We ordered the famous pasta pursiettes, pasta filled with truffle and cheese in a champagne sauce, had some great entrees, and finished off with dessert (try the lemon ice box pie; refreshing and delicious!). We headed out to enjoy the final Broadway-style performance, and went to check out a trivia game in The Tube, an adults-only lounge.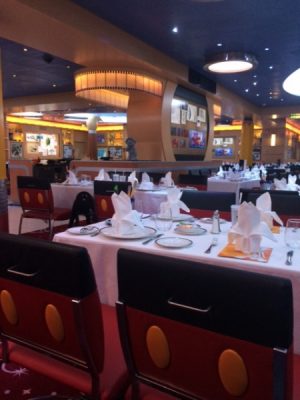 While playing trivia, Commodore Tom came over the speakers, informing us of an engine malfunction. This malfunction would cause us to arrive at Port Canaveral late the following day! For many, this involved missed flights home, but since I was scheduled to stay in Florida for two more days, it just meant more vacation time for me! We wandered over to a food booth and picked up some pizza bagels, mozzarella sticks, and other bar bites and headed back to our stateroom to watch a movie and relax.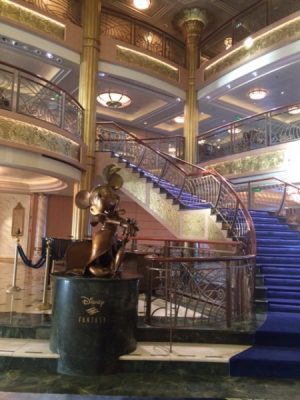 DAY FOUR: BACK TO PORT CANAVERAL (A LITTLE BEHIND SCHEDULE)
We woke up early to go enjoy our last breakfast at Animator's Palate; I ordered the waffles and bacon, and started off with a croissant and some tea. Our servers were phenomenal; our assistant server remembered my tea of choice, Darjeeling! Since we were arriving to port late, we donned our bathing suits and hit the pool deck! They filled the pool again, played movies, and offered lunch at Cabanas. Since we packed light, we carried our bags off the ship and were out by 11:00 a.m.!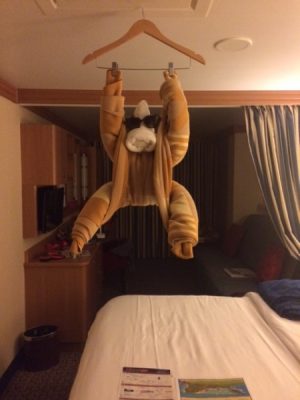 SUMMARY
Even with a bout of motion sickness, this was one of the most memorable and special vacations of my life! Everything on this trip is beautiful, from the pristine Disney Fantasy to breathtaking Castaway Cay. Being a Disney World fanatic, a Disney Cruise Line vacation is so different. We were able to really relax; there was no running around (unless you wanted to squeeze in an extra slice of pizza between meals, which I may be guilty of), no stress, and no feeling burned out. We truly felt refreshed after a few days at sea. Disney Cruise Line is offering new sailings from New York in 2018, and I already have my eye on one!
Have you cruised on Disney Cruise Line before? What are your favorite parts about the Disney Fantasy? Share your experience in the comments.
Did you like this article? Make sure to share it with your friends! Check below for easy ways to share!
Incoming search terms:
disney cruise line experience
disney travel blog Cruise without kids trip report