This post may contains affiliate links for your convenience. If you make a purchase after clicking a link we may earn a small commission but it won't cost you a penny more! Read our full disclosure policy here.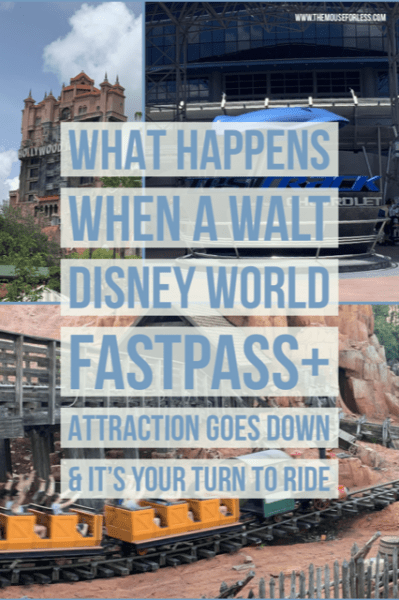 You have made all your FastPass+ reservations but when you go to actually ride your attraction, you find out that it is down.  There are various reasons why an attraction goes down.  Some of these may include weather, especially during thunderstorms for outdoor attractions, misbehavior by other riders, or technical malfunctions within the ride.
Regardless of the reason, what happens now?
What will this look like?
Within the My Disney Experience app, your FastPass+ reservation will change.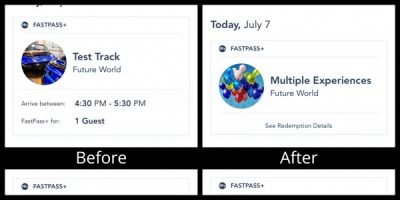 In this case, my Test Track FastPass+ has now been changed to a Multiple Experiences FastPass+ option.  So, just what does "Multiple Experiences" mean?
What is a Multiple Experiences FastPass+?
A Multiple Experiences FastPass+ is a FastPass+ that will allow you to do just what the name implies- experience one of the various attractions that can be found throughout the park from a list of multiple attractions.  It is also referred to as an "Anytime FastPass+".
Which attractions are eligible?  The list varies depending on the park, as well as other factors, but in this instance, what was available is every attraction at EPCOT except Frozen Ever After.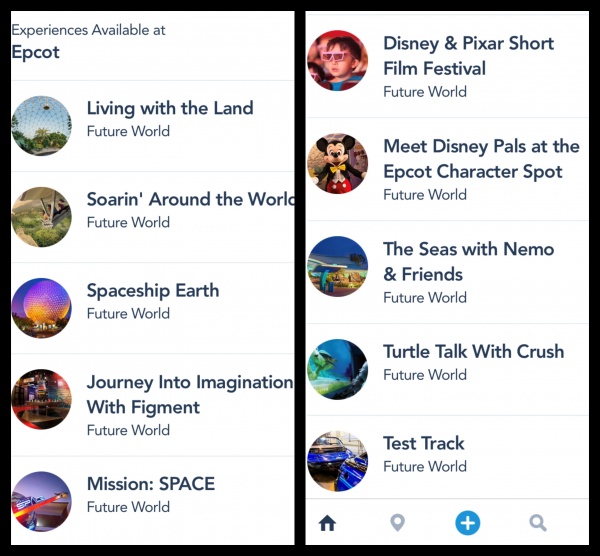 What this means is that I would then able to use my Multiple Experiences FastPass+ option to ride any of these attractions – including the attraction that was closed during my FastPass+ window, should it  at any time throughout the rest of the day.
How do I use this FastPass+?
In my case, since Test Track was closed, I would be able to use my Multiple Experiences FastPass+ simply by tapping my MagicBand or RFID Theme Park Ticket at the FastPass entrance of any attraction listed on the list of options.  The good news is that I do not have to do anything within the My Disney Experience app or let any of the Cast Members know that I am using a Multiple Experience FastPass.
Note that the list of attractions that I can visit includes the previously closed attraction of Test Track.  So I could simply wait until Test Track reopens, and then use my Multiple Experience FastPass+ to ride.  Or if I would like, I can go to any attraction of my choosing from the list that is available to me.
Are there any restrictions?
First of all, it is important to note that you need to pay attention to what attractions are listed for your Multiple Experiences FastPass.  This will vary by the attraction your original FastPass was for, the theme park you were in, and for how long the FastPass is good for.  In most cases, the Multiple Experience FastPass+ is good only for that day.  Secondly, this FastPass is not something that you can modify or reschedule.
Overall, these FastPasses are the easy to use and will let you enjoy an attraction of your choosing.
And however you decide to use this Multiple Experiences FastPass+, have fun!
Do you have any questions for using the Multiple Experience FastPass or for what happens when a ride goes down and your FastPass+ time has arrived? Let us know in the comments, or on Facebook or Twitter.
Did you like this article? Make sure to share it with your friends! Check below for easy ways to share!
Want to visit Walt Disney World? Contact The Magic for Less Travel for more information and a free, no-obligation quote.

Incoming search terms:
https://www themouseforless com/blog_world/multiple-experience-fastpass/
multiple experience fastpass
https://www themouseforless com/blog_world/multiple-experience-fastpass/#:~:text=A Multiple Experiences FastPass+ is an "Anytime FastPass+"
https://www themouseforless com/blog_world/multiple-experience-fastpass/#:~:text=A Multiple Experiences FastPass+ is a list of multiple attractions
multi use fastpass
what are multiple experiences on the my disney experience app
disney multiple expirience pass
https://www themouseforless com/blog_world/multiple-experience-fastpass/#:~:text=A Multiple Experiences FastPass+ is Which attractions are eligible?
https://www themouseforless com/blog_world/multiple-experience-fastpass/#:~:text=What is a Multiple Experiences an "Anytime FastPass+"
disneyland multiexpwrience