This post may contains affiliate links for your convenience. If you make a purchase after clicking a link we may earn a small commission but it won't cost you a penny more! Read our full disclosure policy here.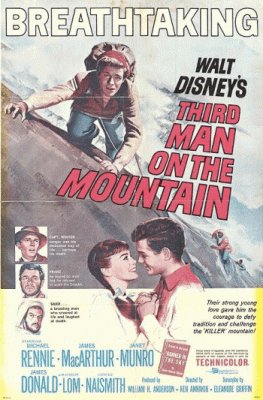 Based on James Ramsey Ullman's 1955 book Banner in the Sky, Disney's Third Man on the Mountain was theatrically released on November 10, 1959. The live action adventure drama is 105 minutes in length.
Plot Summary
In 1866 Switzerland, eighteen-year-old Rudi Matt (James MacArthur) dreams of becoming a mountain guide and reaching the summit of the Citadel, the most iconic mountain in his village, Kurtal, which is a major tourist destination for mountaineers from around the world. Though Rudi's late father, Josef Matt, was probably the greatest mountain guide in Kurtal's history, this legacy is the main hindrance to Rudi's destiny. You see, while climbing the Citadel sixteen years prior, Josef was killed in an avalanche. Wanting to protect Rudi, the boy's uncle, a mountain guide named Franz Lerner (James Donald); and the boy's mother, Frau Matt (Nora Swinburne), forbid Rudi from becoming a guide, instead relegating him to the kitchen of the local hotel, which was built after Josef Matt's reputation brought an influx of tourists to Kurtal. The establishment's proprietor, Herr Hempel (Walter Fitzgerald), realizes that he owes his wealth to Josef Matt, and Hempel, Lerner, and Frau Matt have an understanding that Rudi will one day replace Hempel as the hotel's owner, an occupation that is both safer and more lucrative than a mountain guide.
Unfortunately for the prospects of this scheme, Rudi's immediate boss, the hotel's elderly chef Teo Zurbriggen (Laurence Naismith), who was with Josef Matt on the fateful Citadel climb, and Hempel's daughter, Lizbeth Hempel (Janet Munro), both see Rudi's destiny as being tied to the mountains, not to the hotel. Thus, this duo encourages Rudi's insubordination, and when Rudi saves the life of a great English mountaineer, Captain John Winter (Michael Rennie), who had fallen into a crevasse, Lerner is pressured into allowing his nephew to accompany himself and Winter on a climb. Still, Lerner has only consented to Rudi's involvement on a single trek, and the Citadel is unequivocally out of the question. Will Rudi defy the odds by becoming a guide and ascending the Citadel?
Matterhorn
Although the movie itself was not a great financial success, Third Man on the Mountain was an unbridled positive for Disney's theme parks, for during production of the film, Walt Disney decided to add the famed "Matterhorn Bobsleds" to Disneyland Park—the Citadel is the film's fictitious name for Switzerland's real Matterhorn mountain.
Matterhorn Bobsleds, the world's first tubular steel roller coaster, debuted on June 14, 1959, about five months prior to Third Man on the Mountain. Ironically, Disneyland's other iconic structure, "Sleeping Beauty Castle," which opened with the park in 1955, also received a related movie, Sleeping Beauty, in 1959. (1)
Production
A huge fan of Switzerland, who had already created an Oscar-nominated short film about the country in 1955 and who often vacationed there during the summer, Walt Disney eagerly assented to producer Bill Anderson's suggestion to turn Banner in the Sky into a film. (2)
Production of the flick occurred in Switzerland throughout 1958 with the actors often doing their own stunts; prior to filming, alpine guides gave the cast a two-week crash course in mountaineering, and mountain guides thereafter gave their opinions on whether each actor could perform a stunt without the use of a double.
Pondering the work of James MacArthur, director Ken Annakin recalled: "Jimmy MacArthur took to it like a duck to water and actually on his first rest day sneaked off, to the horror of the insurance people when they learned about it afterwards, and climbed the Matterhorn." (3) MacArthur really took his role to heart!
MacArthur himself recalled: "I got very good in my ability to climb. They had some really fine Swiss mountain climbers doing some scaling of the mountains that was beyond my skills. But Ken had me out hanging over 3,000 foot drops. I think the highest we went for filming was probably 11,500 feet or something like that." (4)
MacArthur's enthusiasm notwithstanding, production of a film in one of the world's greatest mountain ranges presented serious dangers. James Donald, for example, suffered minor injuries upon falling eighteen feet from a crag, and cameraman Pierre Tairraz endured three broken ribs when he rolled into a crevasse. (5)
Like the characters in the film, Disney's camera crew overcame great odds in their exploits on the mountain. Said crew managed to spend eight hours filming at the summit of the Matterhorn while also lugging their heavy equipment. The eight hours spent at the apex of the Matterhorn set a record for a stay at that peak—the mountain must be climbed in daylight, and the crew ascended at dawn and descended at dusk. The feat awed veteran Swiss guide Adold Schaller, who recalled, "I have never seen anything like it. It was impossible, but they did it." (6)
In addition to the actual Swiss terrain, Third Man on the Mountain incorporates some matte paintings from the great Disney matte artist Peter Ellenshaw, who was named a Disney Legend in 1993.
Finally, the film features authentic Swiss folk dances, costumes, and people, fifty-seven National dancers and singers from the Valasian villages of Sierre and Sion doing the musical honors during a scene towards the middle of the movie. (7)
Recovery
Sometimes in life, people struggle to overcome tragedies. Such is the scenario in Third Man on the Mountain, where the villagers of Kurtal respond to Josef Matt's death by seemingly forgetting their great mountain climbing legacy. The Citadel can be tamed, but the villagers cannot find the courage to attempt the climb.
Destiny
A person who loves his or her job is more likely to live a happy life than someone who dislikes his or her occupation for whatever reason. Lizbeth plays to this sentiment towards the end of Third Man on the Mountain when she tells Rudi's mother, who questions whether the young lady would really like to be the wife of a mountain guide considering said occupation's dangers and low pay, "Yes [I would like to marry a guide], or a dishwasher, or a hotel proprietor, but never the wife of a hotel proprietor who wanted to climb mountains…because a man must do what he feels he must do, or he isn't a man. And no one—wife, mother, or sweetheart—has the right to make him into something he wasn't meant to be." Philosophical words indeed.
Fame
A difficult juxtaposition exists between glory and humanity, and the achievement of one option sometimes results in the sacrifice of the other choice. In Third Man on the Mountain, Rudi, after nearly-disastrously attempting to impress his uncle and Winter during their climb of the Wunderhorn, forfeits an open path to become the first person to reach the summit of the Citadel by instead attending to an injured guide, Emil Saxo (Herbert Lom), from an antagonistic neighboring village, Broli. Rudi's choice in this situation shows that the young man has learned from previous mistakes—he now understands that being a mountain guide is primarily about ensuring the safety of one's fellow climbers, not about garnering individual acclaim.
Still, glory can be and is a goal of mountaineers when the guide does not perceive immediate danger to his client. To this end, Teo accuses his fellow Kurtalian guides of cowardice for their refusal to climb the Citadel, playing especially to Kurtalian hatred of their Brolian neighbors.
Music
Third Man on the Mountain incorporates a great score. Throughout the effort, alternately soothing, suspenseful, and angelic background tunes amalgamate with vistas of the Swiss mountains and skies to produce a beautiful, inspiring vibe.
Humor
Though Third Man on the Mountain is hardly uproarious, the film features several amusing moments.
Lizbeth acts playfully with Rudi and Teo, in one scene climbing the kitchen cupboard in imitation of the Wunderhorn mountain and in another scene buying back Rudi's boots from Lerner so that the boy can use them on future climbs regardless of his uncle's wishes. Asked by Rudi why Lerner would sell the boots to Lizbeth, the young lady bluntly says, "Because he's a businessman." Indeed, Lizbeth offered ten francs more for the shoes than the nearest bidder.
Klaus Wesselhoft (Lee Patterson), who is about the same age as Rudi, acts obnoxiously towards everyone in town, but his clueless persona is somewhat charming.
Relationship to Other Disney Films
James MacArthur previously co-starred in The Light in the Forest (1958) for Disney, and he subsequently contributed to Kidnapped (1960) and Swiss Family Robinson (1960) for the studio.
MacArthur's mother, Helen Hayes, who makes a cameo about fifteen minutes into Third Man on the Mountain as a tourist purchasing mountaineering supplies with a fellow traveler, subsequently starred in Herbie Rides Again (1974), One of Our Dinosaurs Is Missing (1975), and Candleshoe (1977) for Disney.
Third Man on the Mountain was the third of four Disney films to be directed by Ken Annakin, who was named a Disney Legend in 2002. Annakin had previously directed The Story of Robin Hood and His Merrie Men (1952) and The Sword and the Rose (1953) for Disney, and he subsequently directed Swiss Family Robinson for the studio.
Janet Munro previously co-starred in Darby O'Gill and the Little People (1959) for Disney, and she thereafter contributed to Swiss Family Robinson for the studio.
Great mountains are also prominently featured in Saludos Amigos (1942) and In Search of the Castaways (1962).
In the Parks
In addition to the Matterhorn, mountain attractions at Disney's theme parks include "Space Mountain," "Splash Mountain," and "Big Thunder Mountain Railroad" at most of the Magic Kingdom-style parks; "Expedition Everest" at Disney's Animal Kingdom; "Mount Gushmore" at Walt Disney World's Blizzard Beach water park; "Journey to the Center of the Earth" at Tokyo DisneySea; and "Big Grizzly Mountain Runaway Mine Cars" at Hong Kong Disneyland.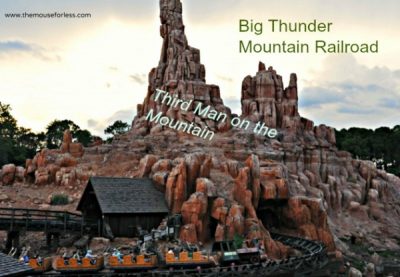 Travelers can visit Switzerland on the "Italy and Switzerland" itinerary of the "Adventures by Disney" tour series.
Overall
With good music, great visuals, a suspenseful and thought-provoking story, and direct ties to one of Disney's most renowned theme park attractions, Third Man on the Mountain is a must-watch film for all serious Disney fans.
Notes
1) Jim Fanning, "New Heights: Walt and "Third Man on the Mountain"," The Walt Disney Family Museum, December 30, 2011, accessed July 25, 2018, https://waltdisney.org/blog/new-heights-walt-and-"third-man-mountain".
2) Ibid.
3) Ibid.
4) Ibid.
5) Leonard Shannon, "Alpine Mission of a Movie-Making Hannibal," New York Times, September 21, 1958, II sec., accessed July 25, 2018, ProQuest Historical Newspapers: The New York Times with Index.
6) Fanning, "New Heights."
7) Ibid.
What do you think of Third Man on the Mountain? Let me know in the comments!
Sponsored Ad:  Would you like to help support The Mouse For Less website in continuing their mission of being THE Disney vacation planning resource?  You can do so by purchasing Third Man on the Mountain from our Affiliate Link through Amazon. Thanks so much for your support!
Did you like this article? Make sure to share it with your friends! Check below for easy ways to share!
Incoming search terms:
https://www themouseforless com/blog_world/movie-review-third-man-on-the-mountain/
https://www themouseforless com/blog_world/movie-review-third-man-on-the-mountain/#:~:text=Although the movie itself was fictitious name for Switzerlands real
does third man on the mountain have good values
kurtal Switzerland