This post may contains affiliate links for your convenience. If you make a purchase after clicking a link we may earn a small commission but it won't cost you a penny more! Read our full disclosure policy here.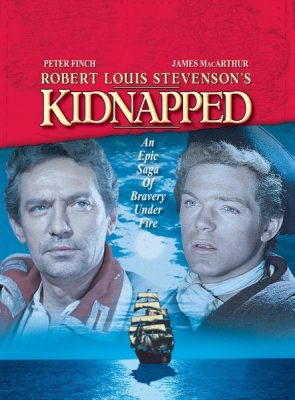 Based on Robert Louis Stevenson's 1886 novel of the same name and loosely on real events from eighteenth-century British history, Disney's Kidnapped was theatrically released on February 24, 1960. The live action adventure drama is ninety-four minutes in length.
Plot Summary
In 1752 Scotland, a young man named David Balfour (James MacArthur) treks to the House of Shaws, an estate occupied by David's estranged uncle, Ebenezer Balfour (John Laurie), after the death of David's father seemingly affords the young man a substantial inheritance. Knowing that his brother's death gives David control of the manor, Ebenezer tricks his nephew into boarding the Carolina-bound vessel, Covenant, of Captain Hoseason (Bernard Lee). Once in Charles Town, David will be sold into indentured servitude on a tobacco plantation, and Ebenezer, with his nephew an ocean away, will by default obtain perpetual control of the House of Shaws.
Unfortunately for Ebenezer, shortly after departure, Hoseason's ship crashes into a smaller boat, which holds one troublesome survivor, Alan Breck Stewart (Peter Finch), wanted throughout the kingdom of George II for treason. David disagrees with Stewart's politics, but after hearing that Hoseason plans to kill Stewart, David aids the runaway in a battle against the ship's entire crew, and the duo escapes the vessel, reuniting soon after coming ashore in Scotland. David respects Stewart, but the concurrent murder of the royal tax collector Colin Campbell (Andrew Cruickshank) makes this association a danger to David's life. Will the young man continue to travel with Stewart and, in any event, live to make it back home and wage a fight with his crooked uncle over his inheritance claim?
The plot sounds more suspenseful than it actually is, for David's goal to return home is largely overshadowed by an extended period of bickering and battling in the middle of the film.
Real Events: Jacobite Rising of 1745 and the Appin Murder
Like many Disney films of the late-1950s and early-1960s, Kidnapped is based on real events. Alan Breck Stewart was at the center of one of the most-renowned and controversial incidents of eighteenth-century British history, the Appin Murder of May 14, 1752.  The elusive Stewart had previously abandoned King George II's army to fight for the Jacobites in the Rising of 1745 and fled to France after the Jacobites' defeat in the Battle of Culloden (1746), before supposedly returning to murder Colin Campbell of Glenure on the fateful day in May 1752. Stewart's hatred of George II and the Campbells is shown throughout the film, the fictional David Balfour providing an albeit-weak political opposition in supporting the Hanoverian George II's claims to the throne against the pretensions of the House of Stuart.
Production
The idea for making a movie based on Robert Louis Stevenson's Kidnapped was broached to Walt Disney by the author's less famous but still impressive namesake Robert Stevenson during a casting trip to England in early 1958 for Darby O'Gill and the Little People (1959). Including Kidnapped, Stevenson would direct nineteen films for the Disney Studio, and he was named a Disney Legend in 2002. After Walt Disney approved Stevenson's idea, Stevenson wrote a script, and filming took place in the United Kingdom throughout 1959. (1)
Originally, Stevenson planned to incorporate vistas of the Scottish countryside into the film, a plan shelved by Walt Disney. Stevenson admitted at the time that Disney's suggestion was prudent because although the shots were "picture-postcard," "they didn't move the story along." (2)
Overall, the film's visuals are at best average. Kidnapped contains some authentic views of the Scottish countryside, but much of the action occurs in dark locales with some blue screen effects and matte paintings by Peter Ellenshaw also incorporated. Disappointingly, the background terrain in the scene where David first boards Hoseason's ship is an overt matte painting; and the scenes where the Covenant crashes look like they were concocted in a studio tank. These segments are not "picture postcard."
Gentlemen and Rogues
Kidnapped features many rogues. Ebenezer and Captain Hoseason, to name the most prominent examples, repeatedly break their promises, actions historically taken by scoundrels and condemned by honorable gentlemen. As for Stewart, his haughty demeanor notwithstanding, the fugitive appears to be an honorable man, making his denial of direct association in Campbell's murder an intriguing subject. Was Stewart in fact innocent of the murder, a victim of the Hanoverian slant of Britain's judicial system? The question remains a matter of both scholarly and popular inquiry. (3)
Reversing the Echo Chamber
Kidnapped is a thought-provoking effort. By experiencing the film through the eyes of David, the audience gains the perspective of one who wants to avoid conflict while in the company of people with opposing political views. Suffice it to say that although such situations may be uncomfortable, the commencement of friendships with ideological adversaries is possible and sometimes rewarding. Through such friendships, people gain empathy and realize that good and evil are often equivocal terms.
Action
Kidnapped includes many exciting moments. Along the way, David nearly falls off an abbreviated staircase; Hoseason's first mate, Mr. Shuan (Niall MacGinnis), batters David and kills his cabin boy; Covenant crashes into a small fishing boat; Stewart and David battle Hoseason and his crew; Covenant shipwrecks during a violent storm; David fends off a money-hungry scoundrel (Duncan Macrae) bearing a butcher knife; and the murder of Colin Campbell instigates a series of counterattacks by the Redcoats.
Relationship to Other Disney Films
Kidnapped was the fourth of nineteen Disney films to be directed by Robert Stevenson. Stevenson had previously directed Johnny Tremain (1957), Old Yeller (1957), and Darby O'Gill and the Little People for Disney, and he subsequently directed The Absent-Minded Professor (1961), In Search of the Castaways (1962), Son of Flubber (1963), The Misadventures of Merlin Jones (1964), Mary Poppins (1964), The Monkey's Uncle (1965), That Darn Cat! (1965), The Gnome-Mobile (1967), Blackbeard's Ghost (1968), The Love Bug (1968), Bedknobs and Broomsticks (1971), Herbie Rides Again (1974), The Island at the Top of the World (1974), One of Our Dinosaurs is Missing (1975), and The Shaggy D.A. (1976) for the studio.
Kidnapped is one of three Disney films based on a Robert Louis Stevenson novel, Treasure Island (1950) and Treasure Planet (2002) being the others.
Rob Roy, The Highland Rogue (1954) and The Three Lives of Thomasina (1963) are also set in Scotland.
Peter Finch had previously co-starred in The Story of Robin Hood and His Merrie Men (1952) for Disney.
Kidnapped was the third of four Disney films to feature James MacArthur, following The Light in the Forest (1958) and Third Man on the Mountain (1959), and preceding Swiss Family Robinson (1960).
John Laurie also appeared in Treasure Island and One of Our Dinosaurs Is Missing for Disney.
Finlay Currie, who appears in Kidnapped as the elderly Jacobite Cluny MacPherson, had previously appeared in Treasure Island and Rob Roy, The Highland Rogue for Disney, and he subsequently contributed to The Three Lives of Thomasina for the studio.
In the Parks
Scotland is part of the United Kingdom, and guests at Epcot's World Showcase can enjoy related dining, shopping, and architecture at the United Kingdom Pavilion.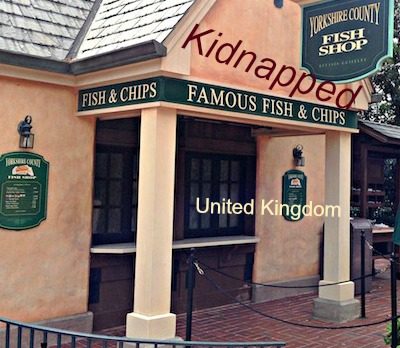 Adventures by Disney will be offering a Scotland itinerary in June and July 2019.
Overall
With a meandering plot and unlikeable characters, Kidnapped is the weakest of James MacArthur's four Disney films. Fortunately, a decent amount of action and a suspenseful and thought-provoking premise salvage the effort. British history aficionados and fans of Robert Louis Stevenson's original work will probably enjoy Kidnapped more than the average viewer.
Notes
1) Stephen Watts, "'Kidnapped' in the Heart of the Highlands," New York Times, June 14, 1959, accessed September 12, 2018, New York Times Historical (1851-2010).
2) Ibid.
3) See, for example, Auslan Cramb, "18th Century Murder Conviction 'should Be Quashed'," The Telegraph, November 14, 2008, accessed September 14, 2018, https://www.telegraph.co.uk/news/uknews/scotland/3459744/18th-Century-murder-conviction-should-be-quashed.html.
What do you think of Kidnapped? Let me know in the comments!
Incoming search terms:
https://www themouseforless com/blog_world/movie-review-kidnapped/