This post may contains affiliate links for your convenience. If you make a purchase after clicking a link we may earn a small commission but it won't cost you a penny more! Read our full disclosure policy here.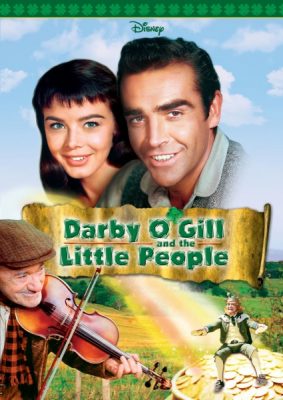 Based on Herminie Templeton Kavanagh's 1903 work of Irish folklore Darby O'Gill and the Good People, Disney's Darby O'Gill and the Little People was theatrically released on June 26, 1959. The live action fantasy adventure film is ninety-three minutes in length.
Plot Summary
In Ireland, an elderly widower, Darby O'Gill (Albert Sharpe), has for decades worked as a groundskeeper for Lord Fitzpatrick (Walter Fitzgerald), living at the local gatehouse with his twenty-year-old daughter, Katie O'Gill (Janet Munro), while performing his duties. Unfortunately for Fitzpatrick, Darby has become unreliable in his old age, frequenting the village tavern to relay stories of his encounters with Brian Connors (Jimmy O'Dea), the 5,000-year-old king of the leprechauns, rather than tending to Fitzpatrick's estate. As such, Fitzpatrick decides to replace Darby with Michael McBride (Sean Connery), a young energetic man, who soon develops a crush on Katie.
McBride is amiable, and Fitzpatrick is generous to Darby, rewarding him with both half-pay for life and free accommodations in another house, but Darby is still shell-shocked: his prestige has taken a hit, and he worries about Katie, who has never lived outside the gatehouse. Given a two-week window to move, Darby decides to keep the news from Katie until the last minute, a goal aided by another encounter with King Brian. Gaining the upper hand on the leprechaun king in a proverbial chess match that pits intelligence against magic, Darby seeks to use three wishes conceded by Brian to bring happiness to Katie. Can Darby keep his leverage over Brian and fulfill his goal?
Production
Walt Disney had been contemplating a film based on Irish folklore and leprechauns for more than a decade prior to the release of Darby O'Gill and the Little People, mentioning the idea along with such concepts as Song of the South (1946), The Adventures of Ichabod and Mr. Toad (1949), Cinderella (1950), and Peter Pan (1953) in a July 1946 interview. (1) Research trips to Ireland, including several by screenwriter Lawrence Watkin and Walt Disney himself, were undertaken between 1947 and 1956. (2) Watkin spent three months reading Gaelic folklore and mingling with professional Irish storytellers, "Shanachies," on one of these visits. (3) Planning for the final product finally commenced in 1956 along with Swiss Family Robinson (1960). (4)
Walt Disney chose most of the actors for Darby O'Gill during casting tours of Ireland and the United Kingdom. The final selections included Sean Connery, who would soon land fame through his leading role in the series of James Bond films, and Janet Munro, the daughter of Alex Munroe, a prominent Scottish comedian. Janet Munro edged out fifty other women for the role of Katie O'Gill. (5)
Disney had preferred award-winning Irish actor Barry Fitzgerald for the title role, but Fitzgerald, sixty-nine years of age, declined for health reasons; Disney then convinced Albert Sharpe, who he had seen on Broadway in "Finian's Rainbow" and who was in the midst of retirement in a working-class neighborhood in Belfast, to take the part. (6) Disney later admitted that the film would have likely proven more successful if the better-known Fitzgerald held the lead role. (7)
Disney considered shooting the film in Ireland, but because of cost considerations and the need for a large special effects stage, the work was conducted at the Disney Studios in Burbank, California. (8) Years later, Sean Connery recalled that he and many of the other European actors in the film, including Albert Sharpe and Jimmy O'Dea, stayed at the same motel in the San Fernando Valley during production. The group played chess next to the swimming pool at night, and the motel owner added fiddle music to augment the already festive atmosphere. (9)
The film was previewed on the May 29, 1959 episode of ABC-TV's "Walt Disney Presents" television show. In that episode, "I Captured the King of the Leprechauns," Walt Disney interviewed Darby O'Gill such as to learn more about leprechauns and to convince King Brian to appear in the film. This episode, along with a related magazine article and a signed tribute by Walt Disney printed over the film's opening credits—"My thanks to King Brian of Knocknasheega and his Leprechauns, whose gracious co-operation made this picture possible"—was intended to make the production seem more real to young viewers.(10)
Darby O'Gill was the first Disney film to make its world theatrical debut outside of the United States; Walt Disney attended the premiere in Dublin, Ireland on June 24, 1959. (11)
Special Effects
Darby O'Gill and the Little People incorporated a plethora of special effects. These visuals were largely the work of Peter Ellenshaw, who developed special effects for Disney films over a four-decade span, from Treasure Island (1950) to Dick Tracy (1990). Ellenshaw was named a Disney Legend in 1993.
In the days prior to computer imaging, filmmakers resorted to two varieties of special effects: optical effects and mechanical effects. Optical effects involved the manipulation of visuals through special cameras and projectors to combine new images with copies of the original film; while mechanical effects were created through physical objects, such as giant shoes or an air-driven puppet serving as King Brian in a bag. (12)
Ellenshaw used two types of optical effects in Darby O'Gill. Under the first of these methods, "matte painting," Ellenshaw placed a sheet of glass between the camera and the location being filmed. Ellenshaw then painted extra details, such as a castle or the elaborate roof of King Brian's throne room, onto the glass to create the intended visuals. Thus, without props, a horse riding up an ordinary hill was seen as destined for a grand castle, and a mundane studio stage was viewed by audiences as an enchanting locale. Previously, in Treasure Island, Ellenshaw had eliminated visuals of a modern city adjacent to a harbor by painting additional vessels over the shot of the city while retaining the harbor. (13)
The second optical effect type used by Ellenshaw in Darby O'Gill was "forced perspective." Under this method, the distances among people and objects were manipulated such as to render the intended sizes. To make Darby appear four times larger than King Brian, for example, Jimmy O'Dea was placed four times farther than Albert Sharpe from the camera, which cannot tell the distance between objects. Additionally, the set surrounding O'Dea in one scene, though juxtaposed to seamlessly blend in with another set surrounding Sharpe, was made four times larger such as to make King Brian look comparatively smaller. (14)
The distances needed to achieve forced perspective mandated abundant lighting. Years later, Ellenshaw recalled a problematic consequence of this lighting: "It was a very hot set, and many times we'd have to close down because it became too hot." Furthermore, so many lights were used simultaneously that shutdown triggered citywide blackouts in Burbank. (15)
Press Your Luck
Throughout the film, the title character learns the dangers of putting one's fate in another's hands—great rewards can result from such risks, but great losses are also possible. In his dealings with King Brian, Darby experiences both results, the upshots arising from the correlation between Darby's wishes and the letter of Brian's laws. Brian is deft, but he does keep his word, albeit not usually in the most magnanimous spirit. For his part, Darby frequently uses his smarts to overcome Brian's more sinister maneuvers.
Villains
King Brian is an ambiguous antagonist. The king of the leprechauns is haughty and unlikeable, but, as shown in the film's final moments, he is not evil.
Sheelah Sugrue (Estelle Winwood) and Pony Sugrue (Kieron Moore) are, conversely, pure evil. This mother-son duo is interested solely in gaining power and will go to all lengths to attain this authority. A Darby O'Gill sequel focusing more on the machinations of the Sugrues could have been interesting.
A holographic banshee predicting Katie's death appears in several scenes towards the end of the film. The banshee's noise and appearance are intense, and the context of the plot only adds to the tension; these segments may be unsuitable for young children.
Music
Darby O'Gill and the Little People features an excellent soundtrack.
Darby's extended performance of the jocular "The Fox Race" tune on the Stradivarius is combined with perpetual motion on the part of the leprechauns to create a fun few minutes for the audience. You will be hard pressed not to grin here.
After trapping Brian in the gatehouse, Darby commences an extended musical rhyming game. The corny poetry adds some humor to the film, though the forced laughter is perhaps overdone.
On the other end of the spectrum, "Pretty Irish Girl" is a heartwarming number that explores the reciprocal romantic feelings of Katie and McBride. This song is reprised several times in the second half of the film.
Relationship to Other Disney Films
Walt Disney suggested the idea that eventually resulted in Kidnapped (1960) to director Robert Stevenson, not Robert Louis Stevenson, upon whose 1886 novel the film was based, while the two were casting for Darby O'Gill in England in 1958. (16)
Darby O'Gill and the Little People was the third of nineteen Disney films directed by Stevenson, who was named a Disney Legend in 2002. Stevenson had previously directed Johnny Tremain (1957) and Old Yeller (1957) for Disney; and he subsequently directed Kidnapped, The Absent-Minded Professor (1961), In Search of the Castaways (1962), Son of Flubber (1963), The Misadventures of Merlin Jones (1964), Mary Poppins (1964), The Monkey's Uncle (1965), That Darn Cat! (1965), The Gnome-Mobile (1967), Blackbeard's Ghost (1968), The Love Bug (1968), Bedknobs and Broomsticks (1971), Herbie Rides Again (1974), The Island at the Top of the World (1974), One of Our Dinosaurs Is Missing (1975), and The Shaggy D.A. (1976) for the studio.
Special effects were also used to create the illusion of abnormal size differences among characters in The World's Greatest Athlete (1973), Honey, I Shrunk the Kids (1989), Honey, I Blew Up the Kid (1992), and Honey, We Shrunk Ourselves (1997).
Darby's fall down a well into King Brian's domain is similar to Alice's fall down the rabbit hole in Alice in Wonderland (1951).
A battle to save a life against supernatural odds also occurs in The Three Lives of Thomasina (1964).
Munro subsequently appeared in Third Man on the Mountain (1959) and Swiss Family Robinson for Disney.
In the Parks
Banshees play a major role in the new "Pandora: The World of Avatar" land at Walt Disney World's Disney's Animal Kingdom theme park. On the area's most heralded attraction, the "Avatar Flight of Passage" simulator, guests ride banshees over the dynamic terrain of Pandora.
Irish cuisine and entertainment can be enjoyed at the Raglan Road Irish Pub and Restaurant at Walt Disney World's Disney Springs entertainment district.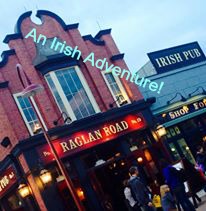 Forced perspective is used by Disney's Imagineers when developing the company's theme parks, most notably in making the Magic Kingdom castles appear taller than they actually are.
Overall
With engaging characters, catchy music, and unbridled suspense, Darby O'Gill and the Little People is an outstanding film.
Notes
1) Brady, T. F. (1946, July 14). HOLLYWOOD'S MR. DISNEY: Prospectus Case for Features CULLED FROM THE HOLLYWOOD WIRE In the Saddle Again Over a Cliff. New York Times, p. 41.
2) Brady, T. F. (1947, July 23). SANTELL, REPUBLIC CANCEL CONTRACT: Producer and Company Decide to Part After Disagreement on Budget for New Film. New York Times, p. 18; Sampson, W. (2008, March 12). The Magic of Darby O'Gill. Retrieved June 12, 2017, from https://www.mouseplanet.com/8252/The_Magic_of_Darby_OGill.
3) Ibid.
4) Weiler, A. H. (1957, December 22). BY WAY OF REPORT: Disney Plans Two New Films–Other Items. New York Times, p. 51.
5) Sampson, W. (2008, March 12). The Magic of Darby O'Gill; "Mr. Connery Goes to Hollywood" [DVD]. (2004). United States: Disney. Approximately 9-minute segment featured on 2004 DVD release of Darby O'Gill and the Little People, 2:59-3:42 (minutes and seconds into segment).
6) Ibid., 3:43-4:31; Weiler, A. H. (1957, December 22). BY WAY OF REPORT; Sampson, W. (2008, March 12). The Magic of Darby O'Gill.
7) Ibid.
8) Ibid.
9) "Mr. Connery Goes to Hollywood," 4:32-5:28.
10) Sampson, W. (2008, March 12). The Magic of Darby O'Gill.
11) Ibid.; WALT DISNEY IN DUBLIN: Arrives for First Premiere of Film Outside U. S. (1959, June 25). New York Times, p. 22.
12) "Little People, Big Effects" [DVD] (2004). United States: Disney. Approximately 11-minute segment featured on 2004 DVD release of Darby O'Gill and the Little People, 1:54-2:30 (minutes and seconds into segment).
13) Ibid., 2:54-5:38.
14) Ibid., 5:39-11:00.
15) Ibid., 9:42-11:00.
16) Wattsballachulish, S. (1959, June 14). ' KIDNAPPED' IN THE HEART OF THE HIGHLANDS. New York Times, p. X7.
What do you think of Darby O'Gill and the Little People? Let me know in the comments!
Sponsored Ad:  Would you like to help support The Mouse For Less website in continuing their mission of being THE Disney vacation planning resource?  You can do so by purchasing Emil and the Detectives from our Affiliate Link through Amazon. Thanks so much for your support!
Did you like this article? Make sure to share it with your friends! Check below for easy ways to share!
Incoming search terms:
darby ogill dvd review
Darby O\Gill and the Little People
https://www themouseforless com/blog_world/movie-review-darby-ogill-and-the-little-people/
matte painting and darby ogill movie