This post may contains affiliate links for your convenience. If you make a purchase after clicking a link we may earn a small commission but it won't cost you a penny more! Read our full disclosure policy here.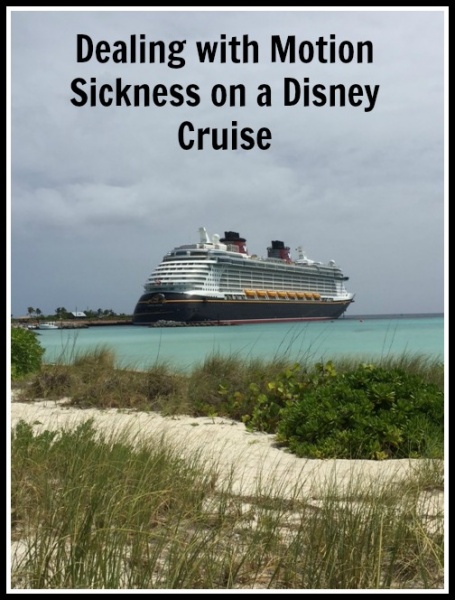 I recently went on my first Disney Cruise aboard the Disney Fantasy, and it was pure paradise! Unfortunately, I'm a sufferer of motion sickness, and despite my best efforts, I felt a bit under the weather throughout the trip. I was able to make the best of my trip, and still had a phenomenal time, but definitely learned some lessons about how to keep my stomach happy. Here, I'll share some of my best tips for beating motion sickness on your Disney cruise!
PLAN AHEAD
Our dining room attendant gave me some words of wisdom when I was feeling a bit sick at sea. He told me that he, too, used to deal with seasickness, but was able to beat it by planning ahead! If you're prone to motion sickness, you have to take the seasickness medicine before you feel sick, or else it won't do the trick. That means applying that patch behind the ear 4 hours before you set sail, taking those pills before the sea starts rocking your stomach, and putting on your Sea Bands before you step on that ship! I wore the patch, which has worked well for me in the past, but didn't quite get the job done this sailing. Other guests informed me that the patch doesn't work well for them, and suggested trying out the patch on solid ground before sailing to make sure it wasn't the patch, itself, that was making me woozy! I learned that many veteran cruisers find the motion sickness pill to be much easier on them!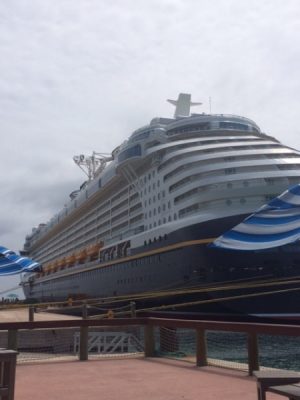 DON'T BE AFRAID TO ASK FOR HELP
I didn't want to be a pain asking for help when I felt nauseous, but when I finally did, I was so pleased with all of the assistance I got! Disney Cruise Line has a medic on board who will provide complimentary seasickness medications (again, you need to take these before feeling sick). Like I mentioned before, I planned ahead and wore the motion sickness patch, so I wasn't a candidate for a trip to the medic, but it was definitely nice to know they were there if I needed.
I wasn't feeling up for the French onion soup I ordered at dinner, so I headed back to my stateroom one night during the meal and called room service. This complimentary service has a limited menu that can be delivered to your stateroom 24/7 during your cruise (bring some cash for tips, though!). I called down and asked for some chicken noodle soup and peppermint tea. Minutes later, my food arrived, complete with crackers!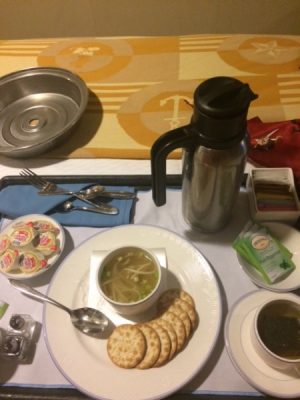 The next afternoon, we saw our dining room servers in the buffet. Our dining room attendant, head server, and assistant server all spotted me, came over to ask how I was feeling, and offered their own tips and tricks for surviving the waves! Our assistant server offered me some great advice; don't think so much! Try to distract yourself with activities; I have to admit, it helped!
AVOID THE PORTHOLES
This is something I learned over the course of our three-night sailing, and as strange as it may be, it definitely helped. When we were sailing, looking out the portholes was disorienting for me, making me feel worse. For some reason, watching the waves go by through a porthole made me feel dizzy, and I found it best to look straight ahead when walking past a porthole. I felt best sitting up on Deck 11 where I could get some fresh air. We also found that closing the window blinds in our stateroom was also a big help. Fresh air and steering clear of the disorienting portholes kept my stomach settled!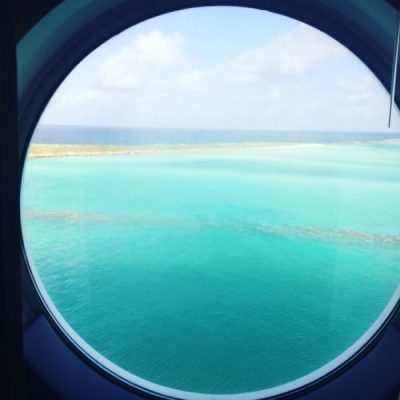 STICK TO SOOTHING BEVERAGES
I'm a tea-lover, and Disney Cruise Line has tons of Twinings tea flavors, which made me very happy! I found that the peppermint tea and lemon ginger teas were very soothing on my stomach! Peppermint and ginger are both known to calm upset stomachs, and I drank plenty of both throughout my trip. Tea is available 24/7 up on deck 11 by the pool and from room service, and I definitely took advantage of its availability. If you spotted me at the theatre or watching a movie, I probably had a cup of tea in my hand! I avoided coffee and other acidic beverages, even when feeling good, just to be safe. I also kept some crystalized ginger handy for the same reason. If you're not a Twinings fan, bring your own tea bags along; you can get hot water anywhere to steep a soothing cuppa!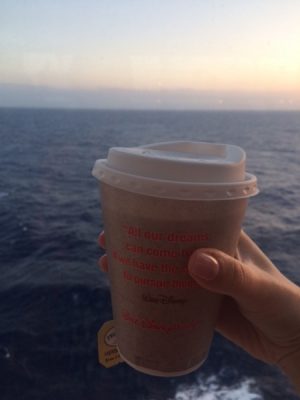 ASK FOR WHAT YOU NEED, EVEN IF IT'S NOT BEING OFFERED
We all know that Disney can make dreams come true. When you have a stomach ache, forget the pixie dust, crackers are the true dream! We were relaxing on the lido deck and I wanted a mild snack, some crackers or a banana, but the buffet, Cabanas, was closed between meals. We found a server, and even though the buffet was closed, he gave me about 30 crackers to munch on. I felt bad for interrupting their work, but was met with nothing but smiles and genuine concern for my stomach! The crew truly wants you to have a magical trip; as insignificant as a few crackers may sound, this gesture made my day (and the crackers really settled my stomach). Again, you can always call room service, too, if you want something between meals!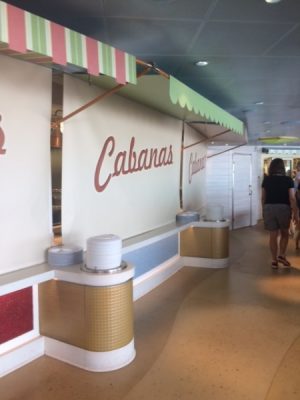 FOCUS ON THE FUN!
I'd been waiting for this trip for months, and I wasn't about to let an upset stomach ruin my trip! I filled my purse with Pepto Bismol tablets and Tums, chewed some peppermint gum, and munched on crackers throughout the trip to keep my stomach satisfied when it was feeling funky. I also listened to my body: if something sounded good, I indulged, and if something sounded too risky, I avoided it.
The best thing I did, though? Have a blast! We made it to every show, saw some movies, enjoyed late night fireworks, and relaxed on the beach. The more fun I had, the less I worried about my stomach. Of course, when I was feeling my worst, I headed to the stateroom for some soup and a movie, but once I was able to get up and move around, I kept busy!
Sure, nobody sets out to feel under the weather on their dream vacation, but I was able to enjoy my time. My memories from this trip are laughing, relaxing, joking around with Goofy, watching movies, seeing shows, and having the time of my life. I made sure to focus on the fun, and even with the belly troubles, this was one of the best vacations of my life.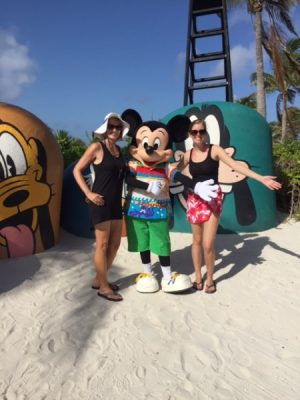 What tips do you have for feeling motion sickness on a Disney Cruise Line sailing? Share your suggestions in the comments!
Did you like this article? Make sure to share it with your friends! Check below for easy ways to share!
Incoming search terms:
https://www themouseforless com/blog_world/motion-sickness-disney-cruise/
https://www themouseforless com/blog_world/motion-sickness-disney-cruise/#:~:text=I felt best sitting up was also a big help
https://www themouseforless com/blog_world/motion-sickness-disney-cruise/#:~:text=Disney Cruise Line has a take these before feeling sick)