This post may contains affiliate links for your convenience. If you make a purchase after clicking a link we may earn a small commission but it won't cost you a penny more! Read our full disclosure policy here.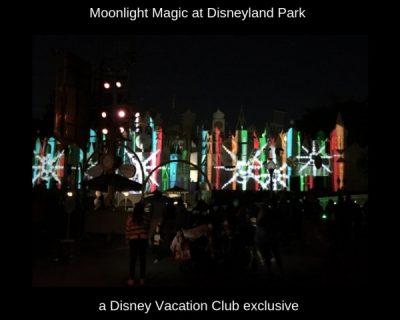 Vibrant projections on it's a small world during the event
On Thursday, January 31st, the Disney Vacation Club held an event for its members at Disneyland Park called Moonlight Magic. The event ran from 9:00 p.m. until 1:00 a.m., and only Disney Vacation Club members who had previously reserved free tickets were able to attend. The online registration system was greatly improved from the last time my family attempted to get tickets to a Moonlight Magic event. However, there was conflicting and changing information about the event on the website and the physical letter attendees received in the mail.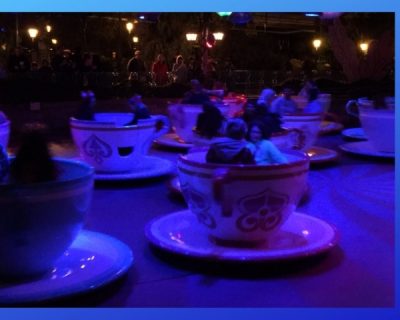 Taking a spin on the Mad Tea Party after a very short wait
Each attendee received free admission to the park beginning at 6:00 p.m., a food voucher worth $20, free Mickey Bars or fruit bars, and a parking pass for the Mickey and Friends parking structure or the Toy Story lot during the event. Keep in mind that each food voucher had to be used all at once, so plan accordingly.
DVC members attending this event lined up at specifically marked entrance gates and were given red wristbands. The lines were quite long, and stretched far into the entrance plaza. Attendees were free to enjoy the park with regular day guests until 8:00 p.m., when day guests were cleared from the park. Between 8:00 and 8:30 day guests had access to Main Street, U.S.A. only.
Up to $75 Disney Gift Card!
Deal
Book a Disneyland package of $1500* or more and receive a $25 Disney gift card. Packages of $3000 or more receive a $50 Disney gift card. Packages of $5000 or more receive a $75 Disney gift card. Gift cards are accepted at many Disneyland Resort locations and can be used to pay for shopping, dining, and so much more. We are sure you will find a way to put this to good use!   Read More
More
Less
One member of each attending party showed his or her Disney Vacation Club card, and they were given special event maps. If you were not familiar with Disneyland Park, this map would not be enough to help you navigate the park. For example, restrooms were not marked on the special event map. Also not obvious on the map was the fact that Critter Country was not available during the party.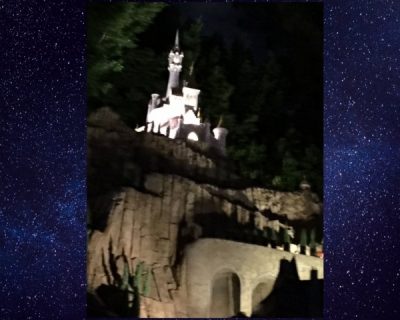 A moonlit ride on the Storybookland Canal Boats
Not only did the lines for attractions drop off significantly after day guests left the park, but there was a sense of camaraderie among all the attendees, since all shared a deep love of Disney travel. In addition to most of the attractions being open, there were a few special events. There was a "Get Your Ears On" celebration dance party, and a spectacular projection show called Mickey's Mix Magic shown both on Main Street, U.S.A. and it's a small world, which was closed.
Although lines for attractions were significantly shorter than usual, lines for food were painfully long. The lines at both Bengal Barbecue and the Jolly Holiday Bakery Café were an hour long. However, the line for ice cream was not long at all. The cold temperatures might have had something to do with that.
There were meet and greets with characters throughout the park, and characters also wandered about to mix and mingle with guests. One of the events on the flier was a meet and greet with Disney Vacation Club executives.
The park was decorated for Valentine's Day, with red, pink and white hearts sprinkled throughout Main Street. Special event merchandise was for sale at the Emporium. These included a tumbler, a Jenga game, and an adult raglan shirt.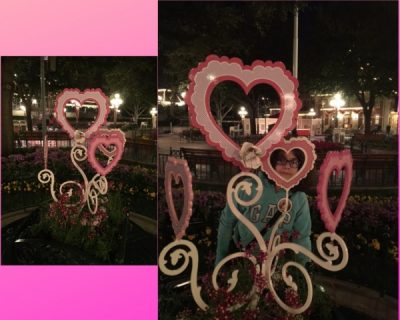 Valentine's decorations
So, was Moonlight Magic worth it? It depends. If you are a DVC member and already have a trip planned, or are a local, and a Moonlight Magic event is available, I highly recommend you try to fit it into your plans. However, if you decide to attend and plan a trip around one of these events, think about how much money you will spend to attend this "free" event. My parents estimate that they spent about $3,000 on a three night stay at the Grand Californian, travel from New Mexico, park tickets for California Adventure the previous day, and non-event meals. Also, think about how wiped out you might be if you try to continue your vacation after staying in a theme park until 1:00 a.m.
Did you attend Moonlight Magic? What were your thoughts? Share your stories of triumph or defeat with us in the comments, or on Facebook or Twitter!
Did you like this article? Make sure to share it with your friends! Check below for easy ways to share!
Want to visit the Disneyland Resort? Contact The Magic for Less Travel for more information and a free, no-obligation quote.