This post may contains affiliate links for your convenience. If you make a purchase after clicking a link we may earn a small commission but it won't cost you a penny more! Read our full disclosure policy here.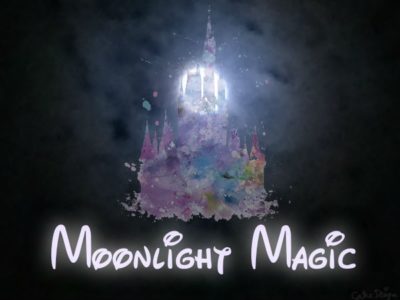 Moonlight Magic at California Adventure
One of the perks of being a Disney Vacation Club member is I'm able to enjoy so many Membership Extras. So far my favorite has been the Moonlight Magic events, which happen at the Disney parks on both coasts.
On Thursday, November 14th, my family and I attended the Moonlight Magic event at Disney California Adventure. The event worked like this: One month earlier, all Disney Vacation Club members were able to register for the event. The registration process went very smoothly for me, and I was able to get four passes, free of charge, for this event.
The four of us would be able to park at a Disneyland parking structure for no charge beginning at 5:00 p.m. We would then be able to enter Disney California Adventure for no charge at 6:00 p.m. We were also each given a $20 meal voucher to use inside the park. (Each voucher could only be used at one location. In other words, I couldn't split my $20 to buy a meal in one restaurant and then dessert at another one.)
At 8:00 p.m., the park would be closed to day guests, and at 9:00 p.m., the Moonlight Magic event would begin, so that only DVC members who had registered would be in the park. The event ended at 12:00 a.m.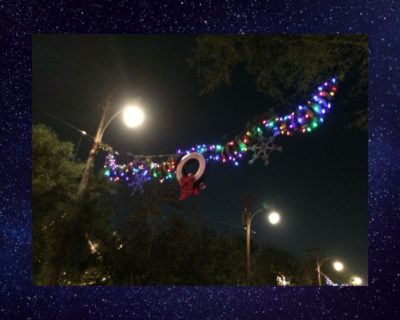 Cars Land was decorated for the holidays
Southern California traffic being what it is, we arrived at the parking structure at about 5:20, but were able to find a spot in the Mickey and Friends structure very quickly. After going through security, we took the tram to the park entrance.
There were two entrance gates dedicated to Moonlight Magic, and we presented our tickets at the turnstile. Our photos were taken and then we were shown to a line to receive our wristbands.
After we got our wristbands put on our left wrists, we were given special event maps along with our meal vouchers. We elected to use our vouchers at Flo's V8 Café in Cars Land. Unfortunately, we were clearly not the only ones to to do this! At 6:40 p.m. the line was exceptionally long. However, by the time we left the restaurant at about 7:40 p.m., the restaurant had all but cleared out.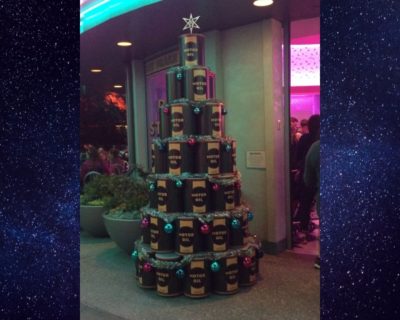 A Christmas tree at Flo's V8 Cafe
At 8:00 p.m. we made our way through the hordes of exiting day guests towards Pixar Pier. The games of the Midway were all open and free of charge with the exception of the one themed to La Luna. However, there were no prizes given out. At one game, a winner was given a sticker. But otherwise, it was all in good fun.
At 9:00 p.m., the party started, and exceedingly loud pop music blasted from speakers in Pixar Pier. It was nightclub level, impossible to have a conversation loud. Luckily, someone must have noticed this, and it was turned down after about 5 minutes. However, Pixar Pier remained the loudest section of the park throughout the party.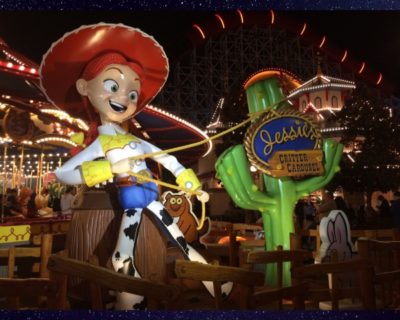 Jessie's Critter Carousel
Throughout the park, ice cream carts were out, and all guests could get a free ice cream novelty. The choices were a strawberry fruit bar or a Mickey Premium ice cream bar. Although the lines looked long, since there were only two choices and no money had to exchange hands, the lines moved very quickly.
Most of the shops were open, but not all of them. One of us really wanted to buy a Vinylmation, but Off the Page, the shop where they are sold, was closed. Luckily we went to a shop called Julius, which had two in stock!
There were several special meet-and-greets throughout the park. We saw guests meeting the Robinsons, Kronk, Mickey and Minnie in their Santa outfits, Chip and Dale, and Spider-man.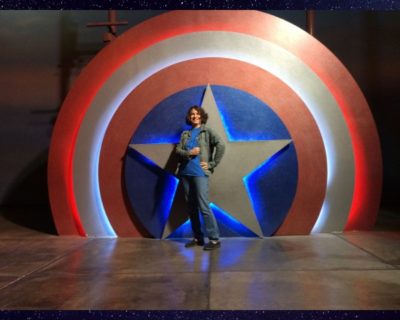 Not actually Captain America
Some of the meet-and-greets that traditionally take place during the day, however, were closed. People were taking photos in front of Black Panther, Captain Marvel, and Captain America's meet-and-greet locations, for example, but the heroes themselves were absent.
The lines for the rides were exceptionally short. I had just experienced short lines at this park a couple of months earlier at the Oogie Boogie Bash, but these were even shorter!
At about 10:00 p.m. we went to the viewing area for World of Color, and there were many fabulous viewing locations still wide open. We watched the 10:30 show, which is now the holiday overlay, Seasons of Light. This is the best location we have seen the show from in years, and we only showed up a half hour before showtime!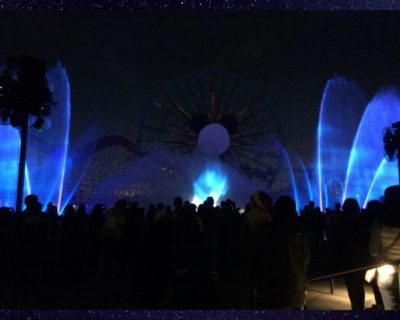 World of Color: Seasons of Light, Blue Christmas sequence
We all had to get up early the next day and we had a long drive home, so we left at about 11:00 p.m. Everyone was seriously tired the next morning. However, the opportunity to get into a Disney park and know that everything we did was included in the price of our Disney Vacation Club membership was well worth it! Also, I cannot emphasize enough how light the crowds were.
They traditionally offer this in Disneyland Park in February. When that registration window opens, I will be hunched over my laptop, ready to go….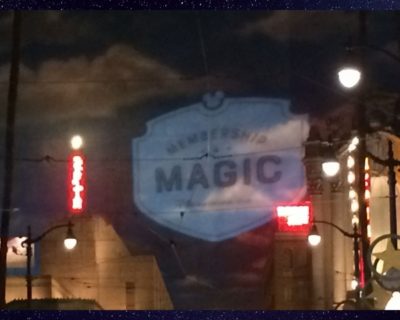 Have you attended a Moonlight Magic event before at Disney California Adventure? What were your thoughts of the event? Share your tips with us in the comments or on Facebook or Twitter!
Did you like this article? Make sure to share it with your friends! Check below for easy ways to share!
Want to visit the Disneyland Resort? Contact The Magic for Less Travel for more information and a free, no-obligation quote.

Incoming search terms:
https://www themouseforless com/blog_world/moonlight-magic-disney-california-adventure/