This post may contains affiliate links for your convenience. If you make a purchase after clicking a link we may earn a small commission but it won't cost you a penny more! Read our full disclosure policy here.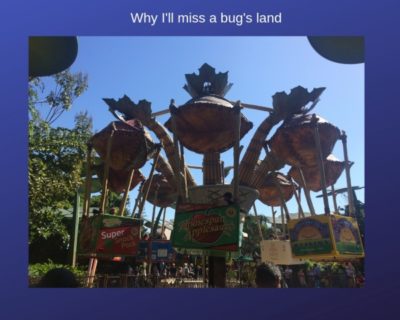 I'll miss you, Flik's Flyers!
Walt Disney once said that Disneyland would never be completed as long as there was imagination left in the world. And Marty Sklar famously reminded us that it's not a museum. It's natural that changes will come to the Happiest Place on Earth, and while I always look forward to the new, sometimes I do mourn what we lose.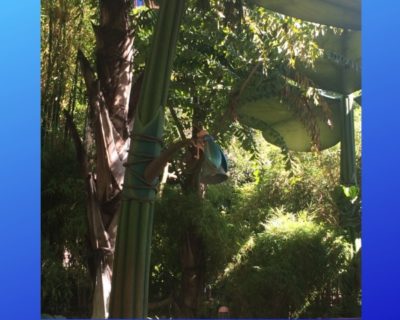 Details like these made the land so much fun!
I am a huge Marvel fan, so I'm very excited about the new Marvel themed area coming to California Adventure. But in order to get it, we have to say goodbye to a bug's land.
I have many happy memories of this land, many of them formed when my daughter was in preschool and we were Annual Passholders. We'd make the sometimes horrific drive from Los Angeles to Anaheim to spend several hours in the park and try to get on the road before rush hour traffic.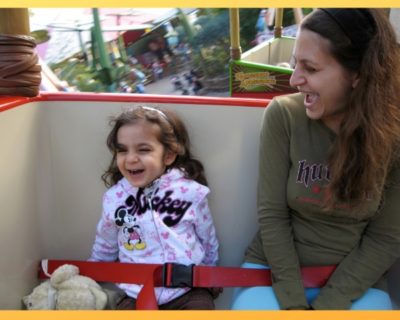 Can't tell whose smile is bigger, hers or mine!
A bug's land was one of our favorite places. I loved to watch my daughter's face light up when we flew on Flik's Flyers. She always wanted to ride in the animal cracker box, and when she was old enough to read, she laughed out loud reading the nutritional contents on the large container in the middle. (100% of your recommended daily allowance of fun!)
She'd run through Princess Dot's Puddle Park until she was soaked, and I'd have to decide if it was worth it to change her clothes or just let the California sun do its business. The sun usually won.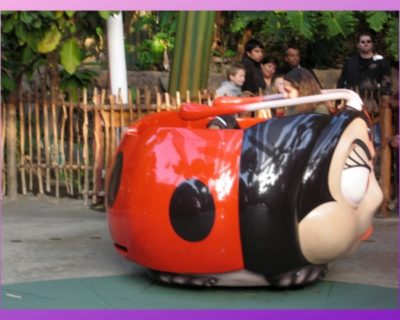 A mother-daughter ride on Francis's Ladybug Boogie
We'd spin on Francis's Ladybug Boogie, sometimes insisting that one of her stuffed animals wanted a turn. We'd always joke about which ladybug we'd want to ride since they all looked the same!
She was overjoyed when she was finally big enough to drive one of the Tuck and Roll's Drive 'Em Buggies. When we'd visit the parks with her grandparents, she would try her hardest to ram into Grandpa's bug!
But I'm most sentimental about Heimlich's Chew Chew Train, because this is the very first ride my daughter ever went on. It was her first birthday, and we were spending the night in the Disneyland Hotel, and visiting each park for a day. I wore her in my baby carrier so she was facing forward, and she gazed at all the bright colors. I don't know if she got the joke when Heimlich talked about carrots being good for his eyes, but I know I'll cherish that memory forever.
Will you miss a bug's land? Share some of your memories with us in the comments below or on Facebook or Twitter!
Did you like this article? Make sure to share it with your friends! Check below for easy ways to share!
Want to visit Disney California Adventure? Contact The Magic for Less Travel for more information and a free, no-obligation quote.