This post may contains affiliate links for your convenience. If you make a purchase after clicking a link we may earn a small commission but it won't cost you a penny more! Read our full disclosure policy here.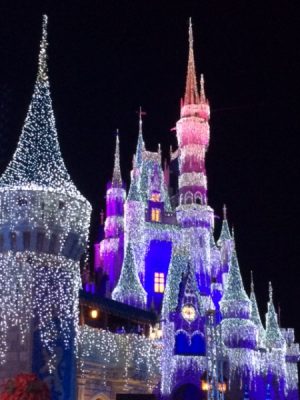 The
holiday season at Walt Disney World
is unlike anything you can imagine! There's nothing better than strolling down Main Street U.S.A. with a hot cocoa in hand, listening to Christmas carols, and taking in the view of Cinderella Castle, adored with thousands of sparkling lights. This Christmas season, I was lucky enough to take a girls trip to Walt Disney World over Veterans Day Weekend, where I got to take in my very first
Mickey's Very Merry Christmas Party
! Here, I'll bring you my trip report to get you in the holiday spirit!
GETTING READY TO PARTY
My best friend of 16 years and I are both gigantic Disney fans. She lives in New Hampshire, and I'm in New York City; rather than meeting half way in chilly New England, we decided to take a long weekend in Florida! We purchased our Mickey's Very Merry Christmas Party tickets about one month in advance. Since the party is early in the season, we were able to get tickets with no difficulty (and I was able to use my Annual Passholder discount to save a few bucks!). Having the tickets purchased gave us something very exciting to count down to as the weather cooled down outside! And being total Disney nuts, we made it our mission to pick out the perfect holiday Mickey ears!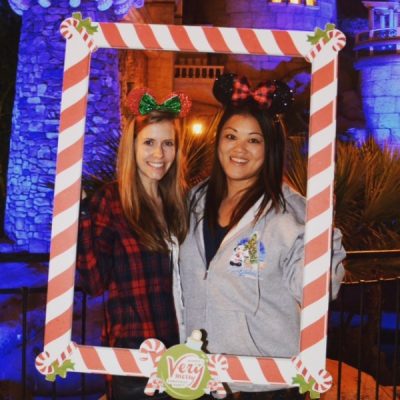 ARRIVING AT THE PARTY
Since my friend usually only makes it to Disney for a week every year or so, she hadn't invested in an annual pass. Park tickets are pretty pricy, so she decided to skip regular park admission for the day and opt for a 4:00 p.m. entrance with the Mickey's Very Merry Christmas Party ticket. We utilized our paper party tickets to gain admission to the parks, and were adorned with party wristbands to wear throughout the event. The party didn't actually start until 7:00 p.m., so we had 3 hours of regular park time to squeeze in some attractions and a quick bite to eat. We decided to get some real food in our stomachs before the party started so we didn't have to spend any precious party time waiting in line for burgers or flatbread pizza! We also utilized this time to shop for some holiday-specific souvenirs; Jess bought a very cute Christmas sweatshirt and a great pair of plaid Minnie Mouse ears! We rode The Many Adventures of Winnie the Pooh, Buzz Lightyear Space Ranger Spin, and Voyage of the Little Mermaid.
PARTY KICKOFF
At 7:00 p.m. on the dot, the party kicked off! Hundreds of Cast Members swept through the park, corralling guests who did not have party wristbands and ushering them toward the gates. We were asked to show our wristbands multiple times as we moved from Liberty Square (home of delicious molasses cookies, but I'll get to that!) to Tomorrowland. The crowds gradually decreased over the next 30 minutes or so, and we decided to indulge in some cookies and cocoa while we made a game plan for the night. We wanted to accomplish as much as possible, so we sat down with the party-specific park map and some complimentary treats to make a plan!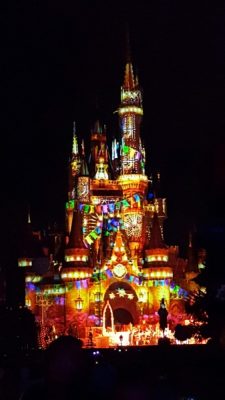 Our goals for the night included checking out every cookie/treat stand throughout the park (as each offered different treats!), viewing the Christmas parade, checking out the fireworks, and seeing Elsa "light" the castle. Between party-specific activities, we wanted to squeeze in as many attractions as we could, especially those that typically have longer wait times! I have to admit, we did well!
THE TREAT STATIONS
We managed to tackle all of the delicious treat stops throughout the park. Historically, treats have been limited to snickerdoodles and hot cocoa, but this year, each station boasted a
unique snack option
! Being a self-proclaimed foodie, I made it my mission to try something at each stop. My very favorites included the chewy gingersnap molasses cookie at the Heritage House in Liberty Square and the classic hot cocoa, located in Tomorrowland and Adventureland. My friend enjoyed the peppermint bark cookie from the Lunching Pad and the eggnog from Heritage House! We also enjoyed the blue raspberry snow cone in Fantasyland (though we were a little too chilly to finish them!). The lines moved quickly at each stop, so we were able to go back for seconds (and thirds) of our favorites!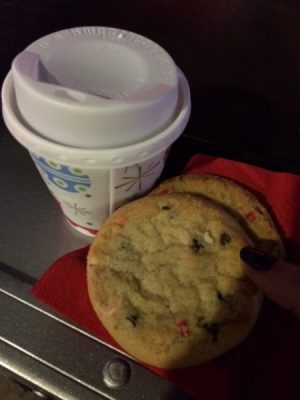 SPECIAL HOLIDAY ACTIVITIES
I'm usually in Florida during Christmas, but I've never managed to fight the crowds and see the Christmas parade or fireworks. I knew the party was the perfect opportunity to enjoy all of the special holiday events without the wild crowds! We kicked off the party magic with the
Frozen Holiday Wish
show, where Queen Elsa "lit" the castle with gorgeous glowing lights. We took our time enjoying Main Street U.S.A. as it "snowed" down on us! We came back to the front of Cinderella Castle to enjoy the 10:00 Holiday Wishes, and returned again for the 11:00 p.m. Mickey's Once Upon a Christmastime Parade (complete with candy-scented floats and an appearance by Santa, himself). If you're going to the party, these are 3 can't-miss events!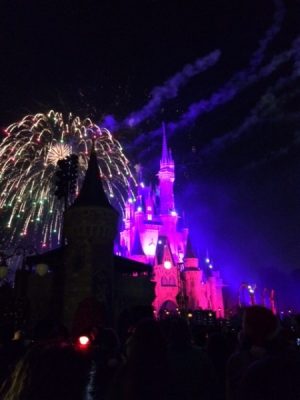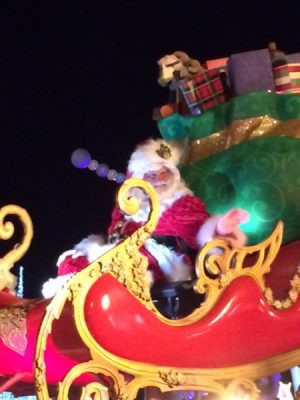 ATTRACTION-MANIA
Throughout the night, the crowds dwindled down, and we were able to ride everything we set out to do! Some of our highlights were the Jingle Cruise, a holiday-themed overlay of the Jungle Cruise, Peter Pan's Flight, Space Mountain, Seven Dwarfs Mine Train, and the Haunted Mansion. We were also surprised at how much we enjoyed riding Dumbo, after not having ridden it in years! We took the opportunity to get in some more crowded attractions during the first parade, and we bolted from the second parade to get in line at the Seven Dwarfs Mine Train. We also stopped to get our pictures taken at many of the holiday-themed PhotoPass stations!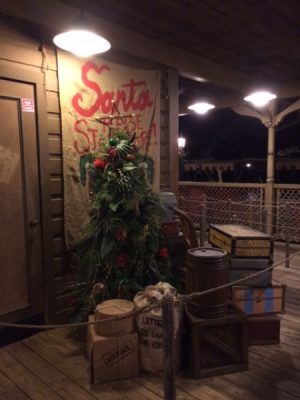 SUMMARY
All in all, we had an absolutely perfect evening at Mickey's Very Merry Christmas Party. We probably ate 20 cookies throughout the course of the night, and we were able to see the fireworks, parade, and all of the attractions we wanted to! Although this event is a splurge, I think I'll be back every year, from now on!
What is your favorite part of visiting Mickey's Very Merry Christmas Party? Share in the comments!