This post may contains affiliate links for your convenience. If you make a purchase after clicking a link we may earn a small commission but it won't cost you a penny more! Read our full disclosure policy here.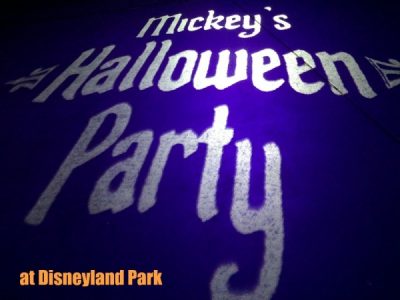 Welcome, foolish mortals, to Mickey's Halloween Party!
On September 30th, my family and I enjoyed Mickey's Halloween Party at Disneyland Park. This is a special ticketed event held on select evening in the Fall. On nights when the party is being held, Disneyland Park closes to regular guests at 7:00 p.m., and only people who have purchased tickets to the party can stay in the park until midnight.
Guests are encouraged to come dressed as their favorite Disney character, or in any Halloween costume, as long as it follows their guidelines, which can be found here. Over the course of the evening, we witnessed some truly creative costumes, including a Dad who dressed as Nick Wilde from Zootopia, complete with a fox tail sticking out from below his button up shirt.
Although the party starts at 7:00 p.m., guests who only purchased party tickets and didn't purchase a regular Disneyland ticket can enter Disneyland Park as early as 4:00pm.
Once we arrived, we were shown to the Special Events entrance turnstiles. After we presented our tickets, we were given party wristbands. Throughout the evening, we were asked by cast members to show our wristbands to prove we belonged in the park after regular hours.
Next, we were shown to a kiosk where we picked up our treat bags. This year, the bags feature Beauty and the Beast on one side, and Moana on the other. You are also welcome to bring your own treat buckets from home. My daughter brought a Mickey treat bucket, and we witnessed other guests using large shopping bags.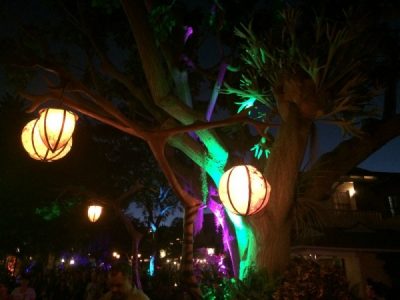 Spooky decorations at the Frontierland Treat Trail
We were also given a special Mickey's Halloween Party map, which showed the locations of the Treat Trails, the parade route, and the locations of special live entertainment.
We were free to enjoy the park from 4:00 p.m. – 7:00 p.m. like any other day guest. However, at about 5:00 p.m., the restaurants around the park began to close so that they could get ready for the party. All the eateries on Main Street, U.S.A. stayed open.
Once 7:00 p.m. rolled around, we noticed that lines for rides were virtually nonexistent. The only line we saw was for Haunted Mansion Holiday, which hovered around 50 minutes every time we passed. Lines for Splash Mountain, Star Tours, Buzz Lightyear, Astro Orbiter and many others were shockingly short. The same was true for the character meet and greets inside the Star Wars Launch Bay.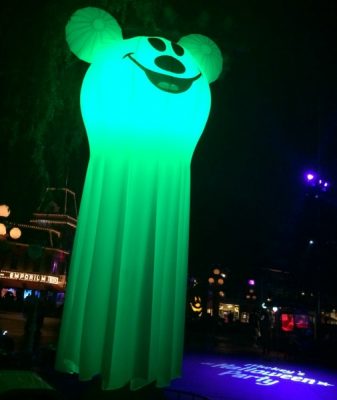 Ghostly Mickey
The park looked absolutely gorgeous in its Fall finery. The Halloween decorations permeated the park, and there was something very eerie about the fog coming off of the Rivers of America.
It was my daughter's birthday, and she really wanted to go to the Treat Trails. On these trails, several treat kiosks were set up. Friendly cast members would drop a handful of treats into guests' treat bags. We got lots of chocolates, plus bags of apples, Pirate's Booty, graham goldfish, Cliff Z Bars, and other candies. I am not exaggerating when I tell you that we came home with twenty, count 'em, TWENTY pounds of treats. (We put our bags on the bathroom scale when we came home.) When our treat bags were filled to bursting, we were encouraged to go to a shop and ask for additional bags. Since we were done for the evening, we didn't, but it's good to know that that's an option.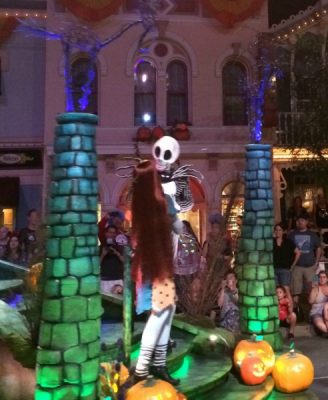 Jack Skellington and Sally during the parade
One of the highlights of the evening was the brand new parade, which was shown twice. We caught the earlier presentation. We arrived at 8:00 p.m. for the 8:30 p.m. parade, and were able to find a decent spot. (Special thanks to the group of young people standing in front of us who noticed that my daughter could not see and asked her to join them!)
While we were waiting for the parade, we were entertained with ghoulish and ghostly projections on the Main Street, U.S.A. storefronts, accompanied by Halloween music. The parade was started with the ride of the Headless Horseman. The parade itself was populated by characters from The Nightmare Before Christmas and many classical Disney villains.
At 9:30 p.m. we were able to see the fireworks, which, in true Disney fashion, were spectacular. However, because of the construction of Star Wars land, it was quite difficult to get around the park during the fireworks presentation. At one point, guests were directed to only move clockwise around the park, which made getting from Frontierland to Fantasyland difficult. Plan accordingly.
Depending on the date, a ticket to attend Mickey's Halloween Party can range from $77 to $99. Friday nights and nights close to Halloween are the most expensive. Still, this is less money than a one day one park ticket.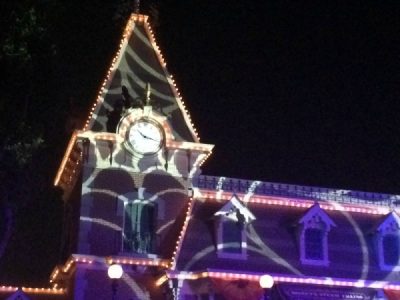 There was so much else going on that we didn't get to experience. The Cadaver Dans were performing but we never got a chance to see them. We got to watch young Padawans enter for the Jedi Training Academy, yet we were too busy collecting treats to watch them.
Bottom line? We thoroughly enjoyed our experience and would definitely do it again!
Have you experienced Mickey's Halloween Party? What did you enjoy? Share in the comments!