This post may contains affiliate links for your convenience. If you make a purchase after clicking a link we may earn a small commission but it won't cost you a penny more! Read our full disclosure policy here.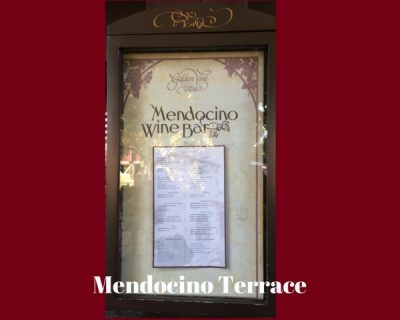 Welcome to the Mendocino Terrace!
 I recently spent a day at California Adventure with my family. My parents were able to join us, and my Dad and I have something in common: a love of red wine. So when it was dinner time, rather than enjoying our dinner in the designated seating area for the Pacific Wharf Café or Cocina Cucamonga Mexican Grill, we took our food to the Mendocino Terrace so we could enjoy a glass of wine with our dinner.
This is something my parents had done on a previous trip, and were encouraged to do so by a Cast Member. The Mendocino Terrace is on a patio, which makes it perfect for people watching. This used to be one of our favorite places from which to watch a passing parade, but, at this time, there is no afternoon parade in California Adventure.
The line to order wines and beers moved slowly, partially because this was a Saturday in the late afternoon, and partially because the Cast Members here are knowledgeable about wines and are happy to help guests make a selection.
Sebastiani Cabernet Sauvignon
My Dad, who was buying (thanks, Dad!) bought each of us a glass of Sebastian Cabernet Sauvignon. He also bought my Mom a glass of Saint-Hilaire Sparkling Wine. I was impressed at the pour of the wine; the Cast Member filled our glasses very full, so much so that I was worried about carrying it back to our table! Dad also bought my husband a beer, a Hangar 24 Orange Wheat, which he enjoyed very much.
Keep in mind that we started our California Adventure day at park opening, which was 8:00 a.m. By dinner time, it was such a welcome respite to sit back, enjoy a glass of wine, and watch the crowds go by. Even my daughter, running on pure energy fueled by Disney mania and birthday madness, enjoyed the rest in the day.
We enjoyed the rest so much, in fact, that my Dad wound up buying us all a second drink! We wound up spending a nice chunk of time here, complimenting a nearby guest on her family's fabulous Aladdin-inspired hats, talking about our upcoming Walt Disney World trip, and planning what we should do with the rest of our day.
My Disney days are usually full speed ahead, with an emphasis on doing and seeing as much as possible in whatever amount of time we have to spend. I am so glad that my family had the good sense to sit back and slow down just for a while, and to truly savor the time we spent together.
Have you stopped to enjoy a beverage and the view from the Mendocino Terrace at Disney California Adventure? What did you think? Share in the comments. 
Did you like this article? Make sure to share it with your friends! Check below for easy ways to share!
Incoming search terms:
https://www themouseforless com/blog_world/mendocino-terrace/
mendacino terrace disney world