This post may contains affiliate links for your convenience. If you make a purchase after clicking a link we may earn a small commission but it won't cost you a penny more! Read our full disclosure policy here.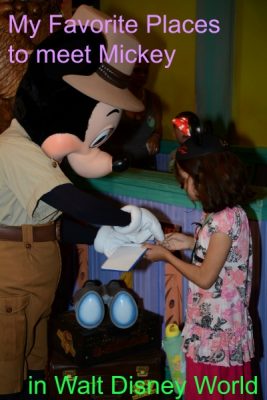 Mickey Mouse is always happy to greet his friends!
If you want to meet Mickey Mouse at Walt Disney World, the options can seem overwhelming. Do you want to meet him at a park? At a resort? During a character meal? What outfit do you want him to wear?
We've been fortunate to meet Mickey in a variety of places around Walt Disney World over the years. It seems like each location has its own charm, but after multiple visits, three locations stand out for us.
THE CHARACTER SPOT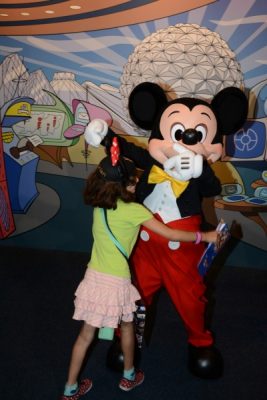 Meeting Mickey at the Character Spot
This unassuming little spot in Epcot's Future World is a fine place to meet Mickey. For starters, it offers FastPass+, so you can reserve a time to meet him in advance. Even if you decide not to grab a FastPass+, the lines are usually not bad here, especially if you visit early in the day.
At the time of this writing, the Character Spot is also where you can meet Joy and Sadness from Inside Out, as well as Baymax from Big Hero Six, however, FastPass+ is not available to meet those characters.
On our most recent visit, we used our FastPass+ to visit not only Mickey, but also Minnie and Goofy in this location. When we arrived, the entire queue was being held inside the air conditioned building, making it a great way to beat the summer heat.
ADVENTURERS OUTPOST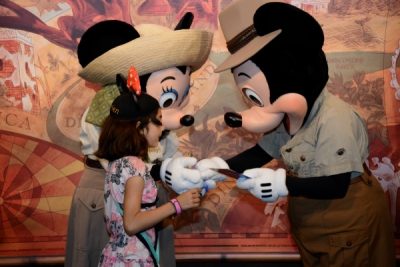 Mickey and Minnie at the same time?  BONUS!
This indoor location at Animal Kingdom will give you the opportunity to meet both Mickey and Minnie simultaneously. And they're dressed in their safari best! While you wait to meet them in the air conditioned, indoor queue, look at the cool photos on the wall of the pair's exotic adventures all over the world.
FastPass+ is available for this meet and greet, although lines are usually quite manageable. It's a great way to get your family's photo with both Mickey and his best girl.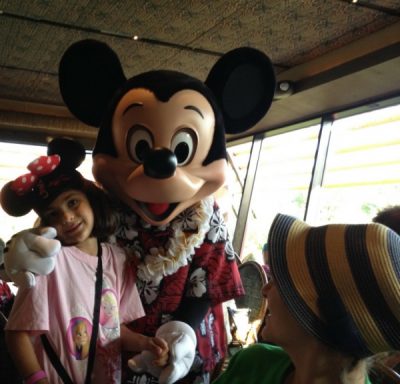 Mickey Mouse at 'Ohana's Best Friends Breakfast
If you'd like to meet Mickey on a leisurely non-park day (your departure day, perhaps?) consider meeting him at the Polynesian Resort during breakfast!  'Ohana's Best Friends Breakfast is hosted by Lilo and Stitch, but you can often find Mickey here as well, dressed in his Hawaiian best.  In fact, on the day we did this, a boy at a nearby table showed up in the same Hawaiian shirt as Mickey!
Reservations are suggested and the meal is included as a table service meal in the Disney Dining Plan.  Paying out of pocket is always an option.  Character appearances are always subject to change, so if meeting Mickey is important, check the character lineup when you make your reservations.
TOWN SQUARE THEATER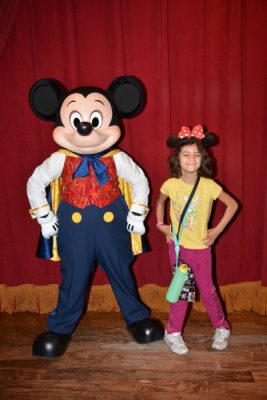 Wait – did Mickey just say something?
Located in the Magic Kingdom's Main Street, U.S.A., this meet and greet location is, hands down, my favorite. Even if you've met Mickey in every other location except this one, you need to go here to talk to Mickey. Because in this location only, Mickey talks back.
That's right – Mickey will joke with you, suggest poses, sing Happy Birthday if he sees that you're wearing a birthday button, and let you know how happy he is to see you. We are Disneyland locals, and we're hoping Talking Mickey makes his way West soon!
FastPass+ is available here, and because of the novelty of an actual talking mouse, we decided to use one on our most recent visit. Another great time to meet him with a minimal wait is right after park opening. The indoor, air conditioned waiting area is large, so even if there is a long wait, chances are you'll be covered from the elements.
Where is your favorite place to meet Mickey Mouse at Walt Disney World? Share in the comments.
Did you like this article? Make sure to share it with your friends! Check below for easy ways to share!