This post may contains affiliate links for your convenience. If you make a purchase after clicking a link we may earn a small commission but it won't cost you a penny more! Read our full disclosure policy here.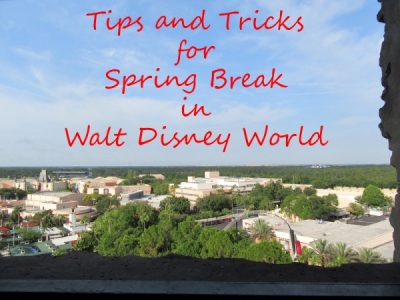 Spring break is popular time to visit Walt Disney World.  Most kids have time off from school, weather is warming up and people are ready for some fun and sun.  With that in mind, crowds can be high during this time, so how can you get the most out of your trip?  What are ways you can manage the crowds?  Here are some tips and tricks to tackle Walt Disney World during spring break.
Plan Ahead
There are different levels of planning when it comes to Disney vacations.   I am a spreadsheet, flow chart, schedule type of planner.  I like to have my ducks in a row before we even leave; however, not everyone likes to or wants to plan their vacation this way.  When heading down to Walt Disney World during a peak time, whether it is spring break or another peak time, it is important to take some time to plan a few things out.  The following are a few ways that you can prepare ahead of time to set yourself up for success in the crowds.
Planning Sheet Example
Plan and Educate
Like I mentioned before, I am an over planner when it comes to Disney vacations.  I love making my color-coded, laminated plans as much as I love the trip itself.  Planning makes me happy and makes me feel more prepared as well as educated prior to getting to Disney.  I know many people would prefer to just show up and see what happens.  And for many this works out well, however, I would strongly urge you to use a tentative plan when visiting during a peak time of year like spring break.
Start by researching to see when Extra Magic Hours, fireworks and other shows are scheduled to happen.  Even if you don't make an official plan, having this knowledge ahead of time will help you feel less overwhelmed when arriving.
If you would like to plan even more in detail, start thinking about items such as dining reservations and FastPass+ reservations.  These are great ways to make your trip a little less stressful.
Advance Dining Reservations
Advance Dining Reservations is the next step I would suggest in your planning process.  If you are interested in specific dining experiences such as Be Our Guest or Cinderella's Royal Table you will want to book these as close to 180s ahead of time (for resort guests) as possible.  They book up quickly and space and times are limited especially during busy times.  If these are already filled up, don't panic.  Keep looking, calling and following up as reservations are known to pop up even the day of.
Still can't get your favorite restaurant?  It will be okay.  Disney has so many amazing choices from relaxed dining to fine dining.  There is sure to be something that you will love you just need to try something new.  Also, trying to eat outside the main parks at resorts or even Disney Springs is another great way to grab some amazing dining experiences.  Animal Kingdom Lodge and Disney's Polynesian Resort have some of our favorite dining experiences of Sanaa, Boma and 'Ohana.
Does this sound stressful to you still?  Do you not want to plan all your meals ahead of time?  Then go with the quick service dining method.  Throughout the parks you can find tons of walk up dining experiences as well with a variety of food choices not just your hot dog and burger.  If your travel group really doesn't want to plan, this might be the way to go!   If this is your method of choice, try eating at off times.  Trying to eat supper at 6:00 p.m. isn't going to be an unique idea.  Instead, shoot for earlier or later times with snacks in between.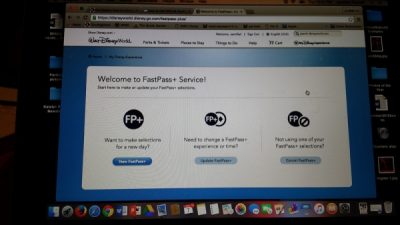 Fastpass+ Reservations
 Fastpass+
Along with booking dining, booking FastPass+ reservations is key to tackling crowds in the Disney parks.  These work much like a reservation, but are for specific rides, shows and entertainment throughout the four main parks.  Each guest is able to book three reservations for each day they have a park ticket ahead of their vacation.  Resort guests are able to book up to 60 days ahead of arrival whereas non-resort guests can book up to 30 days ahead.
If your family has some rides that are absolute musts, this is a great way to ensure that you can get that taken care of.  Also, if you are looking for the headline attractions such as Splash Mountain, Seven Dwarf Mine Train, Frozen Ever After, Rock n' Roller Coaster, using a FastPass during peak times will greatly reduce or even eliminate your wait time.   Again, just like with Advance Dining Reservations if you can't find your favorites right way try, try again.  They often can pop up at last minute.
Another amazing tip for peak times is to KEEP BOOKING FastPases while in the parks.  Once you have used your originally three, you are able to pop on the MyDisneyExperience app and book a new one.  This can allow you to pop from ride to ride with little wait time especially if you don't care which rides you get to.
FastPass+ is a something you will want to take advantage of when visiting during peak times as it will lower your wait time greatly.
Researching, Advance Dining Reservations and FastPass+ reservations are all ways to help make your spring break vacation a little less stressful.  However, if you are still not convinced you need to plan or you just aren't that type of vacationer, here are some more ways to make the most out of your vacation.
Breathe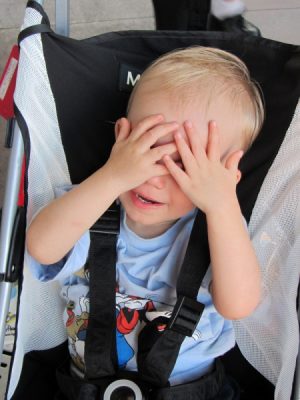 Remember to not panic
The first thing you need to remember to do whether you have planned down to the minute or you are going to wing it, is to breathe.  It is not going to go perfectly.  Things will change.  Rides will break down.  Kids will meltdown.  Mom might meltdown.  Make sure when these things happen you take a step back and breathe.  It is okay.  When these things happen, take into consideration some of these ideas.
Be flexible
If you aren't going to plan, make sure you are willing to be flexible.  When visiting during peak times, be willing to adjust on the fly.  This could mean adjusting when and where you are going to eat.  It could mean taking an unplanned break.  It could mean heading to a totally different park than originally planned.   When things take an unexpected turn, don't be frustrated just go with it.  Even if you have planned, same thoughts apply, make sure you are flexible in your plans.  Be willing to adjust those snacks, bathroom breaks and even bedtimes.  You can not plan ahead for everything, trust me I try, so you need to be willing to adjust and in doing so you might find a new favorite.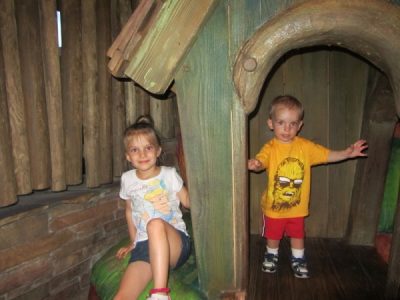 Loving the play are at Splash Mountain
  Enjoy the lesser known
If you don't want to plan Advance Dining Reservations or FastPasses, there will still be so much for you to do and enjoy while visiting Disney.  Just realize that you might not get to the e-ticket attractions, but you instead can take in all the lesser known fun throughout Disney.  Watch the street shows, join a dance party or visit that ride or show you never heard of.  Always stop and get an entertainment guide to see what is happening around the park throughout the day.
Each park has so much to see and do outside the main rides that you can keep yourself busy and entertained easily.  Epcot has Kidcots in each country where kids can color Duffy the Bear and learn a little about the country.  In Magic Kingdom, you could spend time on Tom Sawyer's island exploring.  The big attractions at the parks will get busy during spring break.  Major ride can have hour long waits but that doesn't mean you have to spend your time waiting in line during your trip.  Visiting the lesser known attractions or just enjoying being in the park surrounded by Disney can be a great way to enjoy yourself.
 Take in some shows
There are many shows and rides in each park that seat many guests at a time and these are great options when visiting during peak times.  Look for those big theaters such as Indiana Jones Epic Stunt Spectacular, Beauty and the Beast: Live on Stage at Hollywood Studios or Finding Nemo: The Musical and Festival of the Lion King at Disney's Animal Kingdom.  Epcot has numerous shows throughout the World Showcase that are sure to amaze and don't need FastPasses and sometimes even have room for walk up seating.  Magic Kingdom has dance parties and parades going on it seems like all the time.  Although you are able to get FastPasses to some of these shows, you don't always need them if you aren't set on the perfect seat.  During busy times these are great options that normally don't have long waits.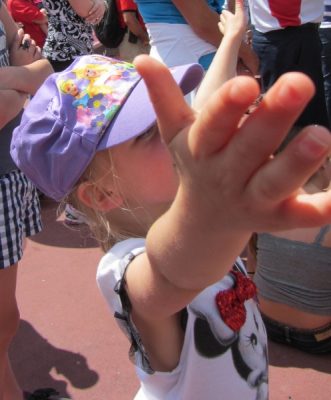 Daughter enjoying castle show that wasn't on our plans
Enjoy the Magic
This is the "stop and smell the roses" idea.  Walt Disney World is full of magical experiences everyday.  From the street vendors who have bubble makers to the smells of the popcorn on main street, magic seems to be everywhere.  Take time to stop and just enjoy.  Enjoy the music at the different countries in Epcot, enjoy the grassy area in front of the castle, watch some animals in Animal Kingdom.  Yes it will be busy around you but the magic will be as well.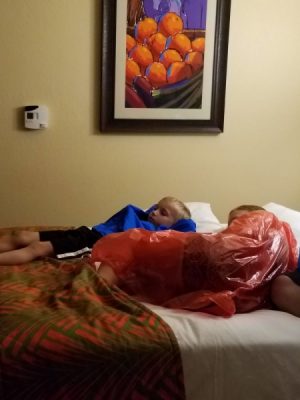 Naps are great
Take breaks
When visiting during peak times, it is so important to plan breaks.  Being in the parks during spring break time with so many people can be draining so it is a great idea to take time for breaks.  They don't have to be long.  They don't have to be at the resort.  Just take time to sit and relax.  Grab a snack and people watch.  Allow your body and your brain to just relax is a great way to re-energize before your next adventure starts.  If you are taking kids, make sure you allow for rest time.  It doesn't matter how young or old they are, they will need some time to decompress and afternoon breaks are great ways to do that.
Visiting Walt Disney World during spring break is a wonderful time to visit, but there will be crowds.  With  little planning, a little breathing, and a little patience you are sure to still have a magical trip.
What tips do you have for someone looking to take a spring break vacation to Walt Disney World? Share in the comments.