This post may contains affiliate links for your convenience. If you make a purchase after clicking a link we may earn a small commission but it won't cost you a penny more! Read our full disclosure policy here.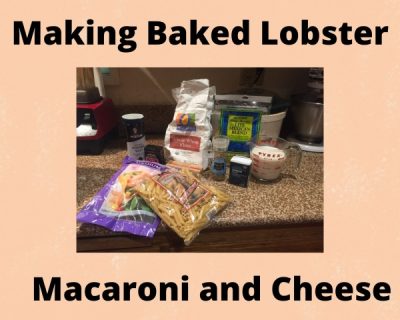 You'll notice some substitutions…
After my success making Safari Skewers from the Unofficial Disney Parks Cookbook, I decided to try a recipe that was a little more challenging. I opted to make the Baked Lobster Macaroni and Cheese from Discovery Island in Animal Kingdom!

A quick glance at the Walt Disney World website shows me that Eight Spoon Café, where this dish was previously offered, is not offering it right now. So I figured this would be the perfect excuse to make the lobster macaroni and cheese at home!

Well, this lobster macaroni and cheese recipe gave me some trouble, but I assure you: In the end, it was tasty and delicious. Here's what you'll need:

3 tablespoons cold, salted butter
¼ cup all-purpose flour
2 cups whole milk
4 cups shredded sharp Cheddar cheese
1 teaspoon salt
1 teaspoon garlic powder
1 teaspoon ground black pepper
1 teaspoon onion powder
8 ounces dry elbow macaroni
½ cup shredded precooked lobster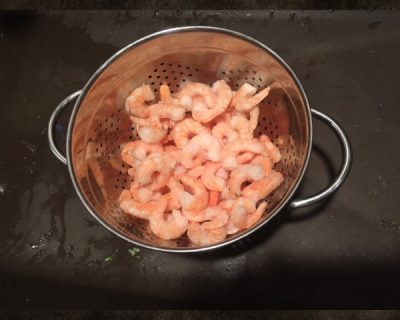 I substituted shrimp for the lobster
My trouble began at the grocery store. First, I could not find any elbow macaroni. I decided to substitute penne pasta, which worked quite well. Next, although this store has in the past stocked frozen cooked lobster and langoustine, neither was available for sale. I decided to try using frozen cooked shrimp instead, and the result was delicious.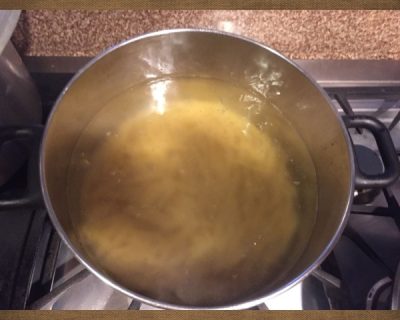 I doubled the amount of pasta
Before I cooked the pasta, I read the entire recipe. I was puzzled when it called for a 9" x 13" baking dish. I could not imagine filling a dish that size with only 8 ounces of cooked pasta! Since my bag of pasta was 16 ounces, I decided to double the recipe.
The next steps was to preheat the oven to broil on high and grease the bottom and sides of that 9 by 13 inch baking dish.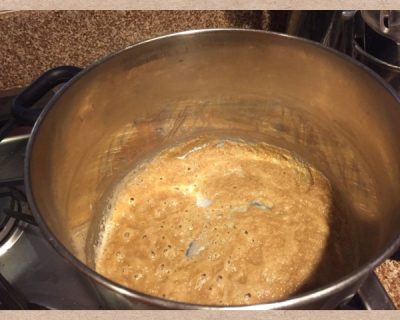 Butter and flour
Then, in a large saucepan over medium heat, add the butter and the flour, whisking constantly for two minutes.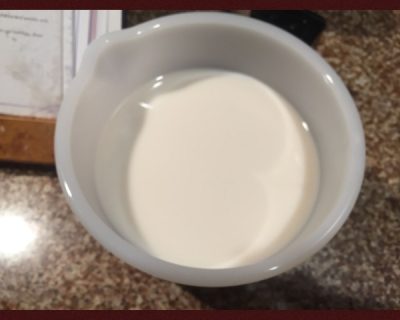 Milk
Next, in a small microwavable bowl, microwave the milk on high for two minutes.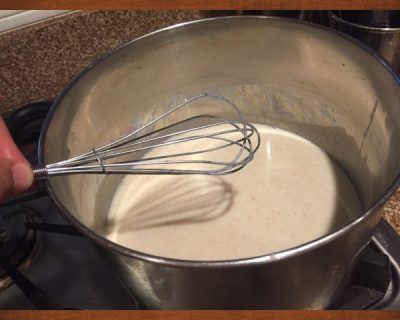 Whisking the milk into the flour and butter mixture
When it's hot, whisk the milk into the flour mixture and cook, stirring constantly, for two minutes. Remove from the heat.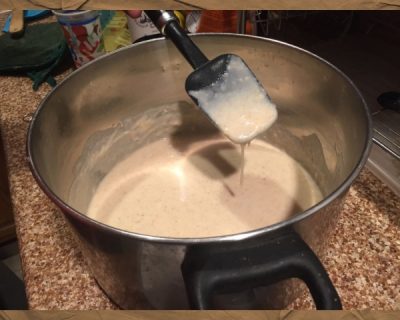 Completing the cheese sauce
Then, add three cups of the shredded cheese to the milk mixture, followed by the salt, garlic powder, pepper and onion powder. Add the cooked, drained pasta and stir it well until the cheese sauce completely coats the pasta. Next, stir in the seafood.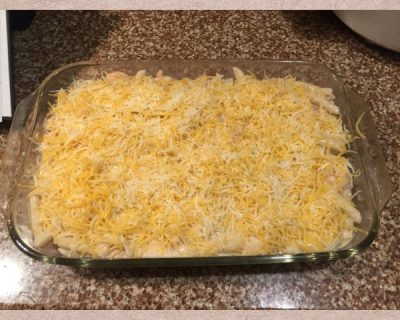 Ready for the oven!
Next, spoon the lobster macaroni and cheese into the baking dish and sprinkle with the remaining cheese.

Lastly, broil until the cheese on top is brown and bubbling, about 8 minutes.

Remember when I said I doubled the lobster macaroni and cheese recipe? Because of that, the top of the cheese was indeed brown after 8 minutes, but I could tell that underneath, the mixture was still runny. I decided to switch my oven to bake and bake it an additional 6 minutes at 500. This made the macaroni and cheese firm up.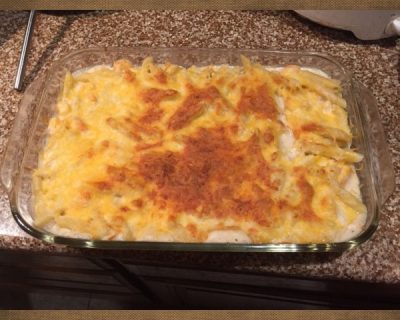 The finished product!
I may have taken liberties with this lobster macaroni and cheese recipe, but the result was absolutely delicious. Even my usually picky daughter said she would eat it again! And that's good, because remember how I doubled that recipe? I've got leftovers in the fridge!
Did you like this article? Make sure to share it with your friends! Check below for easy ways to share!  
Want to visit a Disney Destination? Contact The Magic for Less Travel for more information and a free, no-obligation quote.

Incoming search terms:
https://www themouseforless com/blog_world/making-baked-lobster-macaroni-cheese/