Make Disney-style Cupcakes at Home
This post may contains affiliate links for your convenience. If you make a purchase after clicking a link we may earn a small commission but it won't cost you a penny more! Read our full disclosure policy here.
Sharing is caring!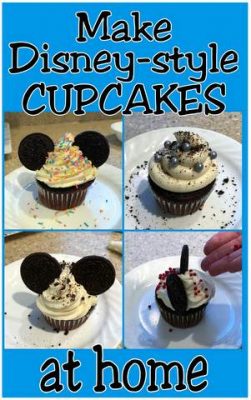 There's nothing better than a sweet cupcake at the Disney Parks. But if you've got a craving for one at home, we've got a recipe and some techniques to satisfy that sugary desire. Check out some ways to make Disney-style cupcakes at home.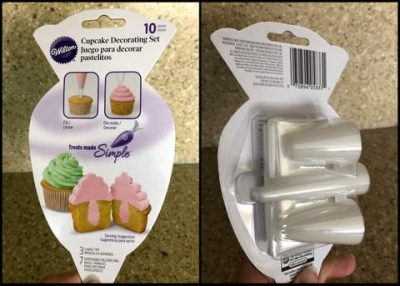 I bought an inexpensive $3 set of three large decorating tips and plastic bags at a large discount store. If you already have icing tips, the two I used most were 1M and 2A.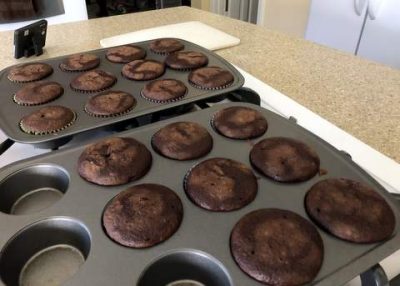 Start with a batch of your favorite cupcakes. I chose chocolate to contrast with my vanilla buttercream icing.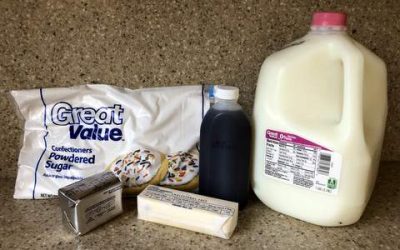 For frosting, I used a classic Wilton buttercream:
1/2 cup vegetable shortening
1/2 cup butter/margarine, softened
1 teaspoon vanilla
4 cups powdered sugar
2 tablespoons milk
Beat shortening and butter/margarine in a large bowl with an electric mixer until fluffy. Beat in vanilla. Add powdered sugar one cup at a time until smooth. Gradually add milk.
Homemade buttercream icing takes more work than buying prepared frosting, but to me the taste and consistency are well worth it. This shortening/butter combo gives you a good flavor and stays firm, unlike an all-butter version I make for frosting cookies.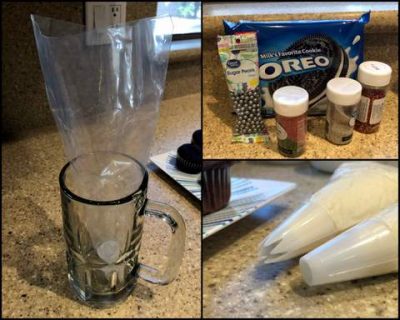 Next I gathered up some decorating supplies I had around the house, along with a package of Oreos. Put the tips into the icing bags and fill with icing. I kept some of my frosting in reserve — you'll see why later!
SUPER SECRET DECORATING TIP: If you want some oomph to your frosting, give it something to build on! Mound some frosting in the middle of the cupcake before starting your swirls around it. This gives the cupcake that Matterhorn-like height.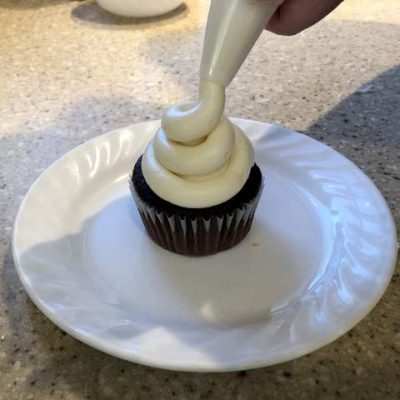 Here's an example of that height with the round 2A tip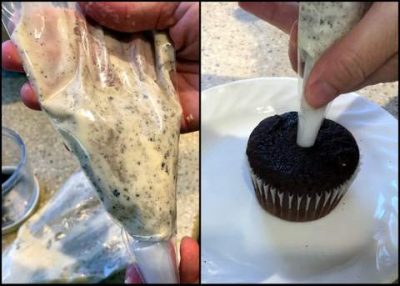 I kept some of the frosting to try an experiment with filled cupcakes like you'd find at the Disney parks. First I crushed a few Oreos and mixed them with the last of the frosting. I used the final long tip from my set to poke into a cupcake and squeeze in a moderate amount of Oreo frosting. Then I mounded some of the Oreo frosting on top before finishing with the regular frosting. Want to see what it looks like inside?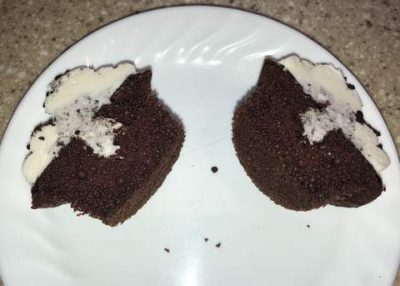 Cutaway view of the inside of an Oreo cupcake — so rich!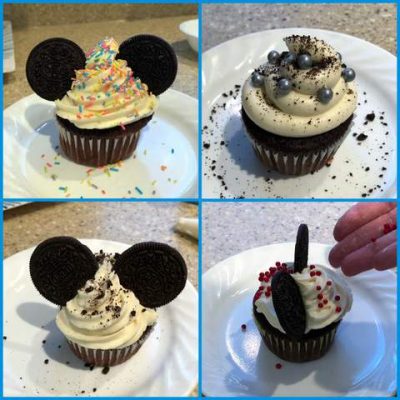 Then go wild with your decorating! I made cupcakes with Oreo Mickey ears, "Grey Stuff" cupcakes like you'd find at Be Our Guest restaurant, birthday ear cupcakes, etc. You can customize with colored frosting or different sprinkles or candies to suit any occasion. I might try a Butterfinger cupcake next time!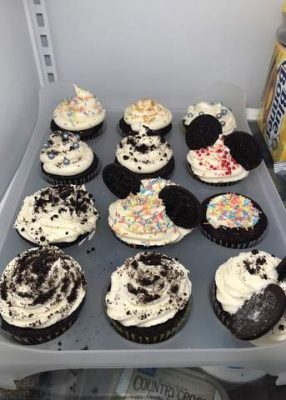 TIP: If you live in a warm climate like me, place your frosted Disney-style cupcakes in the fridge to keep the buttercream from drooping. Pull them out about 5 minutes before eating.
Have you made any Disney-style cupcakes at home? What park cupcake would you try to re-create? Share your thoughts in the comments, or on Facebook or Twitter.
Did you like this article? Make sure to share it with your friends! Check below for easy ways to share!
Incoming search terms:
Disney Worlds recipe for butter cream frosting
Sharing is caring!
About The Author

VikkiT
I am a lifelong Disney lover who will never quite grow up. I love fireworks, roller coasters, and special Disney treats. My four children and husband have been brainwashed into a love of Disney by regular visits to Disney parks and a home life filled with Disney movies and characters. I love travel, writing, and reading.