Easy Minnie and Mickey Mouse Cupcakes
|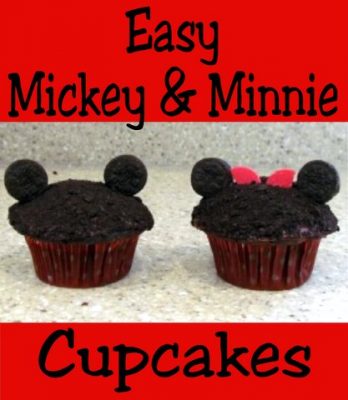 These adorable Mickey Mouse cupcakes would be perfect for a Disney-themed birthday party, a pre-trip surprise, or simply a sweet treat to make with kids! They remind me of an Ear Hat from a Disney park. Mickey Mouse cupcakes are easy to make and delicious!
Oreo Cookie Mickey Mouse Cupcakes
Ingredients:
1 cake mix — any flavor — plus ingredients to bake it
Cupcake liners
Frosting — chocolate looks best
Regular Oreos, to crush
Mini Oreos, for ears
Toothpicks
Red Wilton melts, for Minnie's bow
Directions:
As your mix directs, set the oven temperature and mix the cake mix. Fill the cupcake liners fairly full — you're going for a domed look. Bigger cupcakes means you will only get about 16 per batch.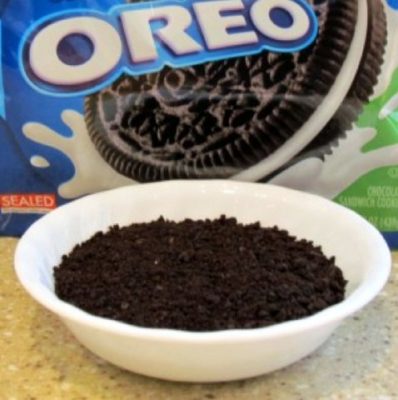 While the cupcakes are baking and cooling, crush the large Oreos. Scrape off the filling and crush two whole Oreos for every cupcake you want to turn into Mickey Mouse ears (you may not want to top the whole batch). Put the crushed Oreos into a small bowl.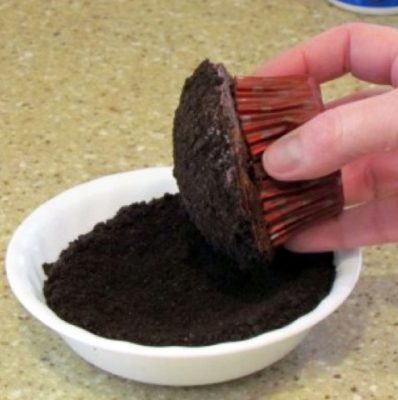 Frost one cupcake at a time. Dip the top of the frosted cupcake into the crushed Oreos and rotate until the Oreos cover all of the frosting.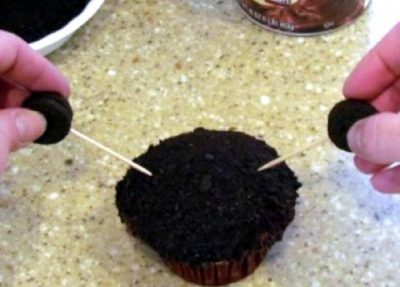 Stick toothpicks through the mini Oreos and squeeze gently to secure the toothpick. Place two Oreo-topped toothpicks diagonally at a steep angle into each cupcake.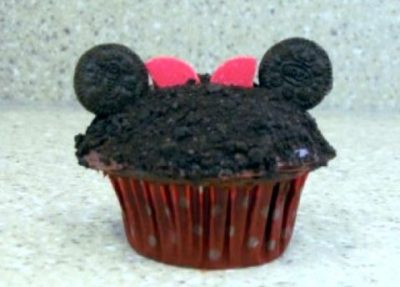 If you want your Ear Hat to look like Minnie Mouse, cut a red Wilton candy melt in half and stick it between the Oreo ears, butterfly-style.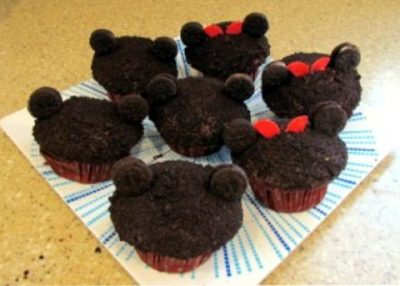 Repeat the frosting and decorating steps for as many cupcakes as you want to create. You can make a whole parade of little Mickey and Minnie ears They're almost too cute to eat!
**Safety tip: be sure to remove the toothpicks before eating the cupcakes!**
Now who is ready for dessert? Foods are always better when they are Mickey-shaped!
Did you like this article? Make sure to share it with your friends! Check below for easy ways to share!
Incoming search terms:
easy mickey mouse cupcakes
disney minnie and mickie cupcake recipies
easy minnie mouse cupcakes
mickey mouse cupcakes oreo ears
minnie oreos