This post may contains affiliate links for your convenience. If you make a purchase after clicking a link we may earn a small commission but it won't cost you a penny more! Read our full disclosure policy here.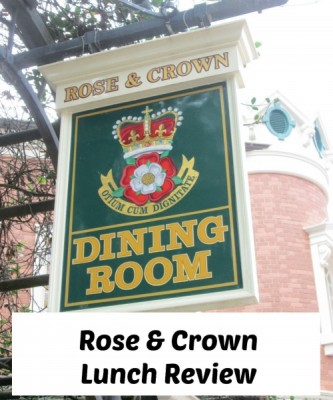 It's been several years since we have been to The Rose and Crown in Epcot's United Kingdom, so we decided  to give it a try on our recent trip.  It was a great choice!
The Rose and Crown has both indoor and outdoor seating.  The outdoor seating overlooks the water, which is nice and makes for an ideal setting if you are having a late dinner and want to enjoy Illuminations.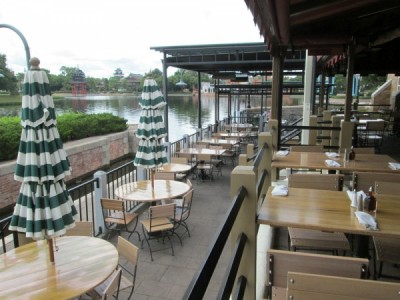 It was a hot day, so we opted for indoor seating.  I have visited pubs in the United Kingdom, and the indoor atmosphere is spot on!  You feel as if you were transported to London when dining here.  You can opt to drink and eat in the pub area, which is standing room only and usually quite crowded, or sit in the back at a table for a full meal.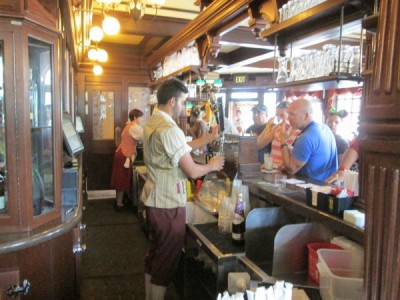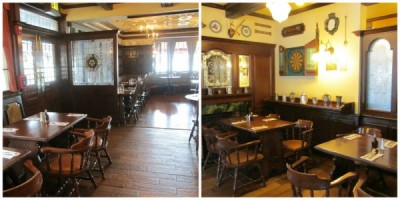 I mentioned that it was a hot day, so the first thing I did was order a cold beer.  I had a Half & Half, which is half Harp and half Guinness.  Delicious!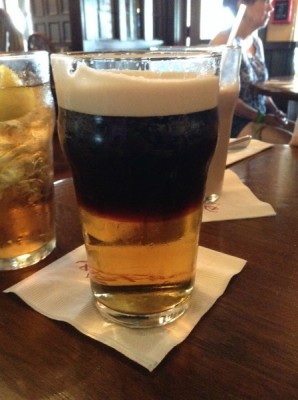 I ordered the Grilled New York Strip Steak cooked medium.   It came with onion rings, green beans, and a red wine sauce.    I enjoyed the presentation of the dish with the onion rings forming a Hidden Mickey!   The steak was cooked medium as I ordered it, and it did have a nice flavor with the red wine sauce.  The green beans were also excellent!  I don't know what it is about the green beans at Walt Disney World and what makes them so special, but I always like the green beans at Disney restaurants.  The onion rings were pretty tasty, though I'm more of a potato person when it comes to pairing a side with steak.  All in all, this was a hearty lunch and I enjoyed it!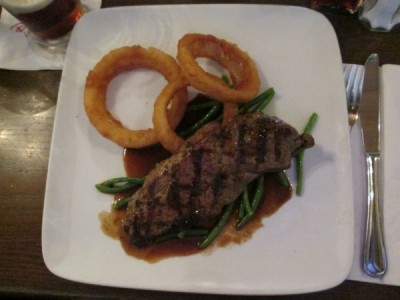 My son was all set to order the fish and chips, but changed his mind at the last minute.  Instead, he got the English Breakfast Burger.  It's an Angus beef patty with Applewood smoked bacon, cheddar cheese and a fried egg.  Chips (aka  French Fries) and a fried pickle were on his plate.  He ate the burger in record speed and said it was good!   I traded a couple of onion rings for some chips, and the chips were nicely done!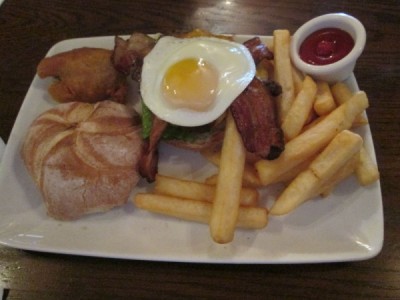 My daughter is the "selective eater" in the family, and few items on the menu appealed to her.  She went with the bangers and mash, though what she had was a modified version of the regular dish.  She asked for plain sausage and plain mashed potatoes, without the other enhancements such as cabbage which usually comes with the dish.  Our server was happy to accommodate this special request, and she enjoyed the lunch!   We've found that many Walt Disney World restaurants are fine with requests such as hers to make the food a bit more plain.  That's handy information to have for a selective eater!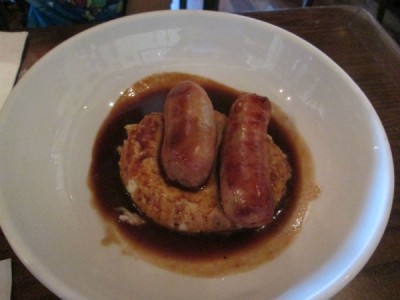 The desserts were good, but didn't stand out as being spectacular.  We liked the entrees better than the desserts.  In the future, if we eat here when not using the Disney Dining Plan, we would opt for appetizers instead of desserts.
I had the Sticky Toffee Pudding.  The flavor was rich, and it was a comfort food type of dessert.  I think I enjoyed my dessert more than the kids enjoyed theirs.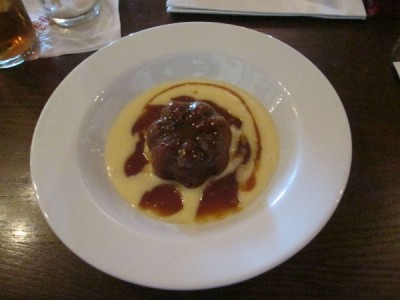 My son had the Bakewell Tart.  He said that it was okay, but it was not a favorite dessert.  It may have been more bland than he anticipated.  I did not try it, so I can't comment firsthand on the taste.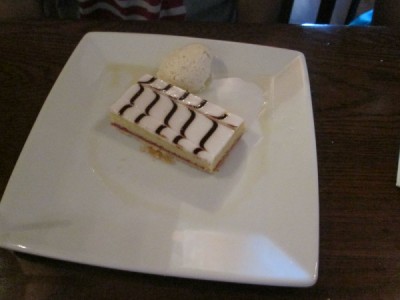 My daughter had Mandy's Mess, a pound cake with fresh berries.  The berries was indeed fresh!  I did try some of the fruit.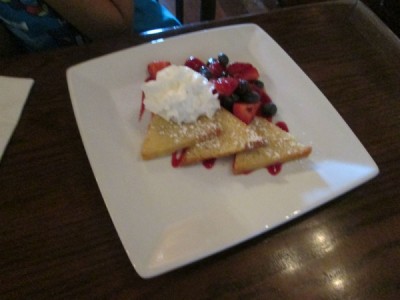 If you're a fan of this restaurant, themed souvenirs can be found in the United Kingdom gift shops.  I'm regretting not buying one of these glasses!
 Our lunch was satisfying, and we will be back to the Rose & Crown someday!  I'm willing to bet that I'll hear a plate of fish and chips and a pint of Half & Half call my name the next time I'm in the World Showcase.
Have you stopped at Rose & Crown for a meal?  What are your thoughts?