This post may contains affiliate links for your convenience. If you make a purchase after clicking a link we may earn a small commission but it won't cost you a penny more! Read our full disclosure policy here.
Le Cellier Steakhouse has been on my Disney bucket list for years. Reservations are sometimes hard to come by, so even though I wanted to, I never seemed to get around to trying it. On a recent visit to Epcot, however, I decided it was finally time to stop by the Canada pavilion and give it a try!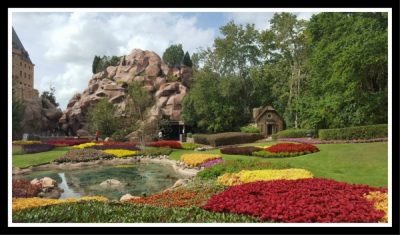 We arrived for our lunch reservation on a very warm afternoon and checked in. We didn't have to wait long to be seated, but it was nice to see that ice water was available for guests since it was so hot outside.
The overall ambiance of this restaurant is quiet and elegant. It definitely had the feel of a "dinner" restaurant even though we were visiting at lunch time. I noticed that there were only a few kids in the dining room while we were there. Children are certainly welcome, but Le Cellier did feel very "adult" to me. It would be a great place for a date night.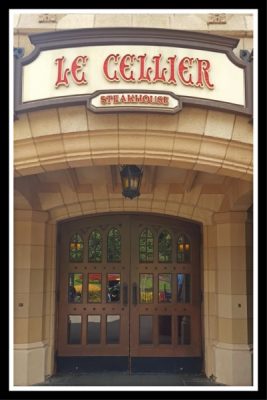 Of course, we had come for the steak, but there were so many things on the menu that looked delicious. I had trouble deciding. My husband and I finally settled on sharing the filet mignon and ordering the signature poutine to share as well. I was hoping to save room for dessert and this seemed like a wise strategy.
We started off with the poutine which included fresh-cut French fries, cheddar cheese, truffles, and a red wine reduction. This was spectacular! The French fries went so well with all of the other elements. I thought the poutine was perfect and it was certainly big enough for 2 people to share.
Next, we moved on to our filet mignon. Full disclosure: I am not a big steak eater. I like it, but it's something I just don't eat all that often. We ordered the steak medium well, but opted to have it butterflied because we figured that it would be easier to split in half that way. In retrospect, I would not have ordered it this way. It was still delicious, don't get me wrong, but it was more well done than I had hoped for. Next time, I will order it medium without having it butterflied. Even though it was cooked differently than I had expected, I could tell that the meat quality was good and I still really enjoyed it.
The steak was served with a mushroom risotto and an asparagus-tomato relish. OK, if I had gone to Le Cellier and eaten nothing but the poutine and that risotto, I would have left happy. The risotto was so good! The flavor of the truffle butter sauce was just delicious. I loved it!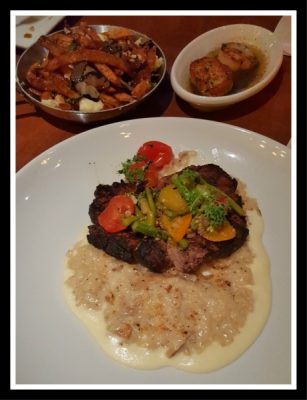 My friend was kind enough to offer me a bite of her scallops and loaded mashed potatoes. The scallops were huge and cooked to perfection. I was a little jealous that I didn't order any. The mashed potatoes were creamy and flavorful. Also a very good addition to the meal.
Sadly, even with sharing a meal, I was too full to order dessert. I was disappointed that I had to pass on the maple crème brulee that I was looking forward to. Oh well.  Good excuse to go back, right?
I've heard mixed reviews of Le Cellier recently, but our experience was definitely positive. The service was great and we liked everything we ordered. I've been thinking about that poutine since that day, so I will certainly be back. Next time, I will be sure to order the crème brulee!
Have you dined at Le Cellier? What did you enjoy the most? Let us know in the comments!
Did you like this article? Make sure to share it with your friends! Check below for easy ways to share!
Incoming search terms:
https://www themouseforless com/blog_world/lunch-le-cellier/