This post may contains affiliate links for your convenience. If you make a purchase after clicking a link we may earn a small commission but it won't cost you a penny more! Read our full disclosure policy here.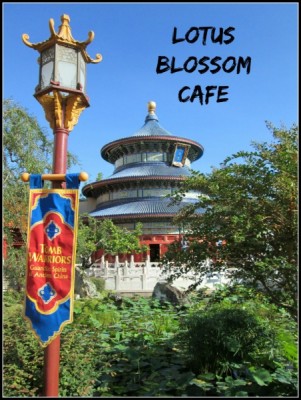 Lotus Blossom Café is my daughter's favorite place to have a quick service meal in all of Walt Disney World.  I have to admit that we have overlooked this Epcot World Showcase dining location for a handful of years.  We have plenty of Chinese take-out restaurants at home, and would walk past Lotus Blossom Café in favor of something we couldn't easily get at home.
My daughter is a selective (OK, picky) eater and there has been little in the World Showcase that appealed to her.  Chicken nuggets are something she would eat at home, and years ago we convinced her to give Lotus Blossom an honest try since it had Orange Chicken (nuggets) on the menu and it would be a new place for us to dine.  She was a good sport, and agreed to eat an Orange Chicken nugget.  It was love at first bite!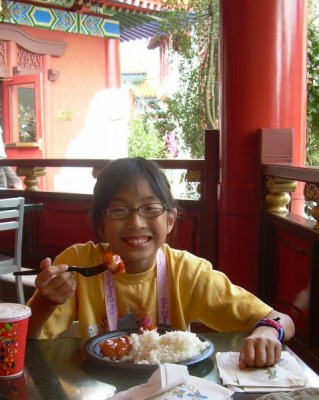 Since that vacation, a meal at Lotus Blossom Café has been her World Showcase priority.  We all enjoy the Orange Chicken, and that's my go-to entrée when eating at Lotus Blossom Café.
Lotus Blossom Cafe has open air dining, but is covered so most of the tables are in the shade.  The atmosphere is nice because if you get a table toward the open air window you can see the Temple of Heaven off to the side and it's a good place to people watch and relax.  The orange light fixtures and wall hangings fit well with the China Pavilion at Epcot and overall it's a comfortable place to sit.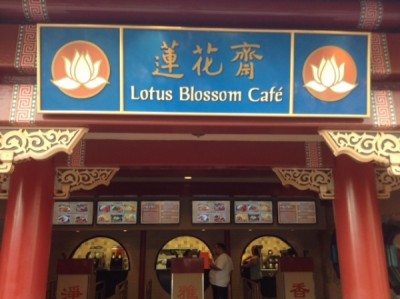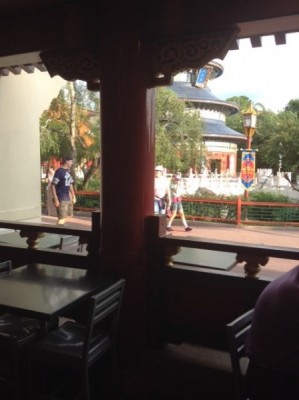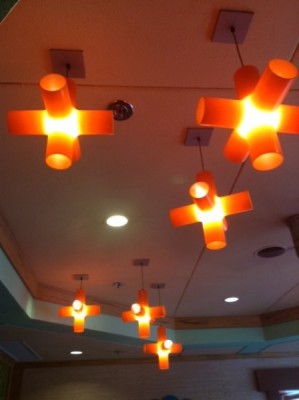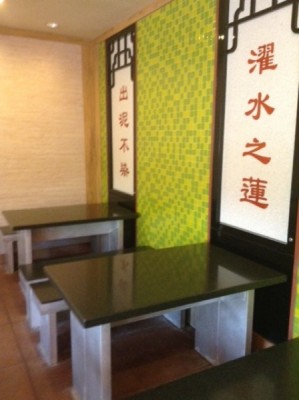 On our most recent trip, my daughter and I had dinner here.  I decided to try something new, so we started our meal with pot stickers.  They were hot and fresh and had a chicken based filling.  I thought they were quite tasty!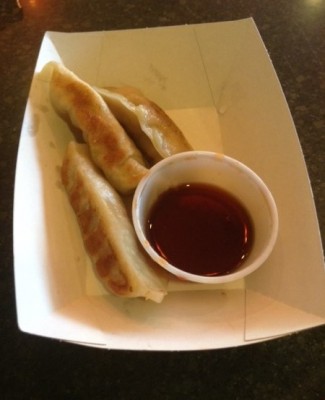 We both ordered the Orange Chicken.  The portion of this entrée is big enough to share if you are not too hungry or if you're trying to stretch your quick service dining credits on the Disney Dining Plan.  Just ask for an extra plate if you plan to share.  Orange Chicken is one meal my daughter doesn't like to share, so we each got our own entrées.  It was so good that we both made a decent dent into our meals!  The chicken had a crispy coating and the citrus flavor was noticeable but not too strong.  The rice was slightly sticky and blended well with the chicken.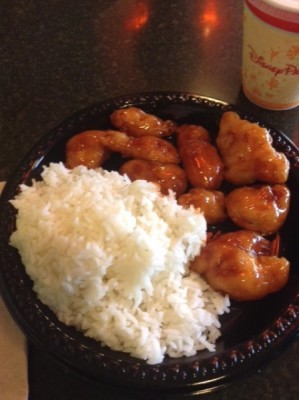 We did not get dessert for this meal because there are other dessert and snack options in the World Showcase that we like better than the dessert offerings at Lotus Blossom Café.  In the past, we have had Lychee Ice Cream and Caramel Ginger Ice Cream.  If you do opt for ice cream, you can ask to have your receipt stamped for ice cream when you order your food.  When you're finished eating your entrée, you can go back for the ice cream dessert and that way the ice cream won't melt while you have your meal.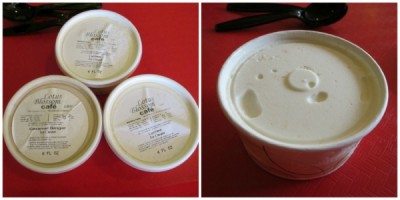 If you haven't grabbed a bite at Lotus Blossom Café yet, it's worth a try!  For small bites, you could split the Orange Chicken among a few people and take a little time to relax in China.
Have you been to Lotus Blossom Café?  Which entrée is your favorite?  Tell us in a comment below.  
Incoming search terms:
https://www themouseforless com/blog_world/lotus-blossom-cafe-china-pavilion-epcot/