This post may contains affiliate links for your convenience. If you make a purchase after clicking a link we may earn a small commission but it won't cost you a penny more! Read our full disclosure policy here.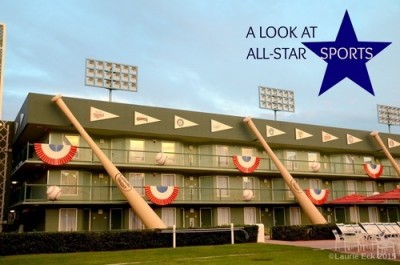 The All-Star Sports Resort is one of the five Value Resorts at Walt Disney World, located in the Animal Kingdom area. There are 1920 rooms that will accommodate 4 guests (5 if one is under the age of 3 and can sleep in a portable crib). There are five themed areas: Baseball, Football, Tennis, Surfing and Basketball. Each area is decorated with larger than life sports equipment like football helmets, tennis rackets and baseball bats. There are 2 pools, an arcade and playground for recreation. There is also a 1-mile jogging trail that connects the three All-Star Resorts. A food court, gift shop and laundry facilities are also on property.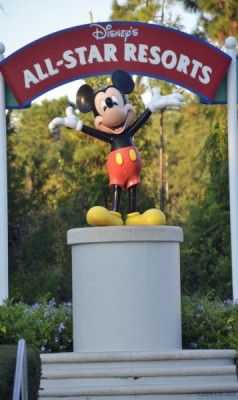 Let's take a closer look at the All-Star Sports Resort. When you first arrive, you will check-in at Stadium Hall. This is the main building that houses the registration desk, guest services, Game Point Arcade, End Zone Food Court and Sport Goofy's Gifts and Sundries. The lobby area is red & blue with white stars. There are sports pictures on the wall and cushioned benches to sit on.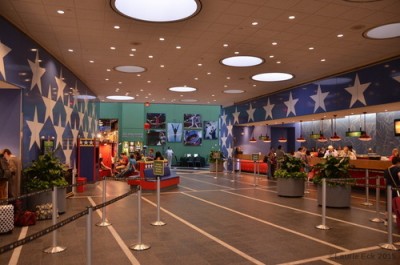 The food court was closed for a major refurbishment when we were visiting in 2013, however, we did eat at the All-Star Music food court and they are all pretty much set up the same. There are different counter areas for different styles of food (ice cream, fast food choices and more dinner type choices, etc). There are refrigerator cases full of drinks, salads, desserts, etc. You can also get fountain drinks or refill a Disney Refillable Mug. There are check stands to purchase your meals. You can use the Disney Dining Plan for Quick Service meals or Snacks here. They also will accept credit, debit & cash.
We didn't have time to even see the arcade but for guests that need a little down time playing video games, there is a nice assortment to keep you entertained.
The Sport Goofy Gifts and Sundries was a nice sized gift shop that offered souvenirs from pens and keychains to t-shirts and princess dresses. They carried things like diapers, sunscreen, headache, tummy and cold medicines. If you need a snack, you will find chocolates, chips, drinks, etc here. If you have leftover snack credits on the Dining Plan, you can pick up those last minute items here before heading home.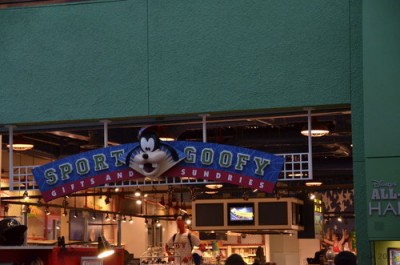 The rooms are 260 sq. feet and have 2 double beds or 1 king bed. Keep in mind that there are only 96 of the 1920 rooms that have king beds and 48 of those are handicap accessible and usually held for guests that need accessible rooms and showers.
Each room comes with a small round table with 2 chairs, armoire, TV, nightstand, clock radio, wall mirror, small safe, small refrigerator, hair dryer, iron, ironing board, motel size shampoo, conditioner and bar soap. There is a privacy curtain that can separate the sleeping area from the bathroom/sink area. The sink & mirror are separate from the bathroom, which is nice.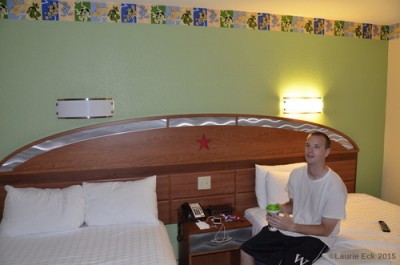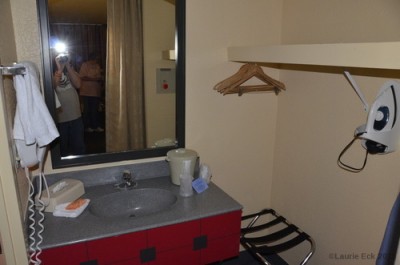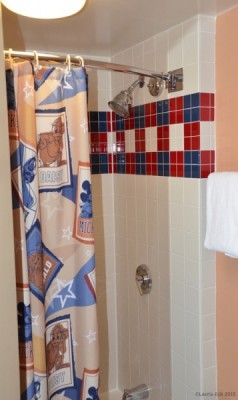 The décor has a wallpaper border of Mickey, Minnie, Goofy, Donald & Daisy playing sports that also matches the shower curtain. There are little touches of Mickey on things like the table and coat rack.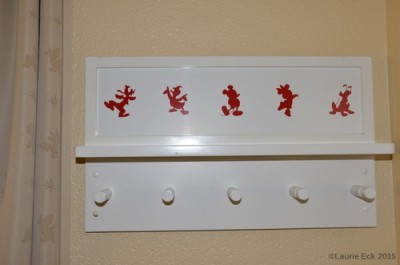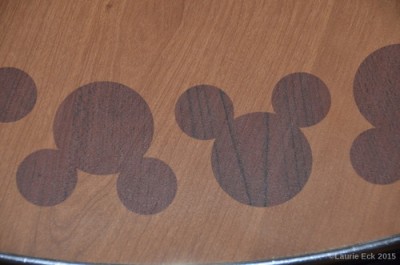 The main pool is located behind Stadium Hall in the Surfing section. The Surfboard Bay pool is shaped like a wave with surfboards & shark fins adorning the area.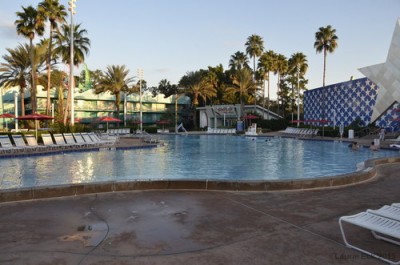 The quiet pool is in located in the baseball section and is called the Grand Slam pool. This is where you will find Goofy pitching in this baseball diamond shaped pool. Both pools offer tables & chairs and chaise lounges to sit on. The pools range from 3′ to 5′ but you won't find any slides or hot tubs at the Value Resorts.
You can bring towels from your room and call housekeeping to replenish them or you can bring your own. You will find showers, lockers, restrooms and laundry facilities at each pool.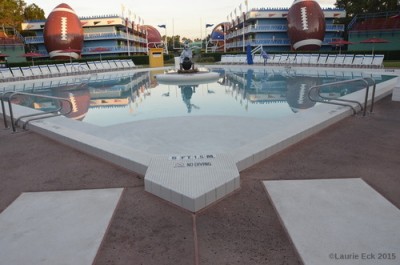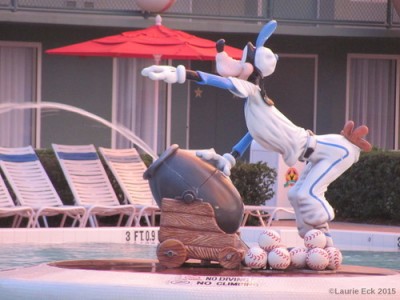 As I mentioned, there are 5 different sections that the resort is split into.  You have the baseball section.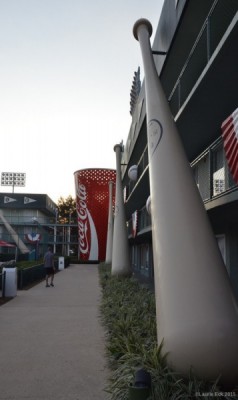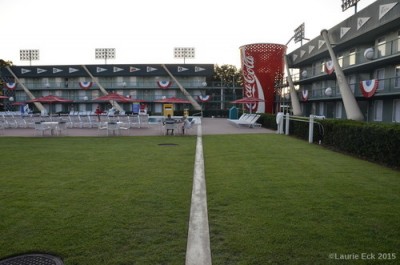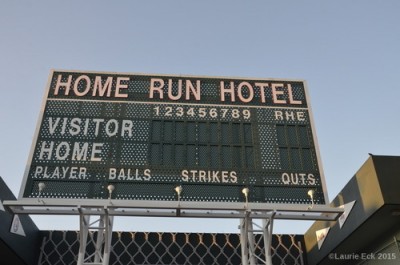 Next up is the football area.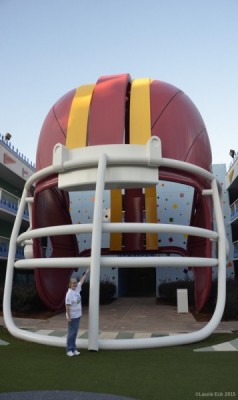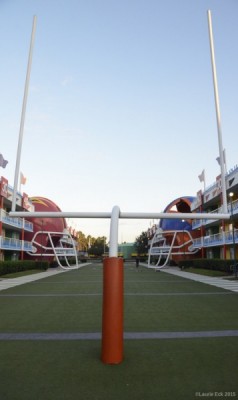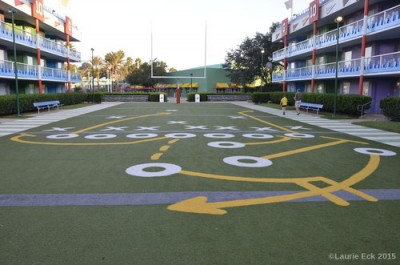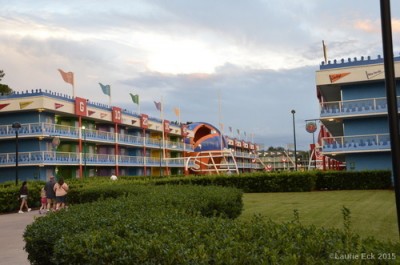 Tennis anyone?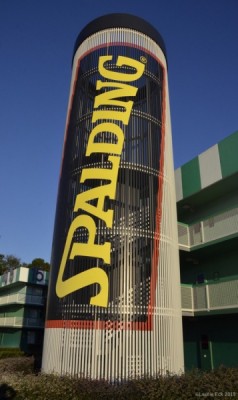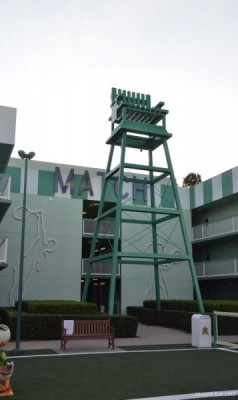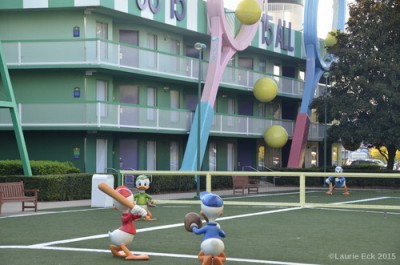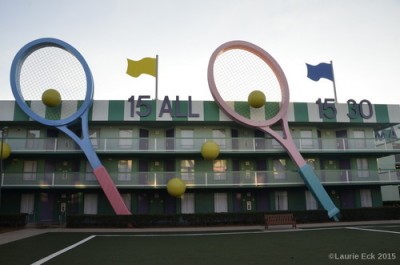 Let's look at the surfing area which is the closest to Stadium Hall.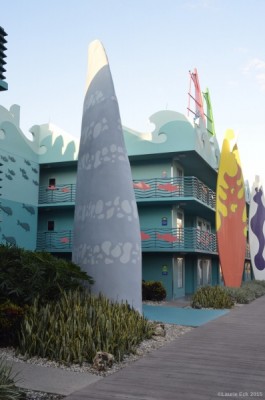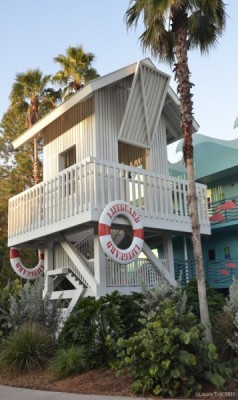 We will finish up in the basketball section.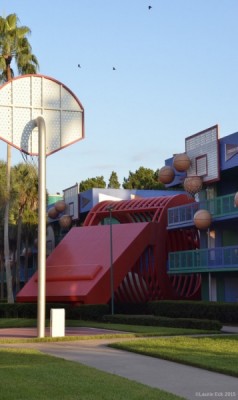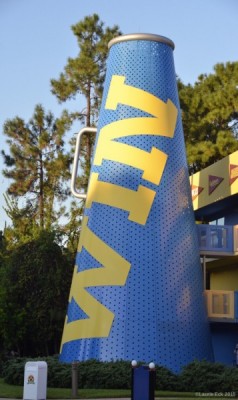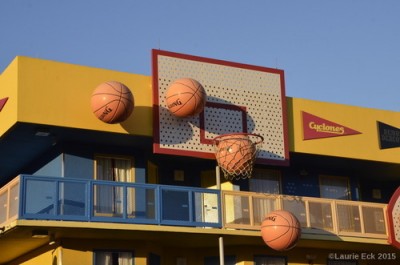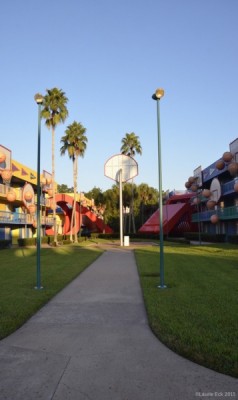 This resort is fun for the sports fans and those looking for an economical resort to stay and play in while visiting Walt Disney World.
Wrap-Up:  We enjoyed our stay here.  We found the staff to be very friendly and helpful.  The check-in & check-out was smooth, as was the airline check-in and luggage drop off for the Magical Express.
The room was cozy and beds were comfortable.  I'm not used to sleeping on a double bed, so that took some adjustment.  I like that the sink is separate from the shower & toilet area.
We were only there for a short visit, so no swimming but the pool was right outside of our room.  They looked like fun!!  As I mentioned earlier, the food court was under a major refurb, so we didn't get to see it or try the foods there.
I loved the theming here!!  We stayed in the baseball section, which was my favorite since I played softball for years & all of my kids have played.  I would stay here again, I'm sure my kids would love all the oversized sports equipment.
Have you ever stayed at Disney's All-Star Sports Resort? What is your favorite part and which is your favorite section to stay in?