This post may contains affiliate links for your convenience. If you make a purchase after clicking a link we may earn a small commission but it won't cost you a penny more! Read our full disclosure policy here.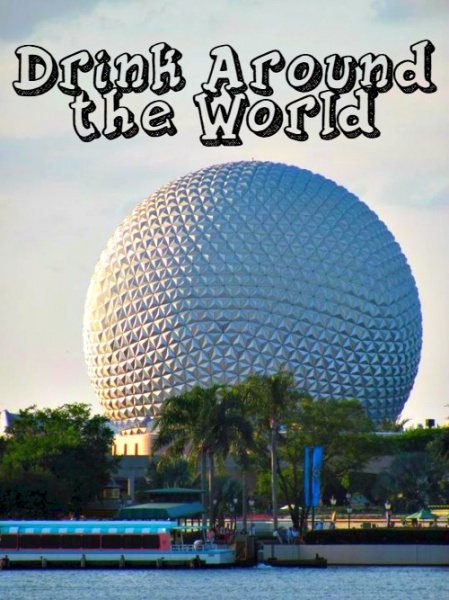 With eleven permanent pavilions and two special events each year that add additional venue options, drinking around the World Showcase can be something of a herculean task. The glory of completing the task is undeniably alluring and challengers from all over are willing to give it a go. Before deciding to step up to that plate to drink around the world, take a bit of time to make the right plan or you'll likely be dealing with an utter disaster and no one wants that.
Let's talk about the best tips and tricks to make sure you are hailed as a hero at the end of your challenge and not fitted with the cone of shame.
1) Know your limits: As an embodiment of the term lightweight (I can usually get tipsy off less than one drink), I know better than anybody that everybody's tolerance is different and that can even change from day to day. If you want to try to drink around the world you need to be brutally honest about your own limits when planning for this challenge or you'll very likely end up getting sick and ruining your day.
2) Go with a team: In my opinion this is the only way to drink around the world! In each country, one person in your group buys a drink and everybody tries it. This way, not everybody is buying and downing a whole drink in every country. Not only does that break up the expense of the game (you're going to be averaging $8-10 a drink, at least) but it makes sure everybody is safe and not overdoing it for their own limits. Plus, there's a greater chance of somebody in the group liking the drink if you go for some of the more obscure/creative creations that you can find in the World Showcase. You can either have everybody contribute the same amount to the pot or just trade off who is buying.
3) EAT AND HYDRATE: Never, ever start on an empty stomach and make sure to keep snacking throughout the day. For every alcoholic beverage you consume, drink a glass of water. Full stop, that's the rule. Don't break it. Not only will getting sick and/or really dehydrated ruin the rest of your day, it could ruin your whole trip if you end up needing medical attention, if it the illness happens to be severe enough!
4) Pick your time:
Time of Day: the World Showcase opens at 11:00 a.m. and it's 5 o'clock somewhere, right? You're on vacation. Make sure you start the day with a quality breakfast that will set you up for success later. Mickey Waffles will make a great Disney start. If there are a lot of drinks on your list of things to try, pick a day with extra magic hours to extend the window you have to complete the challenge!
Time of Year: Visit when there isn't a festival at Epcot to get the more 'authentic' Drink Around the World challenge and avoid some heavier Epcot crowds. But if you've done it before or are really excited about Flower and Garden or Food and Wine, by all means plan your trip for those times to try something new and experience those special offerings. As a bonus, they usually make it easy to make sure you're eating along side your drinks with suggested pairings at the kiosks!
5) Plan: Take a look at the menus of every single restaurant and kiosk to decide which ones you want to hit and which drinks are a must. Signature drinks are usually a must for first timers. The summer might see you wanting to stick more to the frozen drinks to try to beat the heat (good luck!).  Once you pick all the drinks that the group wants to try, plot them on your park map so you don't do too much doubling back on yourself. If you're trading off who is buying drinks make sure assign who is going to be purchasing each one.
My suggested game plan:
Before going, plan how you are going to commemorate the challenge and either make or buy what you need. Start around 1:00 p.m., just after finishing lunch, with at least 4 people in your group, though 6 or 7 is ideal. Or start with lunch by snagging a dining reservation somewhere in the World Showcase and have a drink with your meal. If you take the second option, you'll be able to skip that pavilion, if you want. Follow your map but don't feel bound to it. If something different catches your eye or there is a new drink on the menu you should totally go for it. The whole point of the game is to have fun with your friends!
And of course–end the night with a bang by watching Illuminations. Think about maybe adding on the Sparkling Dessert Party if that's your style. I prefer nabbing a spot near Germany and eating a wonderfully salty giant pretzel or a sweet treat from Karamell-Kuche.
Have you ever completed this adventure? What are your best tips and what drinks would you recommend people to try on their trip around the world?