This post may contains affiliate links for your convenience. If you make a purchase after clicking a link we may earn a small commission but it won't cost you a penny more! Read our full disclosure policy here.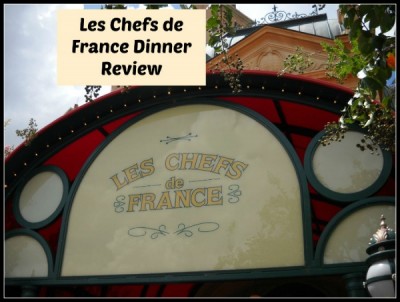 Les Chefs de France, in Epcot's World Showcase, is one of our most repeated Walt Disney World restaurants.  It never disappoints!  On our recent trip, my daughter and I met a friend and her daughter for a dinner at Les Chefs.  It was the perfect setting for a relaxing dinner together.
The atmosphere of a Parisian restaurant prevails throughout the dining area, and there is a glass enclosed patio which is also a nice place to sit.  Sometimes I'll request a certain section at a restaurant, but at Chefs de France I am happy sitting anywhere.  We were seated in the patio area, and enjoyed the setting.
Service can be hit or miss at any restaurant, but I've found the service at Chefs de France to be consistently good.  This meal was no exception.  I don't speak French, but our dinner mates could.  It's a fun experience to interact with World Showcase cast members!  If you're able to converse in their native language, go for it!  Our server was prompt with our food and personable.
I kicked off the dinner with Biere Kronenbourg 1664, and it was a nice way to start a meal.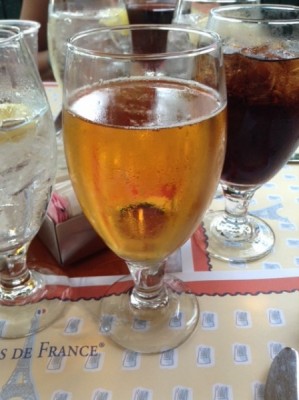 Our bread was warm and the crust was at just the right texture.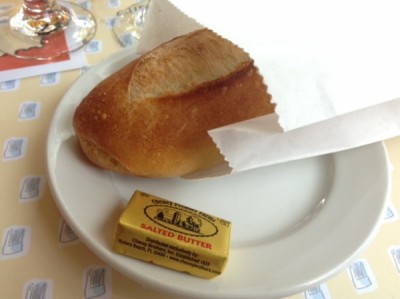 Appetizer
I was not on the Disney Dining Plan, but I knew that I wanted to have the French onion soup.  Fortunately for me, there was a Prix Fixe three course menu option that included select appetizers and entrees plus a dessert so I ordered a Prix Fixe meal.  I was not a fan of French onion soup until I had it at Chefs de France.  Now, it's so much a favorite that I order the soup even when it is 100 degrees outside!   The savory cheese and onion soup is a flavorful treat!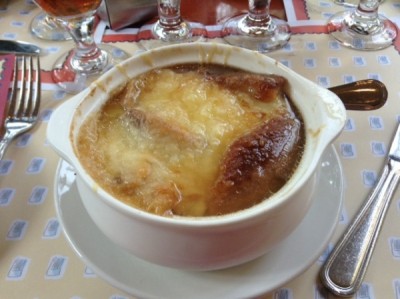 Entrees
I ordered Plat de cotes de boeuf au Cabernet, or beef short ribs, which is the way that non-French speaking me ordered the dish.  Chefs de Frances seems to change the side dishes to this entree once in a while, and it came with polenta and carrots for this dinner.  The beef was melt in my mouth perfection!  I preferred noodles as a side dish in the past, but the polenta and carrots were a good fit to the hearty meal.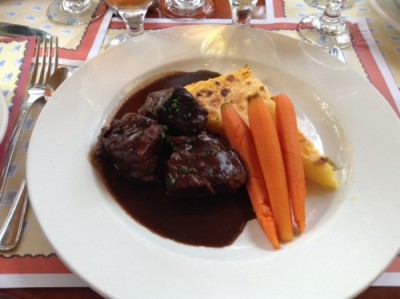 My daughter always orders the Gratin de Macaroni, a macaroni and cheese entree baked with cream and Gruyere cheese.  She's a pretty selective eater, but this adult friendly macaroni and cheese dish has won her over in the same way that the French onion soup has won me over at Chefs de France!  I've tried her macaroni, and I agree that it's a delicious and filling entree.  Both of our dinner mates tried the Gratin de Macaroni for the first time and they also enjoyed it.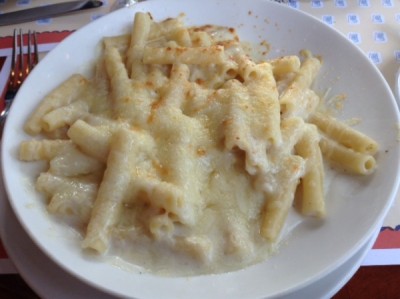 Dessert
By the time dessert came, we were not too hungry for more food.  That's a shame, because I haven't met a dessert at Chefs de France that I did not like.  My daughter and I decided to share a dessert, and opted for the seasonal sorbets.  It was light and refreshing, a perfect ending to the meal!  Our friends shared a creme brulee, a dessert that I've enjoyed in the past and they savored it.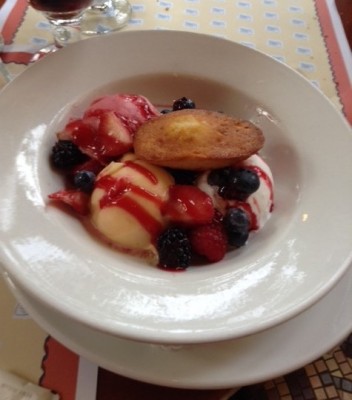 This meal was a highlight of our trip for the time spent with friends, the food, and the dining experience as a whole!
Have you been to Les Chefs de France?  Tell us your experience in a comment below.
Incoming search terms:
https://www themouseforless com/blog_world/les-chefs-de-france-dinner-review/