This post may contains affiliate links for your convenience. If you make a purchase after clicking a link we may earn a small commission but it won't cost you a penny more! Read our full disclosure policy here.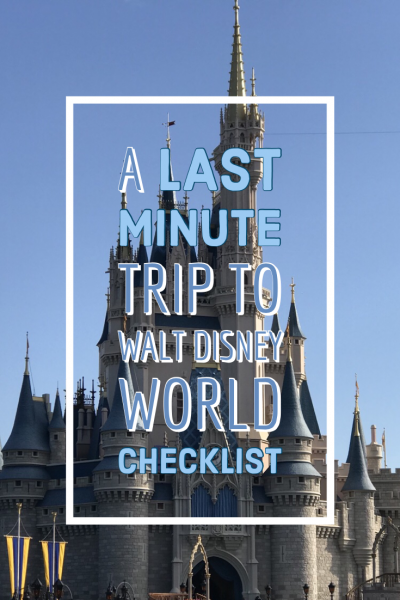 Walt Disney World is a place of planning. Advanced Dining Reservations open 180 days out before the first day of your trip. FastPass+ selections open up 60 days before your trip if you are staying onsite. Every Disney tip site tells you to start planning as early as possible before your trip. Can you even have a successful trip if you don't plan at least 6 months before? What if your trip is less than 30 days out? Where should you even start? Planning a last minute trip to Walt Disney World is possible and just as fun as one that was planed 6 months in advance.
Set up a My Disney Experience account online ASAP. This is the central hub of all the trip planning. Get all of your travel party signed up and linked together too. Also, download the My Disney Experience app on your phone, as this will be needed during your trip.
Figure out if you are going to stay on site or off site. Many times Disney releases some great last minute deals. Sometimes you find something better off-site. I recommend talking to a travel agent from The Magic For Less Travel agency to help you sort out the options.
If staying on Walt Disney World property you can add on your tickets and even the Disney Dining Plan to your hotel stay. If traveling around a holiday or the free dining promotion the Dining Plan might not always be advantageous as it can be a little bit harder to find dining reservations.
Magic Your Way Tickets can be purchased in a package with your Disney hotel stay or separately from Disney or other official ticket sellers. Whatever way you choose get those tickets buy them ASAP and get them attached to your My Disney Experience account quickly. The only way you can make FastPass+ reservations is by having valid tickets attached to your account.
To plan a last minute trip to Walt Disney World, you should decide what park you want to go to on what day. Some people like to choose these days based on the many crowd calendars that are around the web. Some people chose which park to go to based on the park hours, Extra Magic Hours or events that are happening. Sometimes I chose what park I want to go to based on what FastPasses are available.
For a last minute trip to Walt Disney World, start booking FastPasses as soon as you can. Everyday that passes the FastPass+ availability for every ride decreases more and more people book their FastPasses. So, get on My Disney Experience and book those 3 FastPasses per day. Don't get discouraged if you can find exactly what you want. Many times you can modify your selections to different times or attractions the day before or the day of your park visit.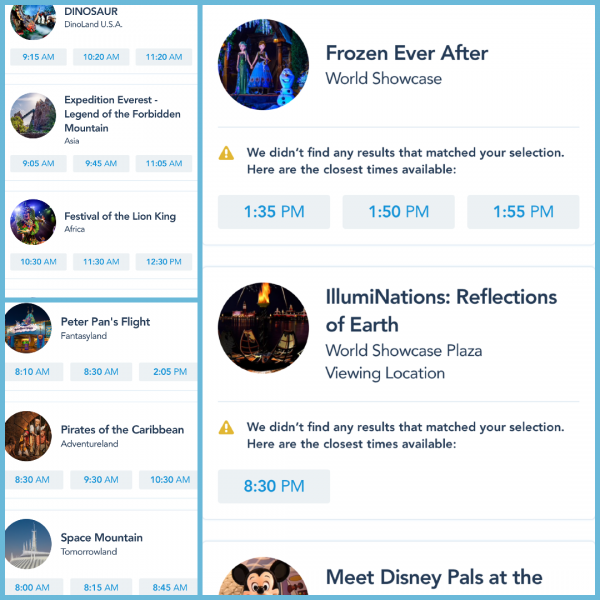 I found these FastPasses for 20 days later. Even Frozen Ever After was available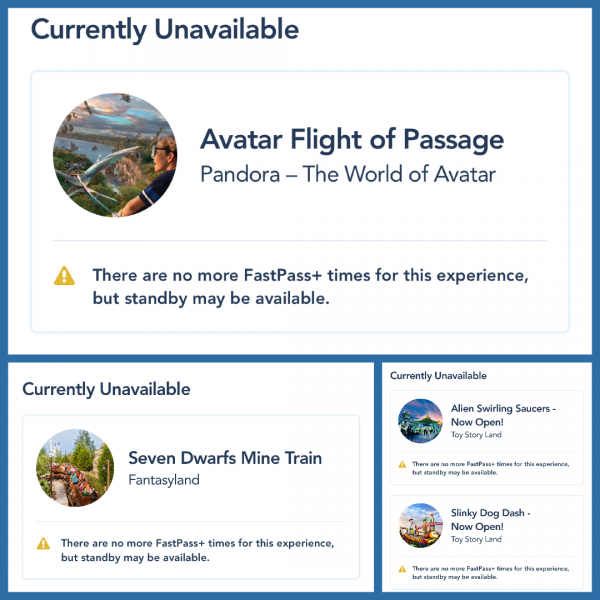 The above FastPasses are hard to get even at the 60 day booking window. Don't give up though!
Decide how often you would like to have a sit down meal (not quick service) and look at what is available at or near your resort, or the park you will be visiting. If there is a specific place you are looking to dine at and the reservation is unavailable, keep looking. People change their plans all the time and dining reservations are always opening. You might also decide that this trip is a more relaxed trip and you are just going to go with the flow and eat at more quick service locations.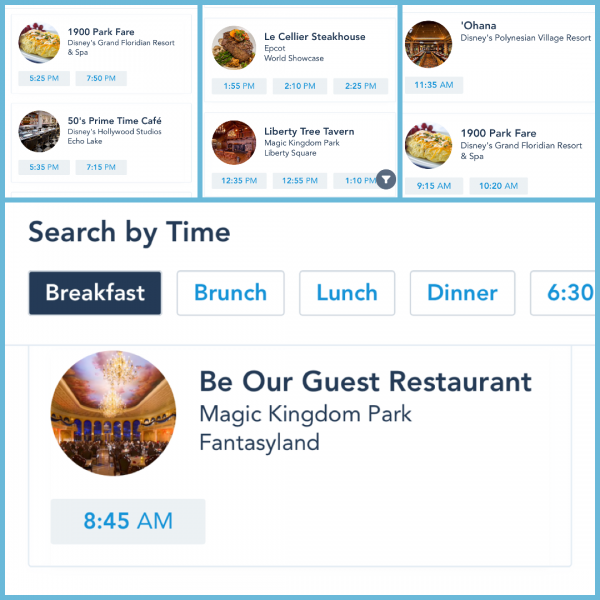 I even found Be Our Guest and 'Ohana breakfast reservation available for 15 days later!
Some people like to make a minute to minute touring plan. Others like to wing it. I recommend at least deciding a couple attractions you want to make sure to visit, snacks you want to try and things you want to see to you don't end up standing in a pathway staring at map wondering what to do next. If you didn't get some of the FastPasses you were hoping for you might want to try and be at the park at least 30 minutes before park opening and going straight to that attraction. Sometimes popular attractions have lower wait times near the end of the night if you are not an early riser.
A successful Walt Disney World vacation can take a lot of planning, but that doesn't mean you can't have a great trip on short notice. You might not get every popular ADR or FastPass+ but you will still find great places to eat and experience amazing attractions. A last minute trip to Disney is better than any day at home!
What tips do you have for a last minute trip to Walt Disney World? Share your thoughts in the comments, or on Facebook or Twitter.
Did you like this article? Make sure to share it with your friends! Check below for easy ways to share!