This post may contains affiliate links for your convenience. If you make a purchase after clicking a link we may earn a small commission but it won't cost you a penny more! Read our full disclosure policy here.
The menu for Katsura Grill, outside of the restaurant
Katsura Grill is a quick service restaurant in the Japan pavilion of Epcot's World Showcase. Here, you can find such Japanese items such as sushi, tempura, ramen, udon, shrimp, curry, teriyaki, soup, rice and edamame.
On the kids' menu, you'll find shrimp, chicken and beef teriyaki. Japanese cuisine isn't known for its sweets, however, there are desserts on the menu that incorporate Japanese flavors.
You can enjoy an alcoholic drink here if you wish. Sake is served either hot or cold. Plum wine is another option, and two different Japanese beers, Kirin and Sapporo, are offered.
There is both indoor and outdoor seating here. When the weather is nice, I highly recommend sitting outside, in a lovely garden under shade, where the atmosphere is much more peaceful than you would expect at a theme park. There's even a small waterfall that feeds into a pond full of koi fish. If you time it right, you can eat while listening to a drum performance.
When it's raining, broiling hot or unusually cold, you can eat inside, in a small dining area decorated in dark wood tones with colorful artwork between the high ceiling and large windows. Since we visited on a cold January day, we opted to sit inside.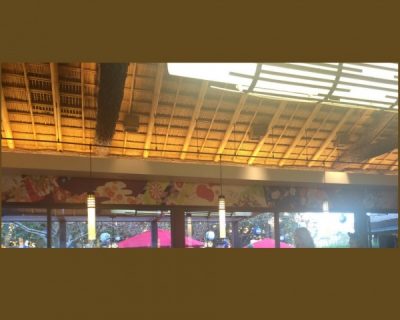 I love the colorful border between the windows and the ceiling
This restaurant is not directly on World Showcase Promenade. It is tucked away on the left side of the pavilion. Because of this, foot traffic is not as high as at other World Showcase counter service locations.
My family seems incapable of passing up sushi wherever we go, so we each ordered the same thing: the Tokyo Sushi Combo, which included four California rolls and three pieces of Nigiri sushi.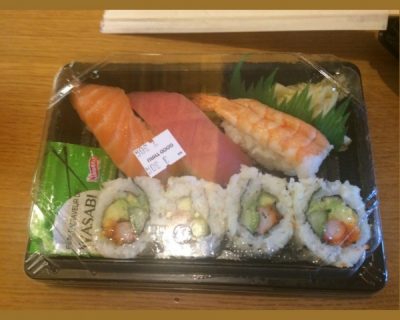 Tokyo Sushi Combo
As you can see, it comes pre-wrapped. The sushi tasted just fine. It was nothing spectacular, but it was a step above what you can find in your local grocery store. It was accompanied by a packet of wasabi and some pickled ginger.
All in all, Katsura Grill is a great option when you want to escape the crowds and enjoy a meal that's more adventurous than your standard theme park fare. Try to visit here on a nice day and eat your meal in the garden. You'll be soothed by the gently trickling sound of the waterfall and you can recharge your spirit.
Have you made a stop at Katsura Grill? What's your favorite thing about dining here? Share in the comments, or on Facebook or Twitter.
Did you like this article? Make sure to share it with your friends! Check below for easy ways to share!