This post may contains affiliate links for your convenience. If you make a purchase after clicking a link we may earn a small commission but it won't cost you a penny more! Read our full disclosure policy here.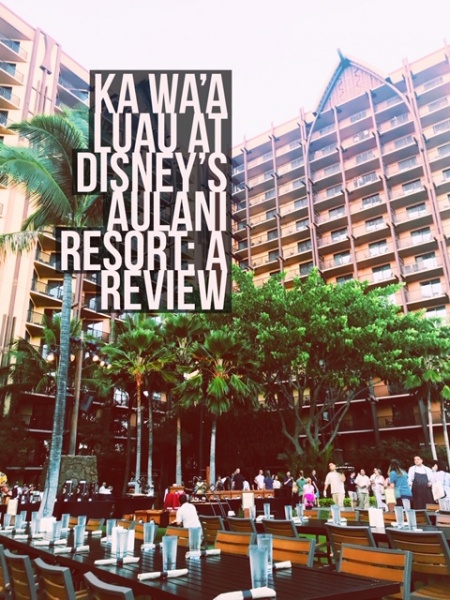 I recently had the fortune of spending two whole weeks in Hawaii for my honeymoon, and being the Disney fan that I am, I knew we had to make a stop at Aulani, a Disney Resort and Spa. We spent our first 8 nights on Waikiki Beach, so it was only about a 40 minute drive over to Aulani, where we decided to go check out Ka Wa'a, the luau at Aulani.
THE RESORT
We got to Aulani early to do some exploring, of course! We were dropped off at the front entrance, and we headed inside to walk around. The lobby was absolutely gorgeous, with high ceilings, dark woodwork, and beautiful nods to Hawaiian culture. The lobby overlooks the pool and beach, which obviously made us want to go take a look! The pool is exactly what you'd expect from a Disney resort: a huge, winding lazy river, an incredible splash pad for the little ones, and a gorgeous swimming pool area. There's even a small snorkeling pool with tropical fish! We grabbed a Mickey shave ice, sat by the ocean, and waited until the Luau seating opened!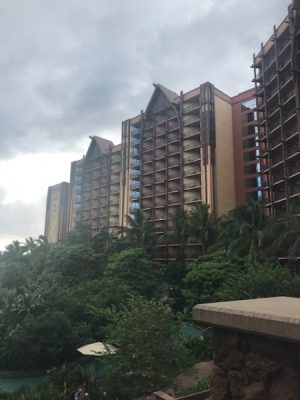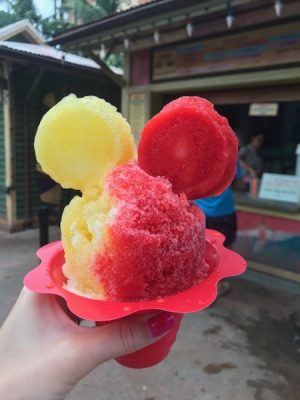 THE FINE PRINT
We decided fairly last minute to get some luau tickets at Aulani. I knew we'd be making a day trip to Aulani, but wanted to make sure the weather was going to cooperate, so we actually put off booking our tickets until about a week out. We had no trouble purchasing tickets with only a few days advance (no 180 day dining reservation here!), and opted for two general admission tickets at $129/pp ($79/pp for children ages 3-9). VIP seating will run you $169/pp ($109/pp for children 3-9), but you'll be granted admission at 5:00 pm and will have priority seating at the tables.
PRE-SHOW ACTIVITIES
You'll find the usual pre-luau photos, lei greeting, and complementary cocktail (or juice) greeting at Ka Wa'a, but I was pleasantly surprised by all the additional kid-friendly activities available. Lei-making with fresh orchids, temporary tattoos, taro pounding, ukulele playing, and other activities run at different stations as guests file in. We agreed that this luau was  definitely the most kid-friendly and had the most entertaining pre-show activities available. As we were on our honeymoon and traveling with no kids, we did some kid-free exploring and were welcome to participate in all activities. A tip for future luau-goers: make a flower lei; you'll need it later in the show!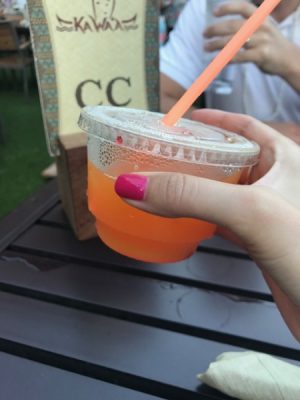 THE BUFFET
At 6:00 pm on the nose, tables begin to file up to the buffet stations for dinner. VIP guests go up first, of course, but even being about halfway back, we were at the buffet station in less than 20 minutes! There are two identical buffet stations, including a keiki (or children's) station and a dessert station.
We chose the shortest line, and got to work! We found the buffet food to be good, but nothing special (you go to a luau for the performance, not the food, I guess!). We started with a variety of salads, including a green salad with Maui onion dressing, a lomi lomi salmon salad, poke, Hawaiian macaroni salad, and of course, the famous poi.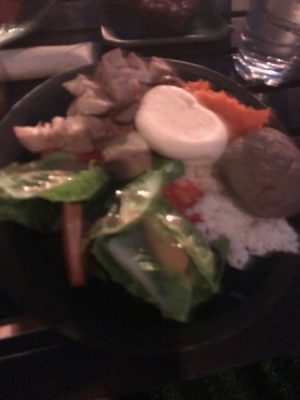 We found that the entrees really stood out; we enjoyed the selection here more than at other luaus we attended. We really enjoyed the braised pork and the fresh fish with macadamia nut sauce. Chicken stir fry, white sticky rice, and sweet potatoes two ways were also available. And of course, it wouldn't be a luau without taro rolls, but Disney did it better with liliko'i butter! We also loved the addition of steamed bao buns to the buffet, because there's no such thing as too much bread, right?
The real standout of the buffet was the carving station. Of course, you'll find the suckling pig, but we were really excited to find the prime rib! My husband is a big eater, and he made multiple trips to the prime rib carving station (to the point that the carver remembered him and served him up double portions!). We agreed that this was a special addition to a luau buffet that we'd never seen before.
We also decided to taste the keiki buffet… for research, of course. There were plenty of typical kids offerings, such as pasta with meatballs, chicken, vegetable sticks with ranch dip, and fresh fruit (with toasted marshmallows!). We found the stand out to be the shaka macaroni and cheese! I may or may not have gone back for seconds! Kids also get their own surprise dessert; we found a mini cupcake with Moana on top!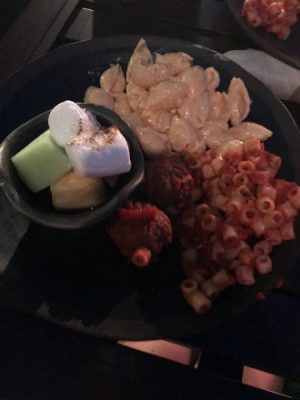 Desserts were typical of those you'd find at a luau, such as macadamia nut brownies, haupia (a gelatinous coconut pudding), guava cake, and tropical fruits. Coffee and tea were also available.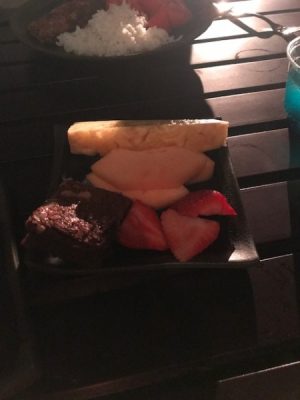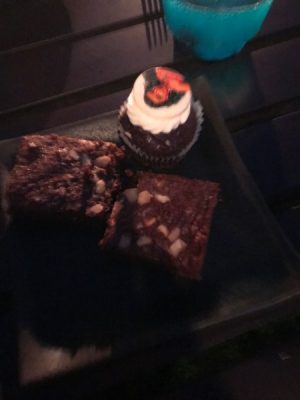 THE SHOW
With multiple plates of food in our stomachs, we were ready for the show! I was excited to see Moana, herself, participate the blessing, and Mickey and Minnie do a dance with the children before the luau actually began. It wouldn't be a Disney event without Mickey Mouse making an appearance, right?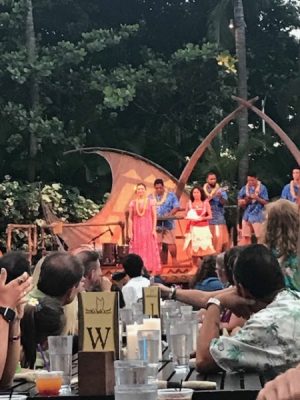 The Ka Wa'a Luau was hosted by Noa, who told us the story of Aulani's location in 'Ewa. We enjoyed learning more about this specific part of Hawaii, and found the vocals of the narrator and his sister to be outstanding! The stage set-up is also a great part of the show. A large stage is located in the front of the show, with a runway-type stage that extends out into the audience; at one point in the night, children were invited up onto the stage to perform musical instruments along with the show. We liked feeling as though the show was extending out into the crowd.
Of course, the traditional hula was absolutely beautiful. The performers were fantastic, and we loved that the songs told a story throughout the night, where many other luaus are just a combination of different unrelated performances. The Ka Wa'a Luau show concluded with the traditional fire dance, which was the highlight of the show for my husband.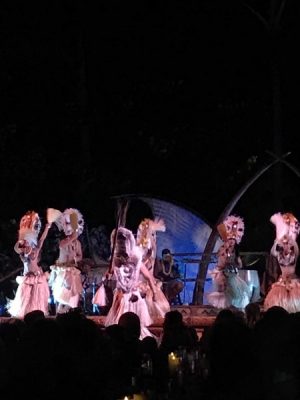 FINAL THOUGHTS
We really enjoyed the Ka Wa'a Luau at Aulani! We found the pre-show entertainment and activities to be outstanding. Adults and children, alike, will find something to keep them preoccupied and engaged before dinner, and we left feeling way too full from multiple trips to the buffet! The performance was absolutely beautiful, and I really enjoyed the story-telling element that brought the history of our location to life. Disney definitely brought the "Disney difference" to Ka Wa'a; if you're ever in Oahu,  you should definitely go check it out for yourself!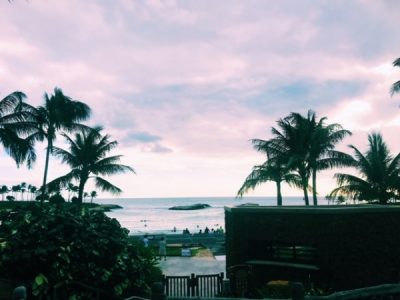 Have you experienced the Ka Wa'a Luau at Aulani before? Share in the comments,or on Facebook or Twitter!
Did you like this article? Make sure to share it with your friends! Check below for easy ways to share!
Want to visit Aulani? Contact The Magic for Less Travel for more information and a free, no-obligation quote.