This post may contains affiliate links for your convenience. If you make a purchase after clicking a link we may earn a small commission but it won't cost you a penny more! Read our full disclosure policy here.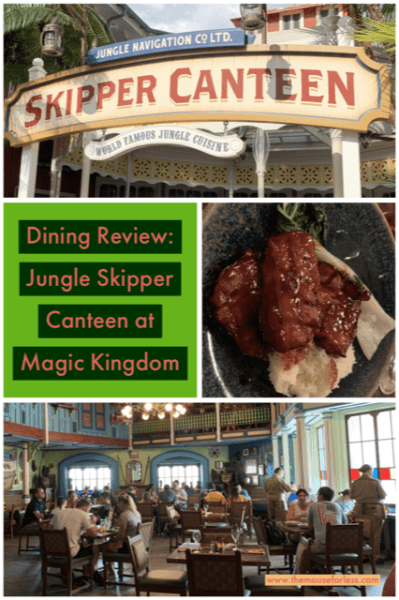 Recently, I was able to make a stop at the Jungle Skipper Canteen found in Aventureland at the Magic Kingdom. At this table service restaurant, there are nods the the Society of Explorers and Adventurers, famed Disney Imagineers and artists, and yes, the famous Jungle Cruise attraction. Jungle Skipper Canteen is themed after a converted cargo shipping venture run by the infamous crews of the Jungle Cruise. Jungle Cruise passengers are seated in one of three rooms: Crew's Mess Hall, Falls Family Parlor and Secret Meeting Room of the S.E.A.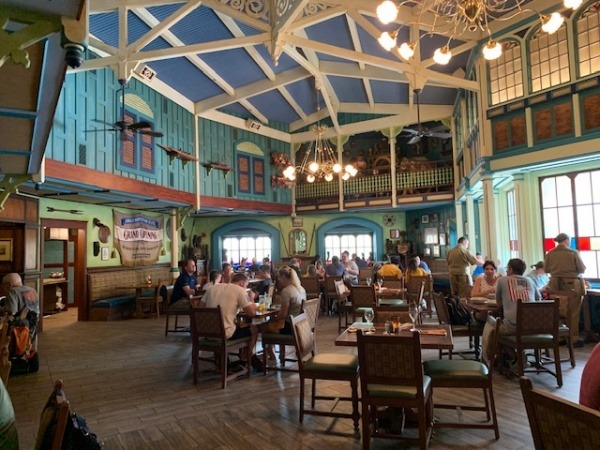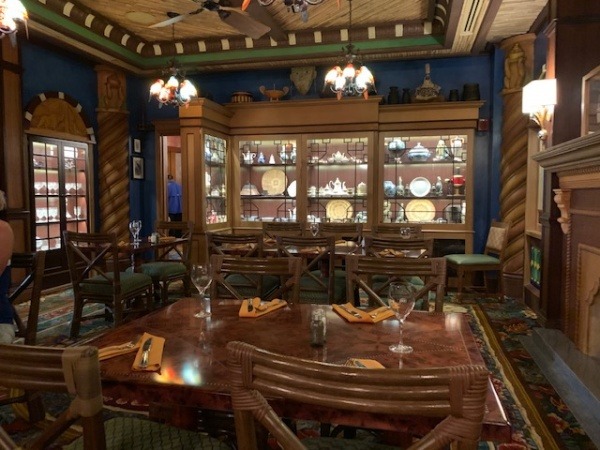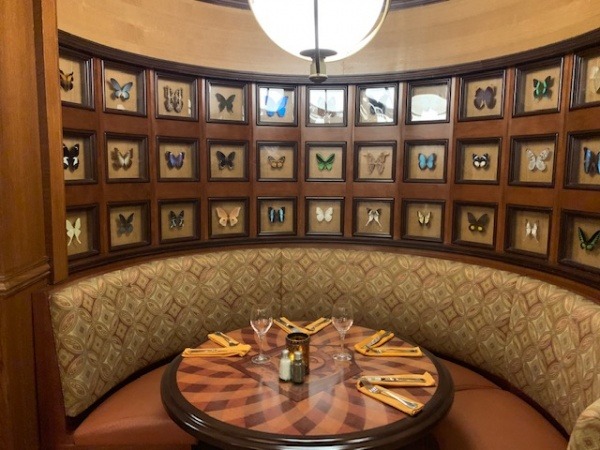 So, one would think that it would be a hard to get reservation. But, despite the inciting theme, it's just not. Jungle Skipper Canteen is not one of the heavy hitters in the rotation of Disney fans, despite the fact that the restaurant is steeped in Disney lore. Matter of fact, we were able to score a walk up to the restaurant and be seated within about 15 minutes of doing so. I can't guarantee that will happen all the time, but it does seem as though this restaurant does consistently have availability.
The restaurant's menus feature island inspired dishes, as well as dishes with an Asian flair. The menu reminds me a lot of the types of dishes you would see served at Kona at Disney's Polynesian Village Resort.
I do have one small gripe about the menu though. The number of appetizers is very small. The group I was with was actually planning on grabbing just some apps, but due to the limited offerings, we ended up changing course. Overall, I find the menu to be relatively interesting…but more on that later.
During my visit, I got the Char Siu-marinated Pork served which was served with Bok Choy and Jasmine Rice.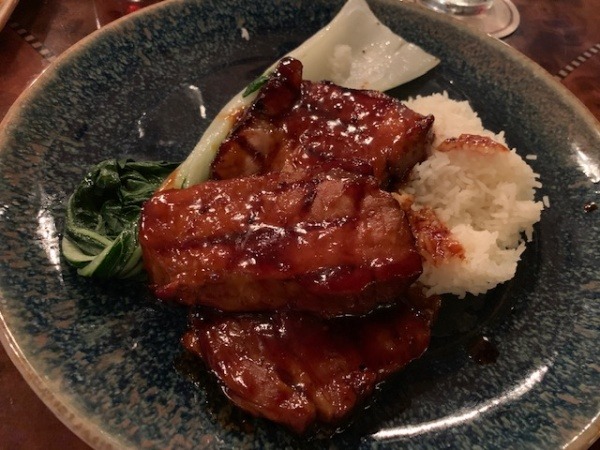 I was served with two decent sized pieces of pork and a substantial amount of rice and bok choy. I thought the pork was cooked perfectly and I enjoy the sauce that was on top. It had a lot of good zip to it. I also thoroughly enjoyed the rice and thought it was cooked perfectly.
Overall, I enjoyed my meal at Jungle Skipper Canteen and even though it took me a long time to get there, I will be back, however, I think to make this restaurant more of a success, Disney definitely needs to look at the menu. There are some things on it that are quite delicious with great flavors, but I do worry that the menu descriptions can be intimidating to people. I am not saying that they need to dumb down the dishes themselves, because I know they are solid, but make them easier to understand what they actually are in their descriptions. This is especially true because it's Disney and we all know that prices run a little higher, so I think people just aren't willing to give something like this a try, when they are a little leery to begin with.
I really want Jungle Skipper Canteen to succeed and I feel that the way it's going now, I worry it won't be here in a few years time. I think people are missing a great dining experience though and if you haven't tried it, I strongly suggest taking a look at the menu, look for the dish that sounds the best and try it!
Have you tried Jungle Skipper Canteen yet? What were your thoughts? Let us know in the comments below or on Facebook or Twitter!
Did you like this article? Make sure to share it with your friends! Check below for easy ways to share!
Want to visit the Walt Disney World Resort? Contact The Magic for Less Travel for more information and a free, no-obligation quote.