This post may contains affiliate links for your convenience. If you make a purchase after clicking a link we may earn a small commission but it won't cost you a penny more! Read our full disclosure policy here.
From Our Magically Speaking Newsletter Archive – subscribe today!
Published On April 27, 2006, By Erica Colmenares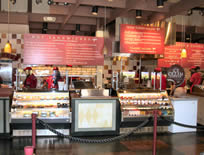 An excellent question landed in our inbox recently, and we thought it deserved some serious attention. Here it is:
Hi! We are planning our second trip to Walt Disney World in October 2006. I have two small children ages 3 and 6 along with my husband. My question is do we opt for the meal plan or not? We will be staying at Disney for 6 nights. I'm just not sure we can eat that much!
Angie S.
Angie asks the question that many Disney World planners frequently have to consider: is it worth the money, or the planning, or the weight gain to add the dining package to our Disney World vacation budget? To help answer this question, we're going to have to ask a few of our own.
Do you know the basics of Magic Your Way Dining?
MYW Dining is the newest meal plan at Walt Disney World. The plan debuted in 2005, and is quite popular. The charge for this two-meal plus snack package is $37.99 per night for those 10 and above, and $10.99 per child 3-9.
For each night of your Disney resort stay and for each guest in your party age three and above, MYW Dining includes the following:
One table-service meal– includes appetizer, entree, dessert or full buffet and non-alcoholic beverage as well as a 15% tip (children ages 3-9 must choose from the children's menu if available; dessert not available at breakfast). You may exchange 2 table-service meals for either 1 Signature Dining Experience or for 1 Disney Dinner Show;
One counter-service meal– includes entree, dessert or one complete combo meal, and a non-alcoholic beverage (children ages 3-9 must choose from the children's menu if available; dessert not available at breakfast);
One snack– choose from a frozen ice-cream or fruit bar, popcorn, single piece of whole fruit, single serving bag of chips, 20oz. bottle of Coke, Diet Coke, Sprite or 24oz. Dasani water, medium fountain soft drink or apple juice. Available at select counter-service and snack-cart locations.
Are you planning to stay on-site?
MYW Dining is only available for guests at Disney owned and operated resorts. These are Disney's Value, Moderate, Deluxe and Home-Away-from-Home resorts. Guests at the Swan, the Dolphin or any of the Downtown Disney hotels are not eligible to participate. Neither are guests at Shades of Green. If you already plan to stay at a Disney resort, this part is easy. But if you have a fabulous deal at an off-site hotel, a change in plans might not be right for you.
Do you need park tickets?
MYW Dining is only available as part of a Disney resort package including tickets (unless you are a Disney Vacation Club member- more on that below). This means that guests must purchase, at the very least, a one-day base park ticket for each member of the party. And everyone in your party must get exactly the same ticket.
But this doesn't necessarily mean that if Aunt Bessie needs the five-day hopper with extras, by gosh everyone's going to have to purchase them. It is possible to upgrade tickets after arrival. So if one of you needs just the one-day minimum ticket, everyone in the party should get it and then each guest can upgrade their ticket to the correct number of days and options after arrival. If you are an Annual Passholder, or want to use up old park hoppers this trip, keep this in mind. Many guests in the past have included the bare minimum, the one-day base ticket, in their package and then held onto it for future use- these tickets will not expire within the 14 day period because the clock hasn't started ticking, yet. They have not yet been used.
As of this April, Disney Vacation Club members and their guests (or renters) have been able to book the MYW Dining, at the same cost as all other Disney resort guests. Ticket purchase is not required for those staying in DVC accommodations on points.
How do you plan to eat during your Disney trip?
As detailed above, MYW Dining includes one table service meal, one counter service meal and one snack for each night of your stay. So, is this how you eat? One bigger meal a day, a lighter meal, and a quick bite at some point between meals? If you typically plan on at least one table service meal each day you're at The World, this plan will probably work for you. But if you really don't like to take the time out of park-touring to eat a sit-down meal that often, maybe you should just pay as you go. It is important to do a little research ahead of time- think about how you really eat on vacation, and do a little math. You can find menus here.
Add up the actual costs of your typical meals- you might be surprised to find that MYW Dining make sense for you. Which brings us to our next question.
How much do you like to plan ahead?
With MYW Dining, planning ahead for your table service meals is essential. The plan is extremely popular. As a result, it is much more difficult to walk up to a sit-down restaurant at WDW and get a table without a long wait. And you may even be turned away, as people were at the Magic Kingdom earlier this month, when all table service locations were fully booked and no walk-ins were accepted. In order to get your money's worth from the plan, you need a bit of willingness to plan out the majority of your table service plans. Will this lack of spontaneity cramp your style? If so, maybe MYW Dining is not for you. Beware though: if you like to decide where you are going to eat on-the-fly, and you also like table service, you may find it tough to get the meal you want, when you want it, unless you travel in January or during hurricanes. The number to call is 407-WDW-DINE (939-3463).
It can seem like a pain to try to plan exactly how you are going to use all those dining credits. A couple of TourGuideMiKE friends referred me to the Disney Dining Tracker, an Excel file designed by DIS member Carys the Mouse Eared Kiwi. You can enter the total number of Counter Service and Table Service credits on your package, then the program keeps track of how many you have used as you enter your restaurant plans. Carys agreed to let us share the Disney Dining Tracker with Magically Speaking and theMouseforLess.com- take a look.
Now, if you've been paying attention, you know that the MYW Dining package only covers two meals a day plus a snack. If that's just not going to cut it for your family, there's always the option of the Premium and Platinum dining packages. These basically have you moving from WDW restaurant to WDW restaurant, fitting in attractions if you can between meals. Breakfast, lunch and dinner are all included, as well as tours and shows – basically, more than you can do in a year! Don't even ask me how much these cost; I was scared to ask.
So, back to Angie's question: Do we opt for the meal plan or not? I'm just not sure we can eat that much!
Let's make this simple. Rounding up, you are spending $38 dollars per day (well, per night, but you know what I mean) for your adult meals, and $11 for kids under 10. So, a family of four will be spending (quick math) just under $100 for their meals each day (well, each night, but again . . .). Let's go dream dining with our fictitious Disney family.
They have very sensibly have a quick breakfast in their room of food they brought with them or picked up at the resort food courts. Then on to Epcot. They go on Soarin', then decide to use their counter-service lunch at the Land's Electric Umbrella. Mr. Family has a nice chicken salad ($6.99) while Mrs. Family picks the turkey wrap ($6.89). Neither of the adults wants dessert (craziness!). The children both pick a child's meal ($3.99) and a chocolate chip cookie ($1.49). The kids get milk ($1.29 each) and the Mr. and Mrs. choose soft drinks ($2.39 each). Grand total so far: $32.20 plus tax. During the afternoon, the parents both get popcorn ($2.59 per) and the kids opt for ice cream ($2.39 per). Snacks come to $9.96. For dinner, they all join the princesses at the Akershus Royal Banquet Hall in Norway. This meal has a set price of $28.99 per adult and $13.99 for children. Grand total for the day: $128.12. Not including tax as well as the 15% gratuity added on at Akershus (and at all table service restaurants). If the Family family had only gotten a snack and dinner, they would have broken even. Lunch was "on Disney".
Now, that's a lot of eating, in my book. Though I'd do it, if forced (or asked nicely). Let's see if the dining plan is such a good deal if you really aren't up for that much food. Mr. and Mrs. Light Eater are traveling at Disney with their two kids, one six and one eleven. So they will pay $125 for MYW Dining. They've decided to use their counter service meal for breakfast at the Pop Century food court. They really only need three breakfasts for the four of them. They order two adult breakfast platters ($5.59 each) and one Mini Mickey Waffles with bacon ($3.59). Two coffees and a juice round off breakfast ($5.47). Total cost: $20.24. The Light Eaters are pretty full, and have an early Fantasmic Dinner Package planned at 4:20 pm at the Disney-MGM Studios. So between breakfast and dinner they just grab fruit ($1 each). Dinner at Mama Melrose is $28.99 for three of the Light Eaters, and $10.99 for the littlest. Dinner comes to $97.96. And the day's total sits at $122.20. Add tax ($7.94) and 15% gratuity on the Mama Melrose dinner ($14.70) which brings the total to $144.84. Compare that to the $125 the Light Eaters spent on the meal plan- they are still getting some bang for their buck.
So, Angie, not knowing your family and your eating habits, we would still say that the odds are, if you enjoy table-service meals, you will save money by choosing MYW dining. But it never hurts to do some simple holiday-meal dreaming, and a little arithmetic, to see if MYW Dining is right for your vacation.
MYW Dining Tips and Additional Information
Your meal credits are "stored" on your room key. All of your party's meal credits are pooled, so watch out that Junior doesn't eat three counter service lunches that you were saving for your last morning's breakfast!
As mentioned above, your meal credits are pooled. You can use them in any way you want- all your counter-service meals first, then all your table service meals later, vice-versa, or mix and match. You can also pay out of pocket for certain meals or certain diners, depending on what works out best for your family.
When you go to any table service, counter service or snack location, all you do is give the Cast Member (CM) your card, and they can deduct your meal or snack credits from your total count (which is, remember, based on the number of nights you are staying on the package).The CM will even give you a receipt with your number of remaining meals and snacks.
Meals do expire, so you can't save them for another visit, or even the day after you check out. You can, however, use them from the moment you check in, until midnight on the day you check out.
There are a few restaurants that require two table service credits per meal. Any meal at Cinderella's Royal Table in the Magic Kingdom runs two credits. The Hollywood Brown Derby is also two. All the Disney Deluxe resorts have a Signature dining location.
If you have counter-service or snack credits left on your check-out day, consider getting some food for the road. The resort food courts all have food items that are easy to take along with you. Or you could get those Mickey rice krispy treats to eat on the plane (or send to the Magically Speaking staff- we're always up for a Disney snack!).
A few places still will add a surcharge for a few items on their menus. This includes Planet Hollywood and Wolfgang Puck's.
You can pay for meals out of pocket. If you are having lunch at the Sci Fi Dine In and your bill is going to be on the low side, just let your server know that you will be paying yourself, and not using meal credits. Or if you are splurging on a Signature Dining meal at Narcoossee's and your child wants plain buttered pasta, maybe you decide not to use two meal credits for a $6 item. Again, just let the server know, and they can charge the child's meal to you and take the rest of the party's meal out of the pooled credits.
If you don't want MYW Dining for your entire stay, you can make two reservations, one with Dining and one without. You will have to check out and check back in again. Just be sure to plan your ticket package accordingly, adding enough days to your package reservation to last you through your non-package reservation.
Although MYW Dining saves money for most Disney guests, some folks love the plan, regardless of savings, because it allows them to prepay their meals.
For more information on visit MYW Plus Dining on MFL
or you can view and print the Magic Your Way Dining Guide in MFL Pocket Guide
If you want the info straight from the horse's mouth, try Disney's MYW Dining page
Magically Speaking Featured Article
Library of Congress ISSN:1556-3863