This post may contains affiliate links for your convenience. If you make a purchase after clicking a link we may earn a small commission but it won't cost you a penny more! Read our full disclosure policy here.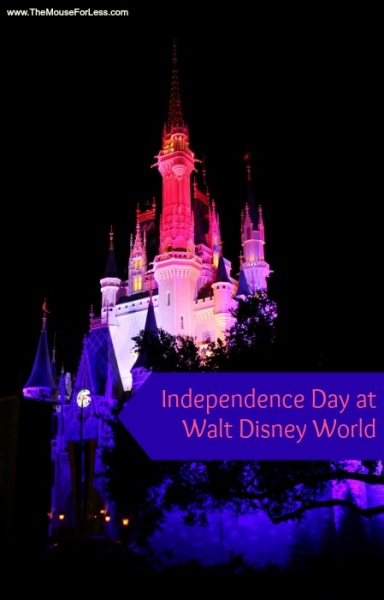 A friend once asked me if Walt Disney World is closed on holidays. While the short answer is no, the truth is not only are the parks not closed on holidays, but they are full of fun.
Last year my family decided that we needed to see Walt Disney World on July 4th. Independence Day is one time when we hadn't experienced the parks, and the idea was quite intriguing.
One thing to bear in mind, though, is that Independence Day, like most other holidays, means that Walt Disney World will be crowded. Add to that the summer heat, and it's a lot to take in. Armed with this knowledge, we decided that there was one goal for the day – see the fireworks. Nope, we weren't going to hang out at our local smaller fireworks display. We were going to see fireworks at Magic Kingdom.
Of course like most things, no one does fireworks displays like Disney. The fireworks displays for Independence Day at Walt Disney World are no exception. For 2014, there are three separate displays from which to choose.
"Disney's Celebrate America! A Fourth of July Concert in the Sky" at Magic Kingdom will be held on July 4 at 9 p.m. If you want to celebrate early, the same show will be presented on July 3 at 9 p.m. as well.
"Rockin' 4th of July Celebration!" at Disney's Hollywood Studios will combine fireworks, special effects, and the music of Mulch, Sweat, and Tears.
"IllumiNations: Reflections of Earth" will be presented at Epcot. A special addition of "The Heartbeat of Freedom" will be added to the show, which begins at 10 p.m.
For our Independence Day trip, we chose Magic Kingdom. We found our spot and stayed put. It wasn't in the hub, but that was alright with us. We had no need to be that close. There were plenty of people who joined us on the bridge where we stood. We had our own version of a picnic (we ate dinner early) in the form of Mickey bars, popcorn, and beverages.
As you might imagine, our celebration of Independence Day at Magic Kingdom did not disappoint. The fireworks were spectacular. The patriotic tie-in was amazing. We were there with quite the crowd, to be sure, but the feeling of seeing the red, white, and blue castle was worth the crowds. We had a day to remember.
If you are going to be at Walt Disney World this year, take a look at our Independence Day page for more information and lots of event details.
It's best to be prepared. Be prepared for the crowds. Be prepared for the weather. Be prepared to only do a few things in the parks. Also, be prepared to be amazed. Be prepared to be thrilled. And be prepared for a wonderful patriotic experience.
Happy Independence Day!