This post may contains affiliate links for your convenience. If you make a purchase after clicking a link we may earn a small commission but it won't cost you a penny more! Read our full disclosure policy here.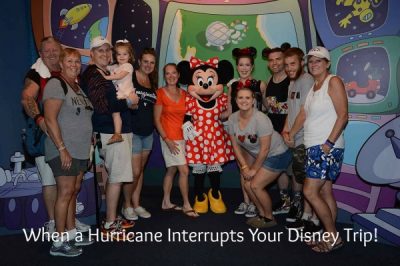 Big group shot before Hurricane Matthew came to town!
For a while I've been talking about our upcoming Disney trip and taking our daughter for the first time. Well, it finally happened! It was incredible, magical, and…wet! It was Hurricane Matthew's first trip to Disney World, too! You can plan your Disney trip down to the minute thanks to FastPass+ and Advance Dining Reservations, but you definitely can't plan for a hurricane.
Our trip lasted from a Sunday morning (a very early Sunday morning, which I do not recommend with a 2 year old who has never been on a plane 🙂 ) to the following Saturday afternoon. There were reports all week that a hurricane was coming and to be honest, up until Wednesday afternoon, it was hard to believe! For the most part we experienced nothing but sunny skies and hot (read super hot and humid) early October temperatures.
But come Wednesday afternoon, from inside World of Disney, we watched the skies open up and dump rain in Mickey Mouse shaped buckets all over the World. Hurricane Matthew was definitely on his way. I asked a Cast Member what the chances were the parks would close either early or all together. Insider Cast Member tip comin' at ya! He said the insider rule of thumb is the three major Orlando parks (Walt Disney World, Universal Studios, and SeaWorld) stick together when it comes to weather. So when one announces a closure, the other 2 will soon follow suit. At that point it was 5:00 p.m. on Wednesday and he told us SeaWorld had announced they were going to close early the next day.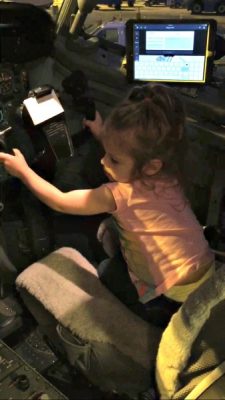 Sometimes a super early flight means you get a private flying lesson from the pilot!
Thursday our itinerary brought us to Epcot. By the time we got off the bus at the entrance, we learned all Disney parks and Disney Springs would be closing at 5:00 p.m. that day and everything would be closed on Friday. I had a moment of panic. I'm sorry, what do you mean CLOSED?! WE HAVE CINDERELLA ROYAL TABLE RESERVATIONS! Ugh, okay no reason to freak out, I calmly told myself. Disney was putting our safety first and of course that was more important than a dining reservation. I guess, lol.
Walking into Epcot, we all decided what our priorities were for the day; One, basically hit as many Epcot Food & Wine Festival booths as possible and two, try to use our coveted FastPass Plus reservations for Frozen Ever After. I say "try" because our reservations were for Friday which was no longer an option. So off to Norway we went. Unfortunately, we were not able to use utilize our FastPasses that day. We called Guest Relations who, understandably, were not able to accommodate us and (I'm sure) the hundreds of other people who were in the same boat we were. It was then that my Disney spirits started to sink a bit.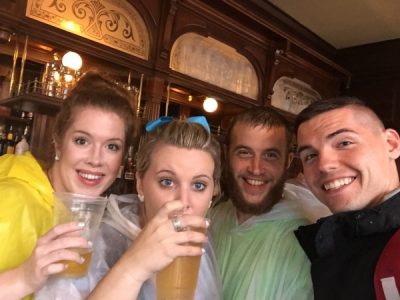 Rose & Crown works wonders on sunken Disney spirits 
I wasn't particularly disappointed about not being able to go on the ride (even though I knew my daughter Amelia would love it), but I was disappointed in our current situation. Matthew, how could you do this to us?! As our group stood inside the Norway shops trying to decide what to do, I watched the rain pour down outside. I figured our day was over and we should head back to our resort.
After what seemed like an eternity, the rain started to let up so we ventured outside. We took Amelia out of her stroller and our cousins started to play with her in the puddles, giving my husband and I a much needed moment to just breathe. As I was watching Amelia jump in puddles, chase her big cousins, and laugh some of the hardest laughs I've heard from her, it hit me. We were in DISNEY. We were in the magic bubble! And it didn't matter that it was raining and it didn't matter there was a hurricane on the way. We were with our beautiful daughter, our amazing family, and we were safe. Amelia didn't know some of our plans were ruined! She didn't know she couldn't ride Frozen Ever After! She was more than content to be splashing in puddles. From then on, my Disney spirits were restored. You might even say I "Let it Go."
Disney puddles are the best puddles! 
As we walked through Epcot and stopped at Food & Wine booths, we heard many Guests asking Cast Members about what they should do. Would anything on property be open the next day? Would the buses be running? When would the parks open back up? Would an extra day be added to their "Magic Your Way" ticket? We heard it all. Most of these questions could not be answered at that particular moment, and if they could, I'll bet they couldn't be answered by the Cast Members working the booths and the counters in the shops. But every single Cast Member had a smile on their face, answered the questions to the best of their abilities, and did everything they could to reassure their Guests.
I always knew Cast Members were a special group of people, but hearing the way they tried to calm the panicked Guests in front of them was truly inspiring. Disney magic at work. And you know what? We may not have gotten to ride Frozen Ever After that day, but thanks to an unpredictably short line, we did get to meet Princess Anna and Princess Elsa which made Amelia's day! (And maybe Mommy and Daddy's too!)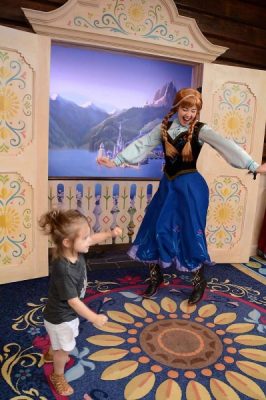 Princess Anna was so glad to see Amelia!
Walking out of Epcot and back to the buses, we learned our flight, booked for Saturday morning, had already been cancelled. Mike called the airline right away and got us booked on the next available flight; Monday afternoon. YAY, more time in Disney! Slight problem; our hotel reservation was only until Saturday morning! Mike called the front desk and was informed we could rebook our room and stay, but it would be at the regular fee. Unfortunately we couldn't afford to extend our stay at Old Key West. So we called around and booked a room at Art of Animation (hello my favorite rooms ever!). Disney was very accommodating with moving our bags (and the crib we had rented) from one resort to the other, but I do wish they had offered a room discount of some sort. As much as I didn't mind extra time in my happy place, it wasn't our choice to extend our stay.
Thursday came to a close and Hurricane Matthew came overnight. When we got up Friday morning it was overcast, raining a bit, and very windy. It seemed central Florida didn't get hit as hard as predicted, but I was glad Disney made the decision to close the parks on Friday, just in case. Oh, and about that Cinderella's Royal Table reservation? Unfortunately we lost it and because of the popularity of the restaurant, Disney wasn't able to find a spot for us while we were still on property. Bad news, I wasn't able to cross it off my Bucket List! Good news, they gave us a full refund with no issue (you have to pay for Royal Table when you book the reservation).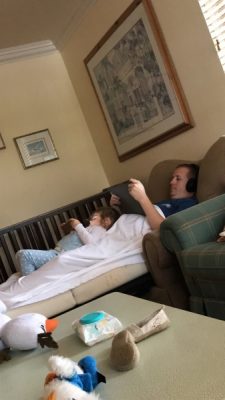 Rain Day Snuggles
We had family staying at both Polynesian and Animal Kingdom Lodge which are both set up with lobbies as the central building for the hotel rooms. On Friday afternoon into the evening those hotels hosted fun dance parties with characters and some magical activities for the kids! 'Ohana ran a limited menu that evening and allowed Polynesian resort Guests in without reservations and Boma did the same over at Animal Kingdom Lodge. Around 5:00 p.m. on Friday we got a voicemail from Guest Relations that Disney transportation would start running around 6:00 p.m. to Disney Springs only (no parks were opening) where select restaurants and shops would open. We thought about trying to go (a certain 2 year old had cabin fever!), but the thought of Disney's population descending upon Disney Springs at one time kept us in our rooms! We didn't have the energy for that!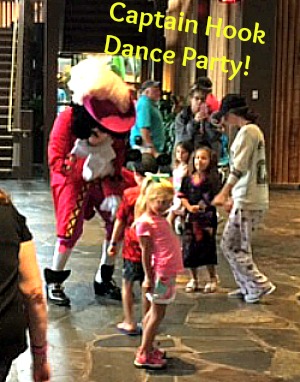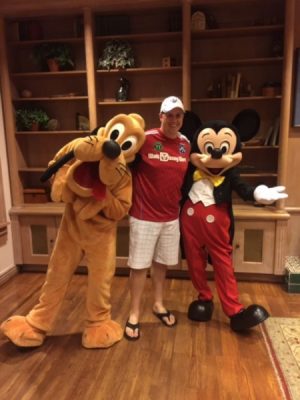 Mike found some pals when he went to the Old Key West general store!
Family and friends at home in New Jersey were very concerned about our safety. Understandably so! But I knew Disney property was one of the safest places we could be. There was a travel ban put in place sometime on Thursday early evening. However, once that ban was lifted on Friday, Cast Members were called into work not only at Disney Springs, but at the resorts as well to get the cafeterias and shops up and running. Because we had family spread out all over, and I have some Cast Member friends, we heard stories of Guest Relations Cast Members who didn't even leave on Thursday night. They stayed on property and were dedicated to ensuring their Guests were taken care of. Some stayed on property because by the time they were able to leave work, the ban was in effect. Disney took care of those Cast Members, don't worry. We heard about how The Disney Security team worked overnight both Thursday and Friday.
When I went to Epcot Guest Relations on Saturday morning, the line was out the door. Every Cast Member was busy with a Guest and no one was short on smiles or magic. I was able to show proof of our Friday FastPasses so they magically (and happily) loaded them back onto our MagicBands and we were able to ride. I can honestly say the Cast Members went to infinity and beyond during this hurricane. It was inspirational to see!
Should you get stuck in a hurricane while you're on your Disney World vacation, fear not! Mickey Mouse and pals will ensure you're safe and well taken care of. You may lose some ADRs or some FastPasses, but I've seen first hand how Disney will try to accommodate you and your group as much as possible.  Amelia's first Disney trip was absolutely one we will remember forever; and not just because of Hurricane Matthew. Our family was with us, we got some incredible photos, and of course, we left already planning our next trip.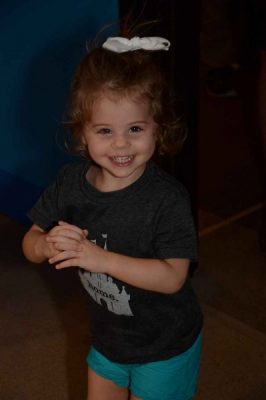 The face of a girl who had a fantastic first trip to Walt Disney World
Have you ever had to experience Walt Disney World in a hurricane? Share your experience in the comments.
Did you like this article? Make sure to share it with your friends! Check below for easy ways to share!