This post may contains affiliate links for your convenience. If you make a purchase after clicking a link we may earn a small commission but it won't cost you a penny more! Read our full disclosure policy here.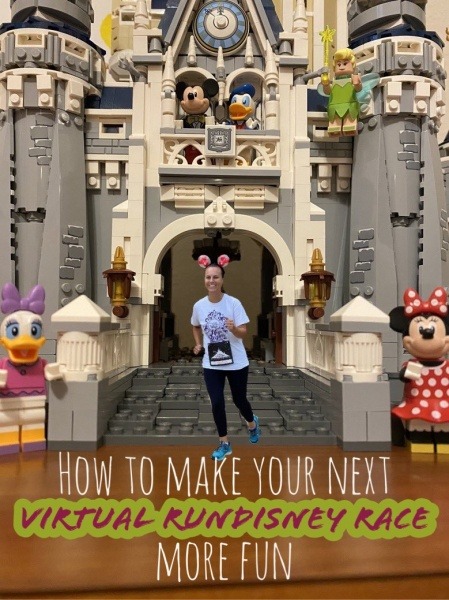 In 2020, and now 2021, virtual races are becoming a trend. runDisney announced that The Walt Disney World Marathon and Princess Half Marathon races will also be virtual to begin 2021. While it is understandable that these popular races would be very hard to keep "socially distant," it is still disappointing to have these favorite weekends in Walt Disney World cancelled. There are still ways to keep the races fun virtually. Here are some great ideas if you still want to participate in virtual 5K, 10K, half or full marathon.
Dress up
Wearing costumes for runDisney races is very popular. From princesses to villains to characters from popular park attractions, you can always find great looks on the race course. To make my virtual races more fun I wore Disney Park leggings, Minnie ears and my race bib proudly pinned to my shirt. I wore light-up Mickey Balloon ears during my final 5K and it seemed to make a lot of kids smile as a ran by them. You will probably get a few funny looks as people pass by, but you might also get others cheering you on!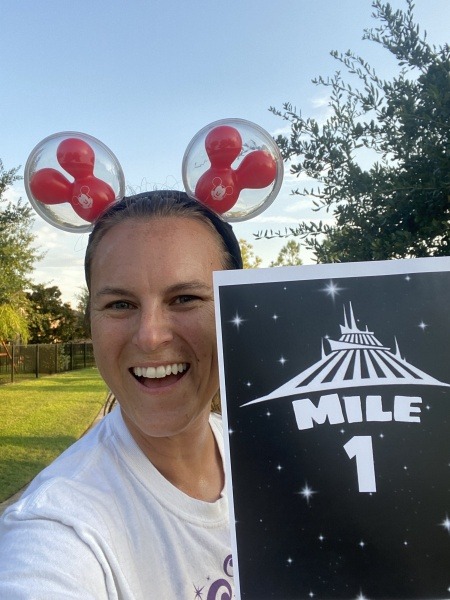 Mickey ears are always a fun addition to any run!
Document your race on social media
Whatever platform your like best, document your run. Live videos and posting to your Instagram stories can get others cheering you on and keep you going. Make sure to use hashtags to help more people see your posts and join your cheer squad.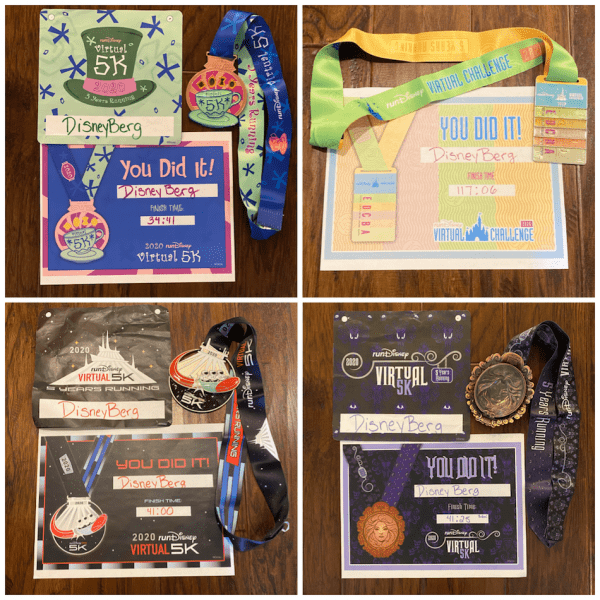 Post those medals and accomplishments!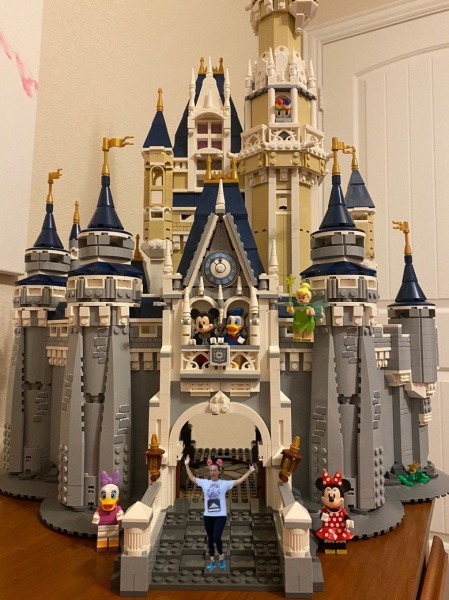 This social media post gain a lot of attention! A friend helped me run through my Lego Disney Castle!
Get your friends and family involved
runDisney is known for making the race course fun. Fun music plays, characters are along the course, people have fun signs cheering racers on and medals are placed around every finishers neck. You can make the virtual course just as fun. Find kids to dress up in costumes, get friends to cheer you on and take pictures along the course, have a finish line and make sure some one places that well earned medal around your neck!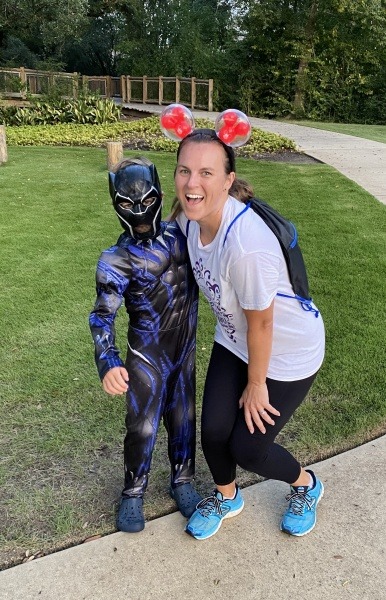 Got to meet Black Panther!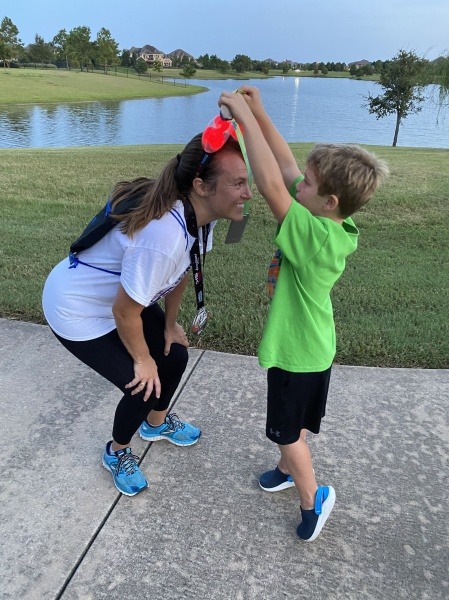 Kids are always excited to help!
I also did one 5k with friends on Zoom. We all picked a day and time to run and zoomed the entire time. We could cheer each other on from all around the country. It was a lot of fun and made the run go by very quickly.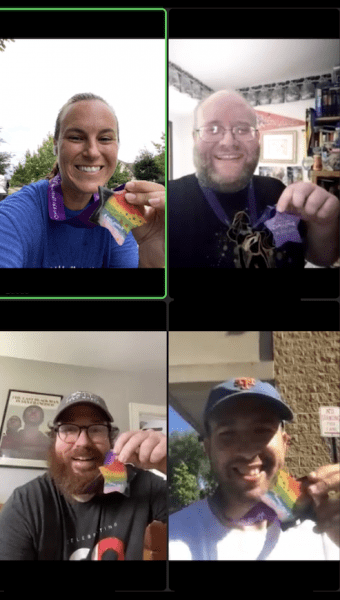 We all earned our medals after a great 5K for Give Kids the World
Raise money for charity
When you have bigger reason to run you will run harder and faster. People can pledge money for each mile, a faster pace or special accomplishments along the course. Also, if you use the above recommendation of posting on social media, people will be more likely to donate after watching you put in your hard work. Give Kids the World is always my favorite charity. They are closely linked with Walt Disney World and provide cost-free vacations to Central Florida for children with critical illnesses. But the idea is to find a charity your are passionate about, and run your best race to support it.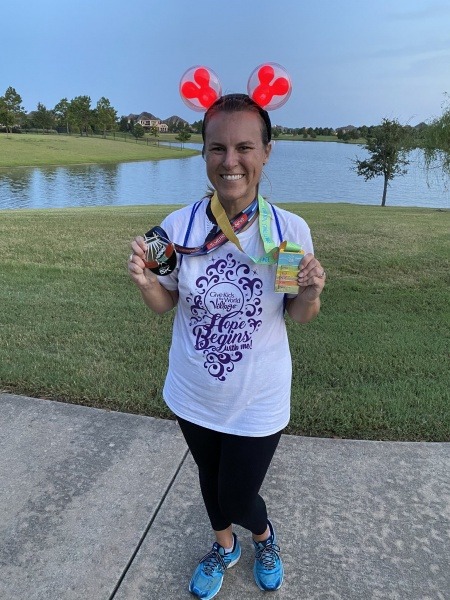 Always supporting Give Kids the World
I know that virtual runDisney races aren't as exciting as the in park weekend, but you can still make the best of these races and have a great time. Get out there, get active and have fun on your next Virtual runDisney race!
Have you participated in a virtual race recently? What did you do to make it fun? Share with us in the comments or on Facebook or Twitter!
Did you like this article? Make sure to share it with your friends! Check below for easy ways to share!  
Want to visit a Disney Destination? Contact The Magic for Less Travel for more information and a free, no-obligation quote.

Incoming search terms:
how to make virtual runs fun