This post may contains affiliate links for your convenience. If you make a purchase after clicking a link we may earn a small commission but it won't cost you a penny more! Read our full disclosure policy here.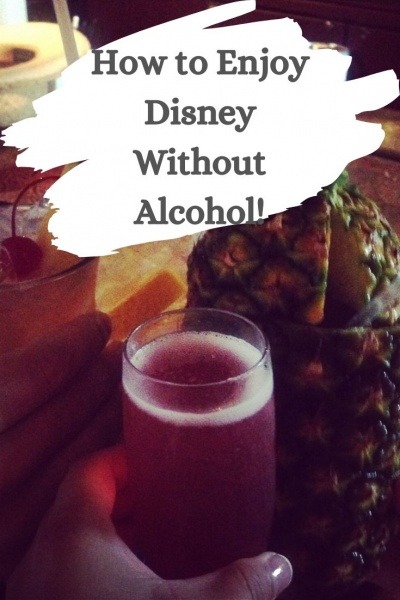 It's the start of a new year which means we're invested in our resolutions and goals for a better version of who we are. For many people, this means giving something up or working toward having a healthier lifestyle. Alcohol tends to be a category that is heavily focused on when health conversations arise. Many give this vice up for their own personal health, but others do so because of addiction. It can be a touchy subject and my goal isn't to trigger you, but show you how to enjoy Walt Disney World without alcohol!
Going on vacation to The Most Magical Place on Earth can be a challenge when you're trying to be consistent with healthy habits. I personally stopped drinking because of my weight loss journey and have been sober 6 months. During this time, my husband and I took an adults-only vacation to Disney.
For us, three full days child-free usually means drinking around the world in EPCOT, wine bottle service in our hotel room, and afternoon rose at Be Our Guest. This time? Not so much. Disney without alcohol? I was nervous. While the reason I gave up drinking isn't addiction-based, it's been a habit during vacations.
Also, I LOVE champagne.
I wasn't sure how this choice would impact our vacation, but on our plane ride home, I was really proud of myself and found that I enjoyed this trip just as much – perhaps more – than some of our past adults-only getaways!
I'd like to disprove 3 common myths to show you how you can enjoy Disney without alcohol:
Myth #1: You Cannot Visit Bars
Upon arrival, my husband and I visited The Grand Floridian because of the recently opened Enchanted Rose Lounge. Beauty and the Beast is my favorite Disney classic (hello – I'm an English teacher? Belle?) so naturally, I wanted to see the chic and gorgeous new space inspired by this film!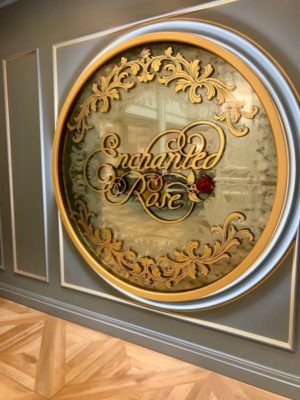 He and I saddled up to the luxe bar because I wanted to experience the vibe of being there. While he ordered a glass of wine, I was able to read through the menu and appreciate the details that only Disney crafts with such precision and mastery: the font, the names of drinks, the ingredients of recipes, the color palette. I also used this time to explore the lounge area, the individual rooms and subtle allusions to the film.
I thought I would miss having a flute in my hand, but I was so immersed in the space that I truly enjoyed myself and forgot that I was imbibing in drinking.
Myth #2: Water is the Only Option
One of the things I miss most about including alcohol in my diet is variety. I don't know if I'll ever LOVE water, but my newest motto is to drink the stupid water. And I do. BUT while on vacation, I want to try new things in addition to staying hydrated.
What I found is that most dining and lounge locations offer an alcohol-free drink menu with interesting choices that aren't just water, milk, or juice (because I'm not a toddler).
My favorite location for choices?
Batuu at Star Wars: Galaxy's Edge.
Located in Hollywood Studios, Disney's newest and most popular planet is home to exotic and exciting flavors for both food and drink. Marc, my husband, really wanted to try the blue milk.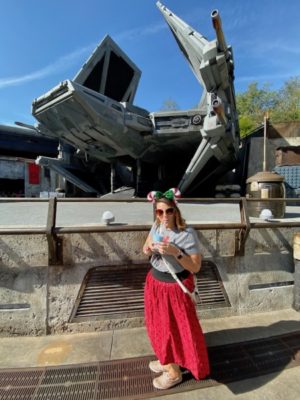 Warning: it's not actually milk at all and in fact, is super sweet!
I didn't LOVE how this tasted, but I was thrilled to try something new and super themed to Star Wars. Next time, we'll definitely try the green milk.
On this trip, we were lucky enough to score reservations to Oga's Cantina, a hovel for smugglers, traders, bounty hunters, and travelers looking for a safe place to rest. Oga offers both food and drink that are truly out of this world. The drinks, both nonalcoholic and alcoholic, are going to cost you, but the atmosphere is worth the splurge!
DJ R-3X, a former droid pilot, spins up some pretty bumpin' tunes while you drink and eat. We didn't order food while we we there, but I did enjoy a Cliff Dweller which contains:
citrus juices
coconut
hibiscus grenadine
ginger ale
and I was able to do this from a Porg mug! The drink itself was lightly sweet and delicious. I felt like I was partaking in the fun without the alcohol.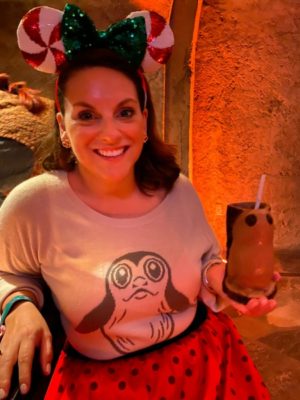 Myth #3: You'll Miss Out
What I noticed on this trip is that I was scared of missing out on experiences, but I wasn't quite sure why I felt this way. It was an internal fear, my husband wasn't excluding or pressuring me to drink, this was entirely in my control.
In fact, because I wasn't drinking, we went exploring for new things to do TOGETHER. In EPCOT, we would normally focus on grabbing a cocktail and splitting it at every country. On this trip, we went into the shops and intentionally saw shows we never got to see. We walked slowly, split appetizers, and sat on benches. I never felt like I was missing something. It was a richer experience than we normally have.
I hope this helps you see how you can enjoy Disney without alcohol. Regardless of the why of your choice, you can overcome your challenges! There is simply so much to focus on, you may even forget about alcohol all together.
What tips do you have for touring around the Disney Parks without drinking alcohol? Let us know in the comments or on Facebook or Twitter!
Did you like this article? Make sure to share it with your friends! Check below for easy ways to share!
Want to visit the Walt Disney World Resort? Contact The Magic for Less Travel for more information and a free, no-obligation quote.

Incoming search terms:
https://www themouseforless com/blog_world/how-to-enjoy-disney-without-alcohol/
sober trip disney world