This post may contains affiliate links for your convenience. If you make a purchase after clicking a link we may earn a small commission but it won't cost you a penny more! Read our full disclosure policy here.
In a previous post, I made a plan to tour Disney's Hollywood Studios and ride all five of its rides in one morning using park open ("rope drop") and FastPass+ strategies.  I put this plan to the test on Tuesday, August 23, 2016.  This post goes through my plan and my success at completing the steps.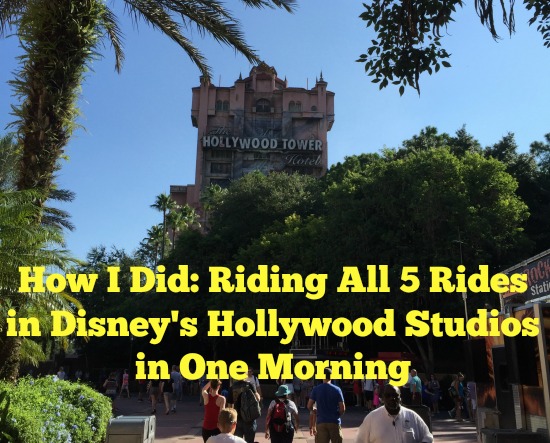 Pre-Trip Preparation
I was able to obtain the following FastPass+ reservations at Hollywood Studios 60 days in advance:
9:05-10:05:  Twilight Zone Tower of Terror
10:20-11:20:  Toy Story Midway Mania!
11:25-12:25:  Star Tours–The Adventures Continue
Rope Drop
We arrived at the Hollywood Studios Mickey ticket readers at 8:20 a.m. and got in a relatively short line.  We were let onto Hollywood Boulevard at 8:40 a.m., then held there until the official park open at 9:00 a.m.  We headed to the right onto Sunset Boulevard, then veered left to Rock 'n' Roller Coaster. Our 9-year-old did not want to ride, so we asked the first Cast Member we saw in the line for a rider switch pass, which they quickly retrieved and gave to my wife.  My son and I had about a 15-minute wait before our car sped off at 60 miles per hour!  When we exited, my wife and son headed into the FastPass entrance with their rider switch pass and were exiting the ride about 20 minutes later.
Rider Switch at Tower of Terror
We arrived at Twilight Zone Tower of Terror around 9:35 a.m. and headed to the FastPass entrance.  My daughter was too scared to go on this ride as well, so we asked the first Cast Member about rider switch.  She told us to go through the queue and another cast member would help us out near the ride entrance.  At the second FastPass reader, the Cast Member there told us that we would go through the rest of the pre-show and switch at the ride entrance.  So the whole family got to experience the library pre-show and boiler room (all the while my daughter was sobbing because she thought she would be forced to ride!).  Once we got to the front of our elevator, a Cast Member took my wife and daughter to a service elevator (one without the drops!) where they were taken to the ride exit area to wait for my son and me.  Upon exiting, my son and wife were taken back into that service elevator directly to the ride entrance, bypassing the pre-show.  The experience with rider switch set us back in time more than we had planned for, but I was ultimately impressed with how easy they make rider switch at Walt Disney World.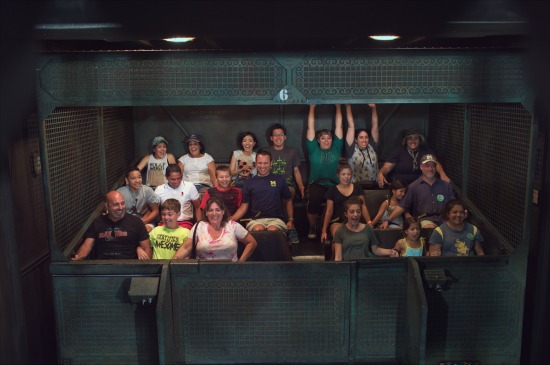 Down the elevator shaft we go!
Before continuing on our rides, my son and I went to Star Wars Launch Bay to meet Chewbacca and trade with the Jawas.  Both experiences were absolutely great, especially the trading.  These Jawas are no pushovers; my son traded some light-up sunglasses for an old toy car.  Don't try to give them junk; I saw some kids rejected for trying to trade things of little value.  During this time, my wife and daughter went to each of the three Disney Junior character meetings and enjoyed short lines for each (Sofia the First, Jake, and Doc McStuffins).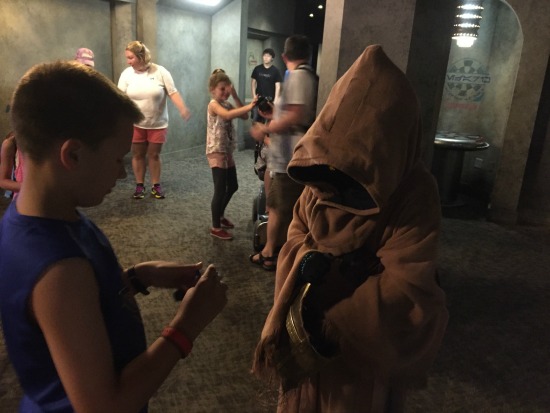 Trading with the Jawas in Star Wars Launch Bay
Our Toy Story Midway Mania! FastPass window had already begun, but we wanted to spend a few minutes going through Walt Disney: One Man's Dream, an attraction we had never visited in our previous trips.  This attraction is a museum of artifacts from the Disney films and parks, with a film that you can view at the end of the last hall.  We only spent 15 minutes here (and didn't have time to see the film), but we could have easily spent an hour.  Anyone who has even a shred of interest in the life of Walt Disney, the early Disney films, or the Disney parks will enjoy this.  We actually had to coax our kids out of there to make it back on our schedule; who has to drag kids out of a museum?!
We rode Toy Story Midway Mania! using our FastPass.  We stopped for a quick snack near the exit, then headed off for our Star Tours FastPass.  As soon as we checked in at the FastPass reader, I hopped on my phone and checked for FastPass availability at the Great Movie Ride, which was plentiful.  I booked the ride for 12:30 p.m.  We rode Star Tours then went straight for the Great Movie Ride, where we used our FastPass and were on our way.  We were done with everything by 12:45 p.m.  We then headed back to our resort for a nap and pool time.
All-in-all, our plan worked well, seeing all five rides (two of them with rider switch) along with meeting characters and enjoying the Launch Bay.  The crowds this day were probably mid-range, which helped us with the standby attractions.  I believe this plan could work for most families on a low or moderate crowd day for the next year or two while Hollywood Studios undergoes a transformation to include new attractions for Star Wars and Toy Story.