This post may contains affiliate links for your convenience. If you make a purchase after clicking a link we may earn a small commission but it won't cost you a penny more! Read our full disclosure policy here.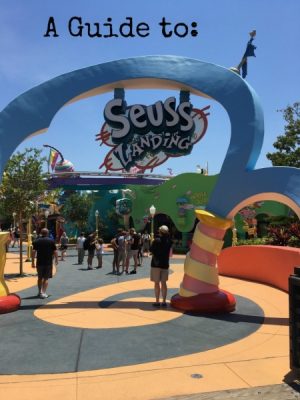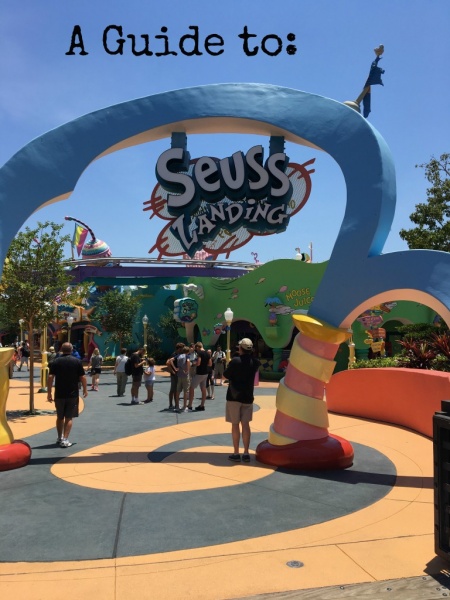 On face value, Seuss Landing is the kiddie section of Universal Orlando's Islands of Adventure. But if you ever dreamed of saving the Truffula trees or seeing Mulberry Street, then this is your chance. It's a place for the young and the young at heart.
Seuss Landing Rides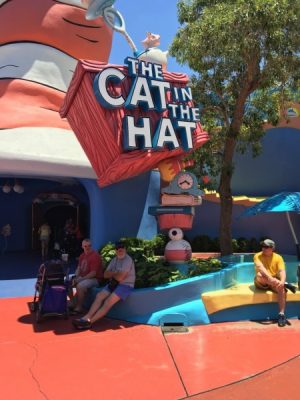 There are 4 rides in Seuss Landing. The headliner is the Cat in the Hat Ride.
The Cat in the Hat Ride is a classic dark ride similar to The Many Adventures of Winnie the Pooh or Mr. Toad's Wild Ride in that there are a few bumps and jerks. Riders are seated in two rows of 3 (so a typical family of 4 would need to split into two rows). Because of the bumps and spins, etc., the ride has a height requirement of 36 inches. Children under 48 inches must be accompanied by an adult.
One Fish, Two Fish, Red Fish, Blue Fish is the next ride you come to if entering from Port of Entry.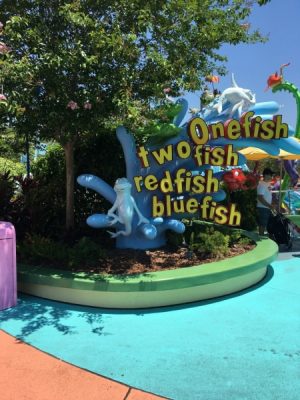 This ride is similar to Dumbo or Magic Carpets of Aladdin. Riders direct their fish up or down. The catchy rhyme that plays and tells you what to do and there are squirters that will get riders slightly wet if they don't follow the directions.
Next up is the Caro-Seuss-El. It's a classic carousel, but instead of sources there are various Dr. Seuss creatures.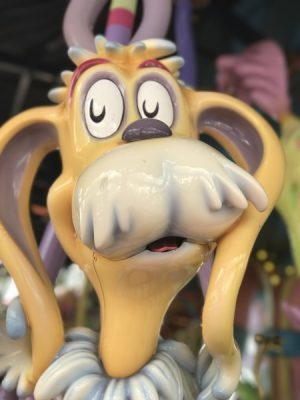 Finally is the High in the Sky Trolley ride.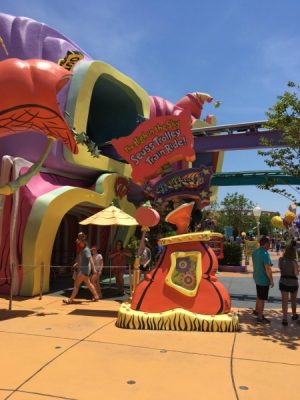 This ride is an elevated train ride that tells either the story of the Sneeches or a version of To Think That I Saw It On Mulberry Street. Like Cat in the Hat this ride has a 36 inch height requirement, but is relatively mild and fright free.
Seuss Landing Food
The main eating establishment in Seuss Landing is Cafe McGirkus Circus Stupendous. It is a quick service location that serves a variety of kid friendly options such as chicken tenders and pizza. There is also a Green Eggs and Ham Cafe which does serve a version of it's namesake dish. Finally several snack stands and a candy shop serving relatively standard theme park options.
During Grinch-mas, there is a character meal. While I haven't tried it myself, all the reviews indicate it is one of the most entertaining character meals around.
Other Seuss Landing Entertainment
If your kids need to run off some energy or sugar, there is the If I Ran the Zoo play area.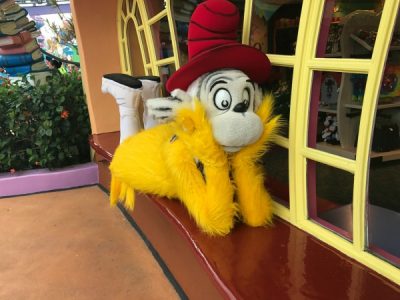 Character greetings with Dr. Seuss characters including the Cat in the Hat and the Lorax occur in the Seuss Landing Character Greeting Area.
There is also a Dr. Seuss show called Oh! The Stories You'll Hear. Check the times guide for showtimes.
During Christmas, Seuss Landing celebrates Grinch-mas. This includes a wonderful version of How the Grinch Stole Christmas which is a must do.
So whether you have children or want relive your favorite childhood stories, Seuss Landing is one of the most immersive lands at Islands of Adventure.
What are your favorite parts about Seuss Landing? Share them in the comments.
Did you like this article? Make sure to share it with your friends! Check below for easy ways to share!
Incoming search terms:
https://www themouseforless com/blog_world/guide-seuss-landing-universal-orlando/
https://www themouseforless com/blog_world/guide-seuss-landing-universal-orlando/#:~:text=Riders are seated in two be accompanied by an adult