This post may contains affiliate links for your convenience. If you make a purchase after clicking a link we may earn a small commission but it won't cost you a penny more! Read our full disclosure policy here.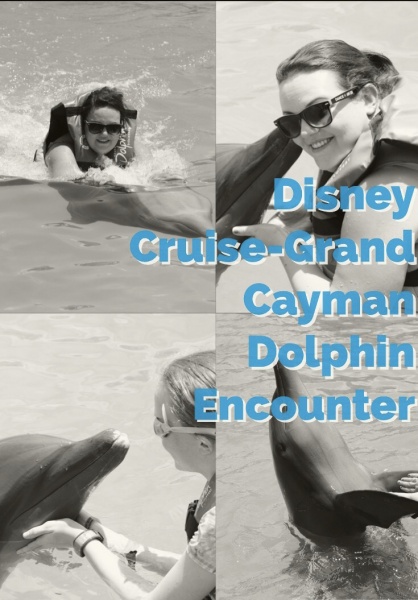 Looking for a fun Disney port excursion to do while in port at Grand Cayman? Grand Cayman Dolphin Encounter is the perfect shore excursion for the whole family (ages 10 & up)! This was one of my favorite activities during our cruise on board the Disney Fantasy.
Priced at $80 USD per adult & $70 USD per child, this is one of the more relatively affordable Disney port excursions.
Once our group gathered on the ship, a bus took us to Dolphin Discovery Cayman. Along the ride, we enjoyed a mini tour on our 30 minute drive, where we got to see lots of Grand Cayman sights! We then arrived to the facility & after our safety demo, we were all set to jump in with the dolphins-literally!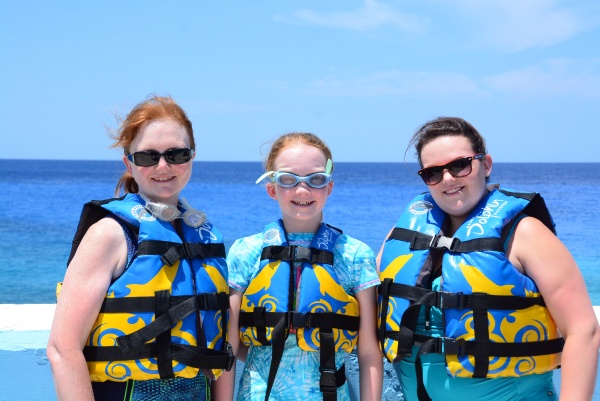 While this experience is not in the ocean, you get to have fun in about a 3 foot deep pool-safe for both you & the dolphins! We had a pretty large group & we were paired off into smaller groups who each shared a dolphin & took turns swimming with & doing tricks with the dolphins!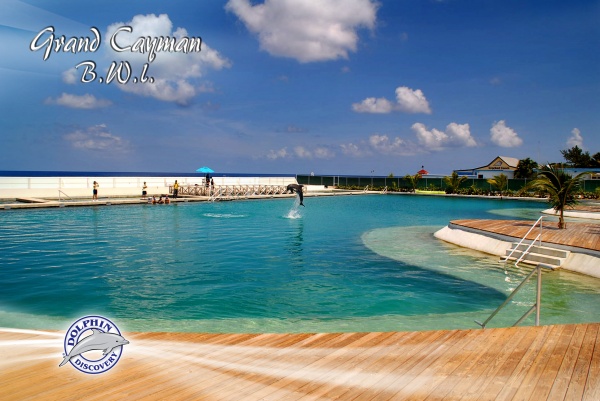 The fun started out with us simply meeting the dolphins. The trainer introduced us to the dolphin assigned to our group, where we got to meet, touch & become familiar with the dolphin!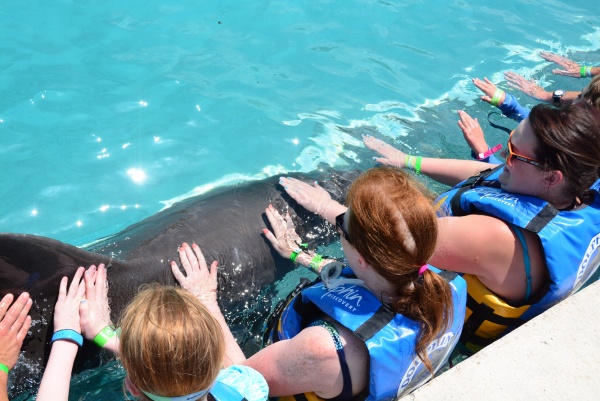 Next up, was our first trick. We got to do a special 'handshake' with the dolphin before we had our first swim. Our first swim was with the dolphin on it's back, we grabbed the two fins and he took us for a swim! This was my favorite of the three swims we did with the dolphin. It was so much fun & not at all difficult!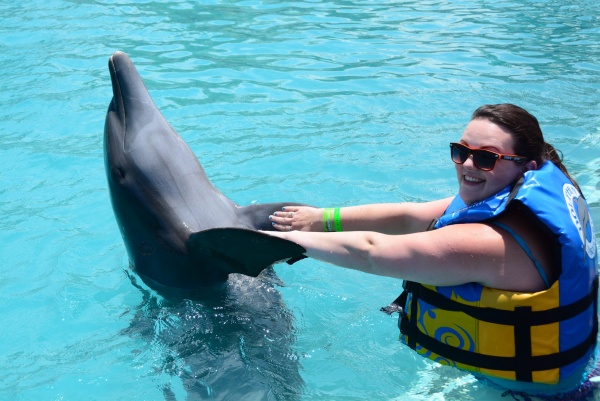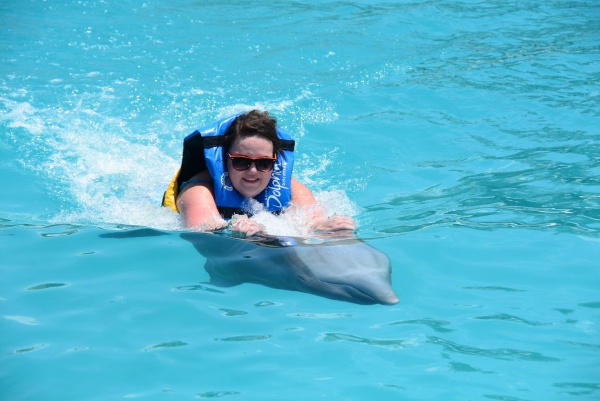 We did a few other tricks as a group & also each got to give the dolphin a little kiss! Then it was time for our second swim. This one was the 'traditional' dolphin swim, where we grabbed the dolphin by the dorsal fin & he led us on a fun swim!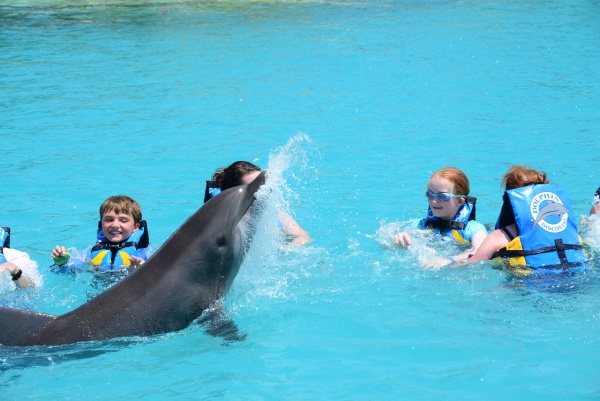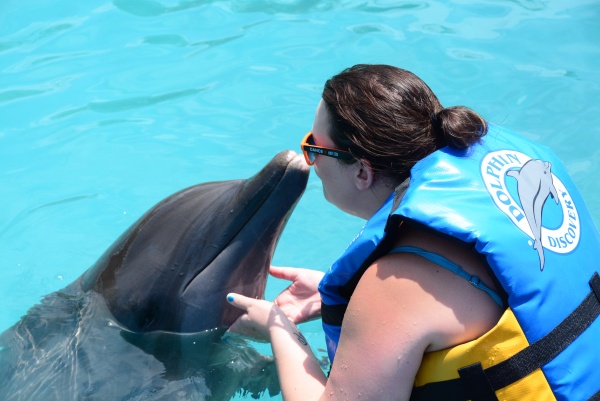 Last, was the most difficult of the swims. We grabbed a board & laid on our tummies. The dolphin then pushed us all the way across by pushing on just our feet!! This one was so difficult, we each had to attempt it several times. But once we tackled it, it was SO much fun!!
After the swims were done, the trainers took a few moments to just do some more tricks as a group, before letting us check out the gift shop & the aquarium across the road.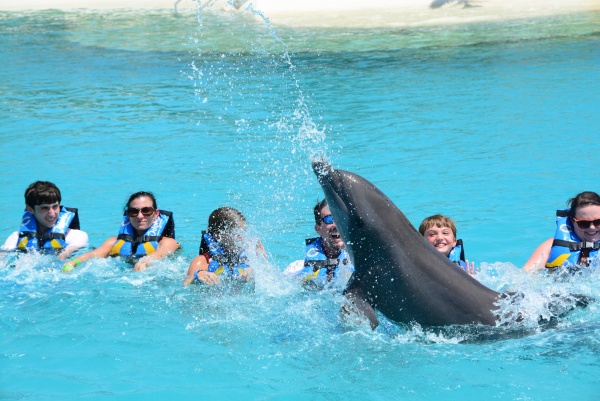 Inside the gift shop, we had a look around, and met with the photographers to purchase our photo package. Since no cameras were allowed in or around the actual pool, this photo package was a must for us & well worth the additional cost!
After we sorted all that out, we headed across the road to explore the sea rescue spot they told us we could check out as part of this excursion. We got to see lots of sea life, including sea turtles, who we even got to hop in the tank with! That was a super neat experience.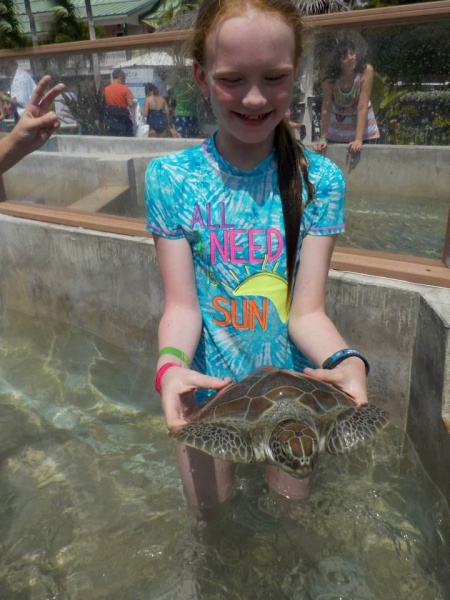 All in all, one of the best excursions we did on the entire cruise. Definitely knocked an item off my bucket list by swimming with these incredible creatures.
Have you participated in this excursion before? What were your thoughts? Let us know in the comments below or on Facebook or Twitter!

Did you like this article? Make sure to share it with your friends! Check below for easy ways to share!
Want to sail on Disney Cruise Line? Contact The Magic for Less Travel for more information and a free, no-obligation quote.

Incoming search terms:
https://www themouseforless com/blog_world/grand-cayman-dolphin-encounter/
disney grand cayman dolphin encounter