This post may contains affiliate links for your convenience. If you make a purchase after clicking a link we may earn a small commission but it won't cost you a penny more! Read our full disclosure policy here.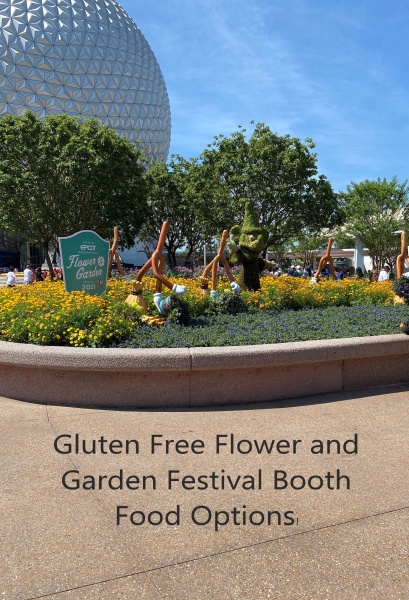 I was able to spend a bit of time at Taste EPCOT International Flower & Garden Festival in early May 2021. I had two Gluten Free Flower and Garden Festival booth food options that were very delicious, along with some cute Sippers that joined in the fun!
I have to say that the festival booths for the various festivals have come a long way in making considerations for those of us who have dietary restrictions, and it is so appreciated! Festival type eating can be very risky for us, because one mistake can set our vacation off in a bad direction. In the last 5 years or so, I  really have come to enjoy each of the festivals because I am able to participate in several of the tastings without worry. 
This year I didn't have a lot of time for the booths, but I was able to try a couple of the entrees, along with some of the drinks, and I was so pleased!
My first stop was at the Citrus Blossom:
Orange Sunshine Wine Slushy – $6.75
Ok, so not technically "food" but it happened to be very hot that day and I have been wanting an Orange Bird Sipper for ages! This drink was safe for me to drink and very yummy! It was like a "dreamsicle" of old, in a cute sipper, with wine! Yay! At the next booth, I also had to get a friend for the Orange Bird so he wouldn't be lonely.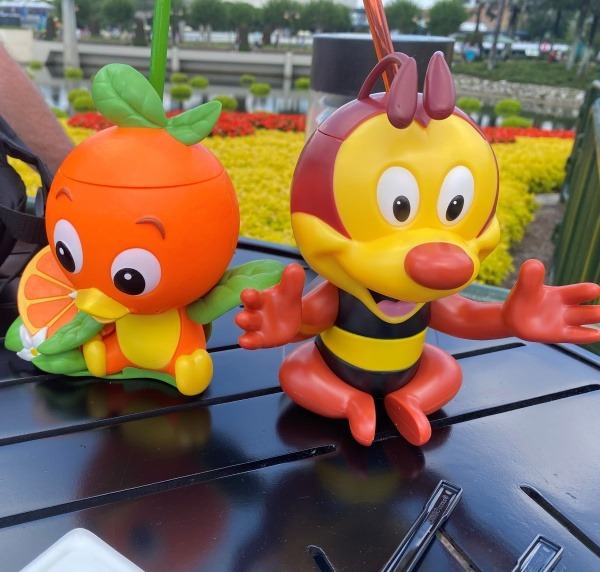 My next stop was: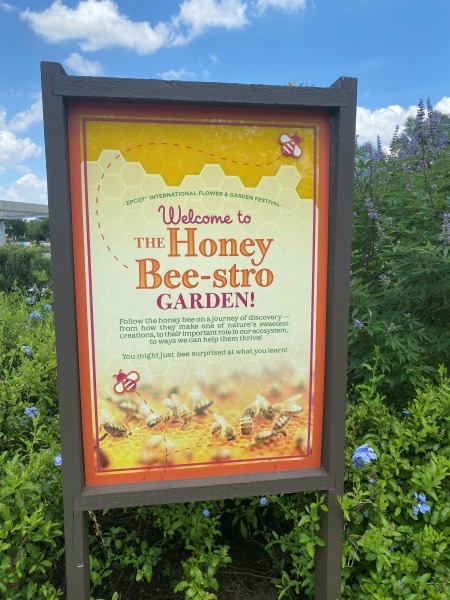 The Honey Bee-stro Hosted by National Honey Board where I tried: 
Tupelo Honey and Sweet Corn Spoon Bread with Jalapeños, Bacon, and House-made Whipped Honey Butter (Gluten/wheat-friendly)  – $4.75, DDP Snack Eligible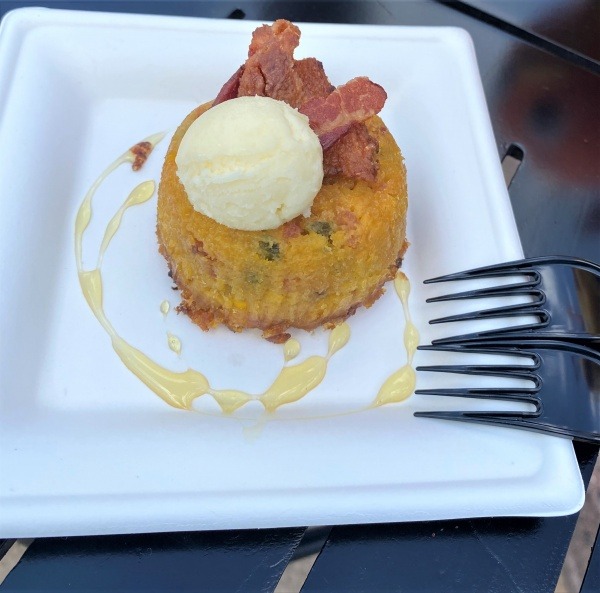 Can I say Ooo Emm Gee? This little bit of a corn bread was so buttery and flavorful that I was super scared that it had gluten in it and that I had made a mistake!! I kept reading and rereading to kiosk to make sure! The combo of honey, corn, jalapenos and bacon was decadent! If you are gluten free, make sure this is on your list! We do not often get to partake in anything like this, gluten free, that tastes this good! Oh, and while I was there I had to pick up a friend, mentioned above, for my Orange Bird Sipper:
Honey-Peach Freeze in a Souvenir Spike the Bee Sipper Cup (non-alcoholic) – $15.00
I went with the non- alcoholic drink this time because I was still drinking my wine slushy in the Orange Bird and double fisting two sippers with alcohol seemed a bit extra, even for me. The Honey-Peach Freeze was sweet and refreshing,  and I think anyone, young or old, would enjoy drinking it out of the Bee Sipper Cup!
Next stop on my quest for Gluten Free Flower and Garden Festival booth food options was Northern Bloom where I had: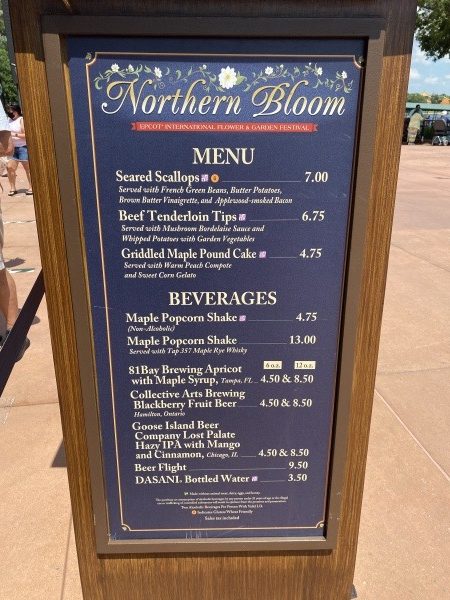 Seared Scallops with French Green Beans, Butter Potatoes, Brown Butter Vinaigrette and Apple-wood-smoked Bacon (gluten/wheat friendly) – $7.00, DDP Snack Eligible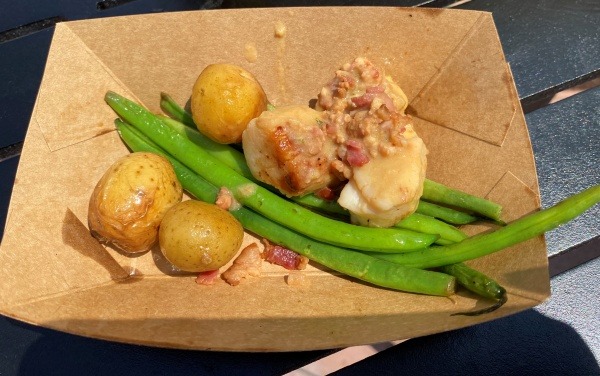 The food was cooked perfectly. The Scallops were tender and delicious. The green beans were cooked but still had a tiny crunch! The vinaigrette was flavorful, but I thought a tiny bit more vinegar than I like, but I still ate and enjoyed it. The food at this booth was fresh and hot! 
My husband had the NOT gluten free option: 
Beef Tenderloin Tips, Mushroom Bordelaise Sauce, and Whipped Potatoes with Garden Vegetables – $6.75, DDP Snack Eligible
He enjoyed it very much! He paired it with a NOT gluten free beer flight, and both Sippers seemed to approve!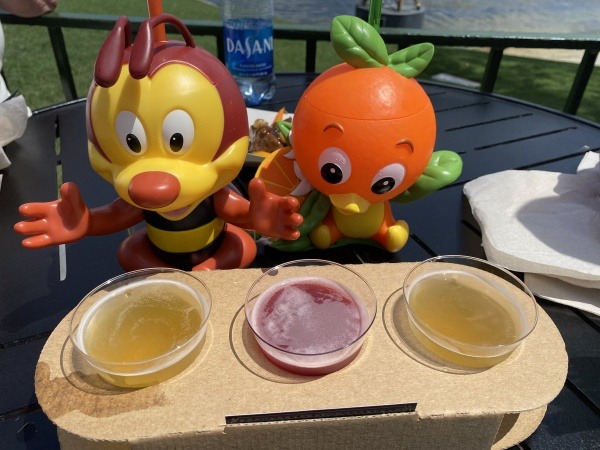 While I didn't have a lot of time to spend at the booths at Epcot this year, I was able to taste and enjoy a couple of really good gluten free options that are well worth a stop if you find yourself at this Festival!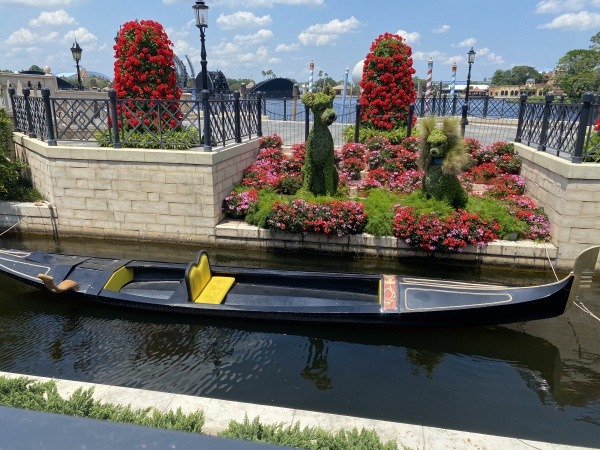 What are your favorite gluten free options at this year's EPCOT Flower and Garden Festival? Let us know in the comments or on Facebook or Twitter!
Did you like this article? Make sure to share it with your friends! Check below for easy ways to share!  
Want to visit a Disney Destination? Contact The Magic for Less Travel for more information and a free, no-obligation quote.