This post may contains affiliate links for your convenience. If you make a purchase after clicking a link we may earn a small commission but it won't cost you a penny more! Read our full disclosure policy here.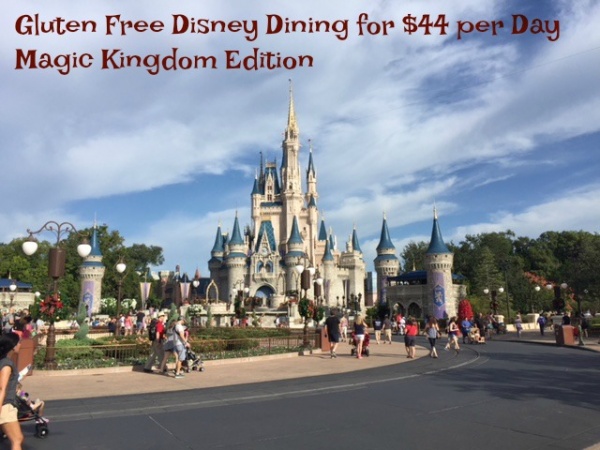 We currently have another blog series going on here The Mouse For Less Blog discussing Disney Dining on $37 dollars per day and you can enjoy those by clicking here. This blog is similar except that we will discuss Gluten Free options.
Eating gluten free can be a little bit more expensive. As a person who suffers from Celiac disease, following a strict Gluten Free diet is non-negotiable and not a fad I would ever subscribe to if I had a choice. Many people think of it as a food allergy, but it is not really an allergy, it is an autoimmune disorder where your body tries to fight Gluten as if it were a virus in your system and it causes damage internally. Gluten itself is a protein that is found in Wheat, Barley and Rye. It is found in a surprising number of foods and often added as an additive where you would not expect it.
Many Celiac suffers are sensitive enough where cross contamination (from fryers, food surfaces, a crumb here or there) actually makes us ill. This can make it very difficult to dine out and is risky particularly on vacation. Those with a sensitivity to gluten also have to be careful and ask questions. This blog is intended to be make suggestions only; please remember to talk with the staff at each dining location to ensure the items are still gluten free when you order, and what the risk of cross contamination is so you can make the decision for yourself.
Some locations have dedicated fryers where they only fry gluten free items in with gluten free items, others share fryers for all food. The same goes for toasters, grills and so on. Ingredients and kitchen practices can frequently change, so please ask each time you go to a location.
Enough of the seriousness, now on with the fun!
Counter service breakfast with Celiac/Gluten Sensitivity can be a challenge. Let's face it, you do not always want a fruit cup or a piece of fruit. You are on vacation after all!
Breakfast
My Magic Kingdom Choice for breakfast is going to be at the Main Street Bakery aka Starbucks on Main Street U.S.A.  I would get the Gluten-Free Smoked Canadian Bacon & Egg Sandwich. Anytime I can get something sandwich-like but Gluten Free, it makes me happy.
Sandwich      $5.99
Coffee             $2.99
Total               $ 8.98
Remaining  $35.02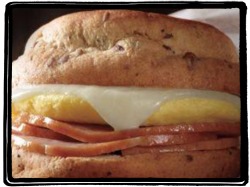 Lunch
Continuing on our trek, my choice for lunch is going to be in Frontierland at Pecos Bill. I would choose a Chicken and Rice Bowl. It is served with Black Beans, White Rice and Veggies.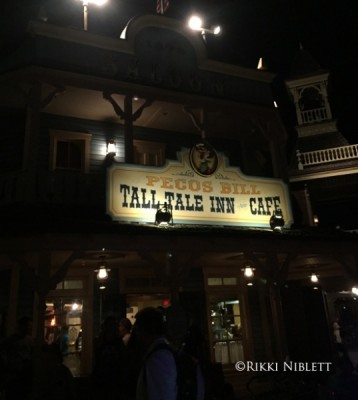 The options here are really tasty for us Gluten Free folks and with the toppings bar we can add more items and personalize our food. Again, use discretion regarding cross contamination as this has shared utensils and gluten food can be in close proximity.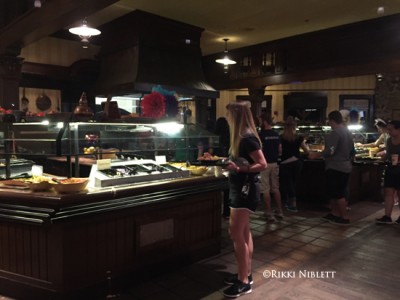 Sometimes getting fast food gluten free is limited to one item, so this place gives me more options and more control over my options! This location does have mobile ordering with the My Disney Experience App, but please use your discretion as you may need to discuss the level of your sensitivity with the Cast Member versus using the app.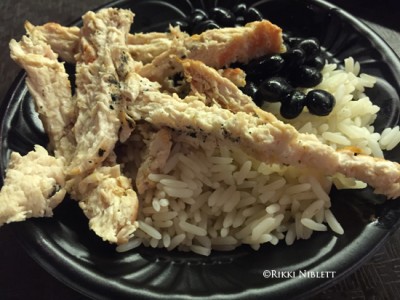 Chicken Rice Bowl  $9.99
Fountain drink        $3.29
Total                         $13.28
Remaining             $ 21.74
Snack
We need a snack before dinner during our search. Currently the ingredients of a Mickey Bar look to be gluten free. Please ensure you check each time and consider any cross contamination concerns as well. Each cart you visit to purchase the bar will likely have a binder to review the ingredients in.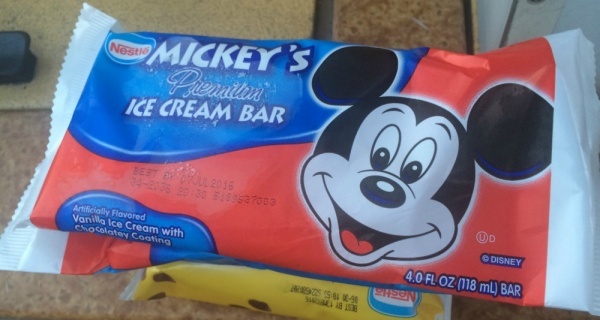 (Photo Credit : Kristina Valcarce)
Mickey's Premium Ice Cream Bar  $5.00
Total                                                          $ 5.00
Remaining                                              $16.74
For Dinner, as we continue on our path for finding Gluten Free Disney Dining for $44 per day Magic Kingdom Edition, head on over to Tomorrowland and into Cosmic Ray's. Again, this location has mobile ordering as well, please use discretion using mobile ordering when you have food allergies or sensitivities.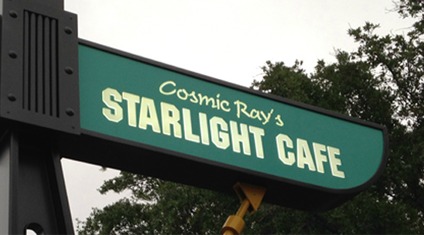 (Photo Credit Rikki Niblett)
You can get a 1/2 Rotisserie Chicken (Served after 4 p.m.) served with Green Beans and Garlic Mashed Potatoes.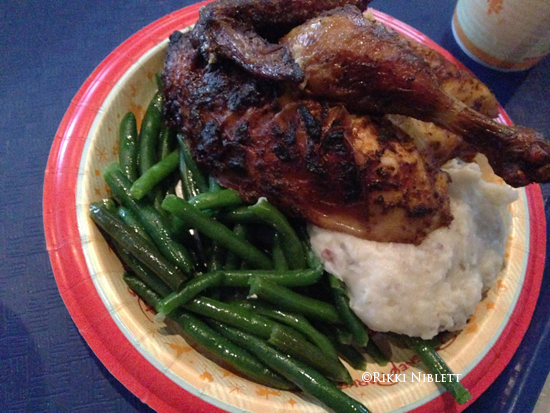 Chicken Entree  $13.29
Soft drink               $3.29
Total                      $16.58
Grand Total  $43.84 – not too shabby. Enjoy eating at the Magic Kingdom!

What tips do you have for eating gluten free at the Magic Kingdom? Share in the comments, or on Facebook or Twitter.
Did you like this article? Make sure to share it with your friends! Check below for easy ways to share!