This post may contains affiliate links for your convenience. If you make a purchase after clicking a link we may earn a small commission but it won't cost you a penny more! Read our full disclosure policy here.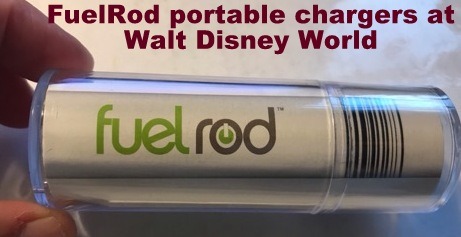 FuelRod portable chargers at Walt Disney World are a lifesaver when it comes to reviving or preventing a dead phone. Let's face it, with the MyDisneyExperience app and cameras, our phones are more important than ever when visiting the house of mouse.
What do you do when you go to check when your next FastPass+ is and see that your phone has just 20 percent battery life left? Consider purchasing a FuelRod portable charger!
San Diego-based FuelRod has kiosks in all four parks at Walt Disney World, along with both water parks, Disney Springs, and even at some of the resorts. That makes it easy to not only charge your phone but also to always have a fully charged FuelRod at hand when you need it.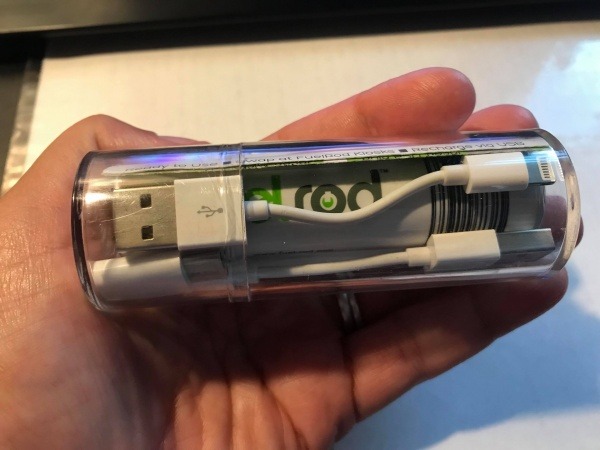 That is the beauty of FuelRod portable chargers and why I chose to go that route, rather than just use another (possibly cheaper) portable charger. Of course there are pros and cons for every choice, but for me FuelRod had a distinct advantage. Not only can you buy a new charging kit at the kiosks; you can also drop off a depleted charger in exchange for a fully charged one. This, to me, was a game charger and made FuelRod my choice over carrying along a different charger that I would have to recharge on my own before I could use it again.
On our recent trip, my daughter and I made it about halfway into our week-long trip before we reached a point where we needed to charge midday. A quick search online showed us we could find a FuelRod kiosk in the Celebrity 5 & 10 in Hollywood Studios, so we headed over.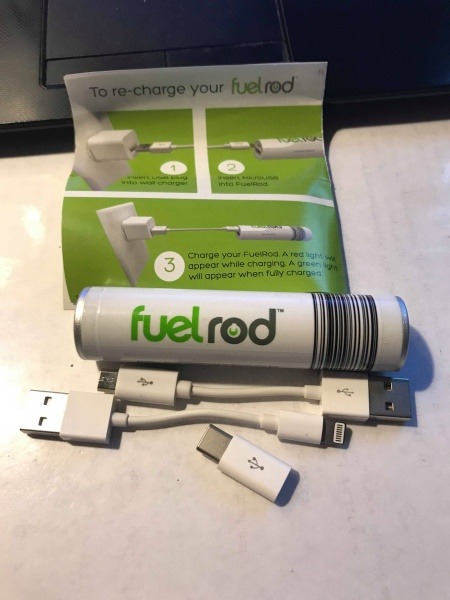 The purchasing process was painless. Just chose the option to buy a new kit, swipe your credit or debit card and the charging kit dispenses below. It costs $30 plus tax. The kit contains the actual charger, two cords (one Apple, one Android), an adaptor, and an instruction sheet. This is all yours to keep.
Plug the right cord into the charger and your phone and that's it. Your phone is now charging, and you are free to continue using it while it's charging. I was able to fit both my phone and the FuelRod easily into my pocket. For those wearing jeans or bottoms with smaller pockets, this might not be an option. Luckily, the FuelRod is small enough that it's easy to hold it and your phone at the same time. My husband has a portable charger that's about the same size as my phone. No way I want to lug that around in my pocket all day!
In our case, the FuelRod had enough juice to charge my phone and my daughter's each to about 70 percent. About 30 minutes per phone seemed to give us sufficient charge. Once she finished charging, it was super easy to swap the depleted charger for a fresh one. You do this at the same kiosk where you buy the charging kits, but just select the "swap" option instead. There is a slot to insert the spent charger and a fresh one dispenses below. Of course, you can also use the enclosed cables to recharge the FuelRod yourself. The whole charging kit is yours to keep and obviously can be used for life outside Walt Disney World. I plan to keep mine in my purse for emergencies.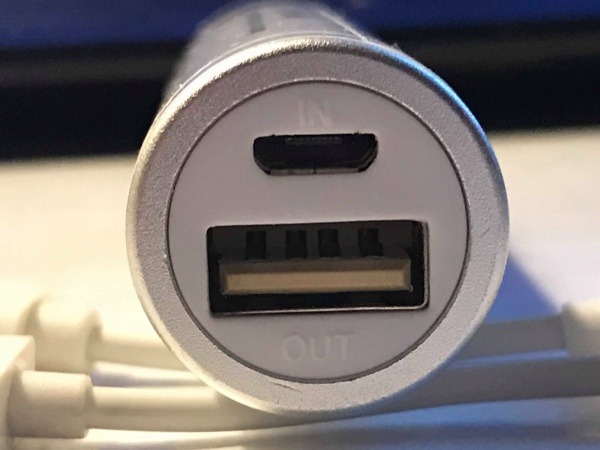 Admittedly, FuelRod might not be the best option for some. If you carry a bag into the parks, you probably have plenty of room to stash a few portable chargers. Maybe you carry a charging cable and don't mind plugging in and taking a break in one of Disney's charging areas.
However, if you like to do the parks "commando style" as we call it, FuelRod is something to consider. We visit the parks with only what fits in our pockets. For me, that's usually my phone, some lip balm, my Magic Band, a water bottle, and maybe a rain poncho. That's it.
Therefore, the FuelRod portable chargers at Walt Disney World make an excellent option for me. It's small and easily fits in my pocket. I can swap it out when it's empty. Or I can recharge it back at my hotel room.
If you also like to visit the parks with as little baggage as possible, the FuelRod portable charger might just be right for you, too.
Do you have a FuelRod? What do you think of the system? Share your thoughts in the comments or on Facebook or Twitter!
Did you like this article? Make sure to share it with your friends! Check below for easy ways to share!
Want to visit the Walt Disney World Resort? Contact The Magic for Less Travel for more information and a free, no-obligation quote.

Incoming search terms:
https://www themouseforless com/blog_world/fuelrod-portable-chargers-at-walt-disney-world/
are there fuelrod kiosks at walt disney world?
Disney World charging blocks
fuel rod portable charger