This post may contains affiliate links for your convenience. If you make a purchase after clicking a link we may earn a small commission but it won't cost you a penny more! Read our full disclosure policy here.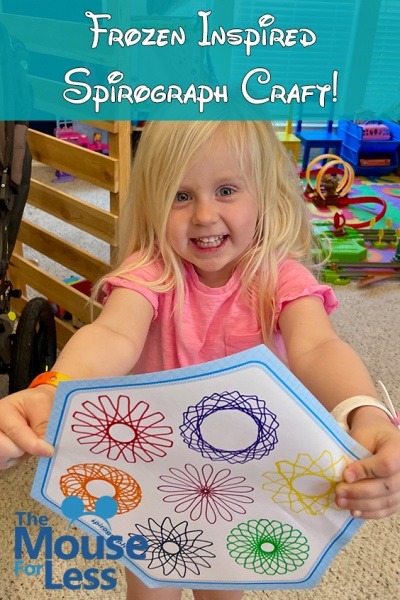 Anyone else out there have a Frozen obsessed toddler girl? Today we are going to share how we made "snowflakes" with spirographs!
After watching Frozen and Frozen II for the 958,704-th time, my toddler asked me about the snowflakes Elsa makes. Having just seen her first snow here in Texas recently, she asked me if she can make snowflakes like Elsa. After trying to have a science lesson with a three year old, we finally landed on two facts:
No you can't make snowflakes like Elsa but you can draw them!
No two snowflakes look the same!
This conversation made me remember one of my favorite things in art class when I was in elementary school…Spirographs! These fun stencils allow you to draw all sorts of cool designs. You take some plastic templates and use them to draw elaborate circles that (in my opinion) look like snowflakes! I had a set when I was younger that I used to decorate my paper book covers for my textbooks but who knows where that set ended up 20+ years later. So thanks to Amazon, I ordered a new complete set for my daughter! You can order one too using our affiliate link.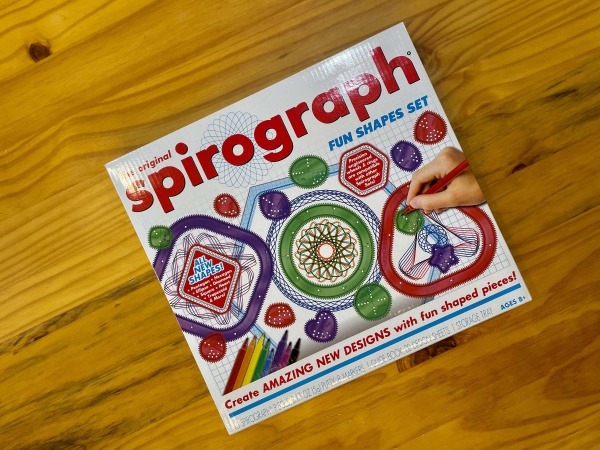 I was very excited about this set because it included EVERYTHING I would need for this activity and then some! Included were the spirographs themselves, the markers, paper and even instructions! It made it so easy to just enjoy the time with my daughter.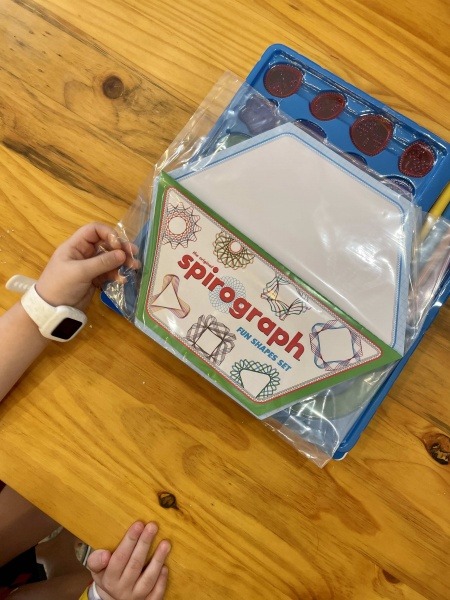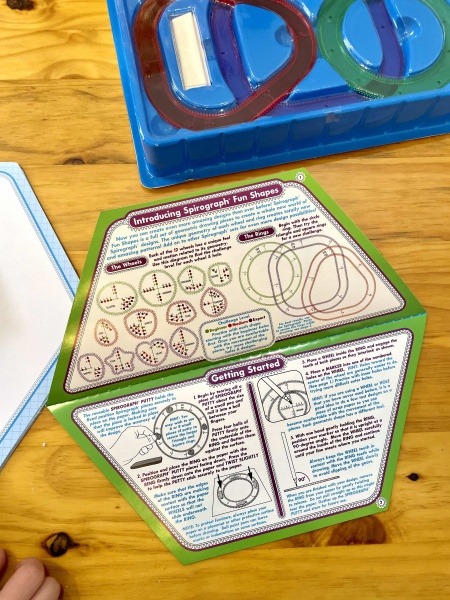 In this kit there were three sets of spirographs. The green ones were considered the easiest to use spirographs. Red ones were the "medium" and purple was the "expert." Based on what I could tell it had a lot to do with how many hard corners were involved. Since you are moving these templates around in a circle, the more hard corners the template has, the harder it is to move in a circle!
We decided to start with the green templates for my daughter!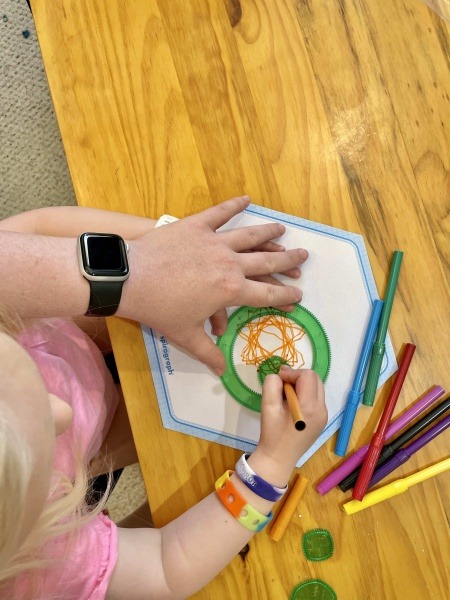 She easily picked it up and was off to making all sorts of shapes!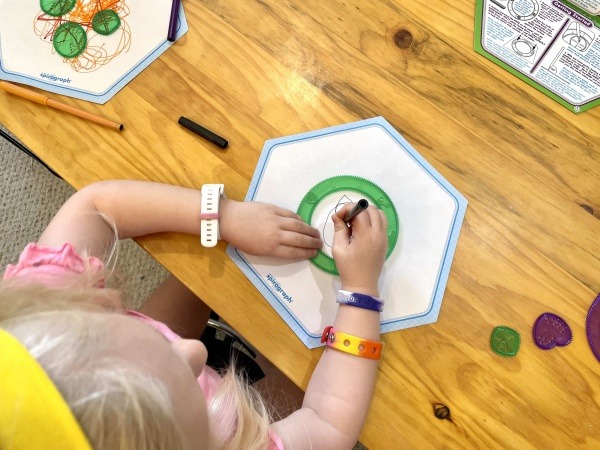 What I found really fun about this set is that you could also use the outside of the templates to make cool designs as well! My old set wasn't this sophisticated. Kids these days don't know how good they have it!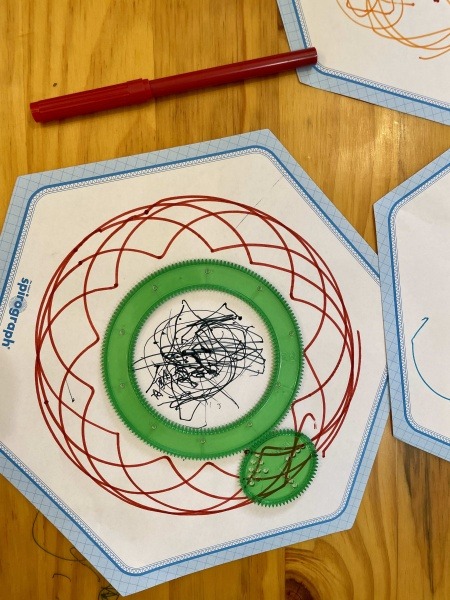 After a while I realized that there was also sticky-tac included in the kit to help keep the templates on the paper. This made it even easier for my daughter to draw her designs!
While my daughter did her designs I tried my hand at the harder templates!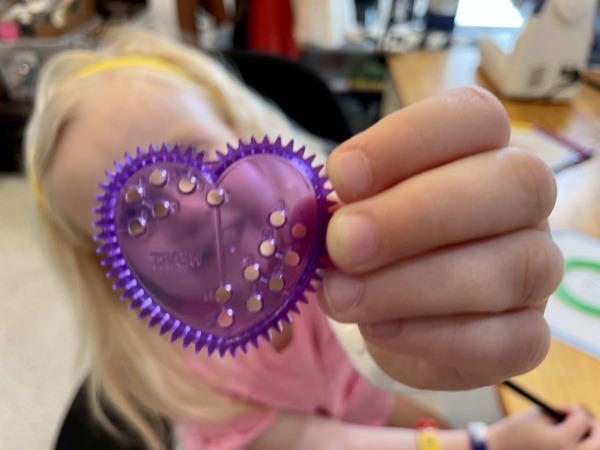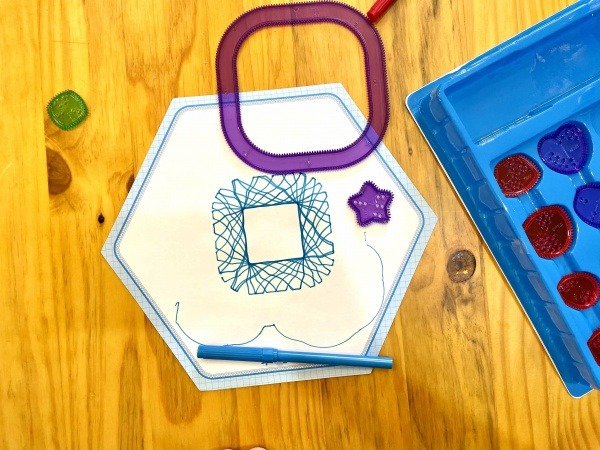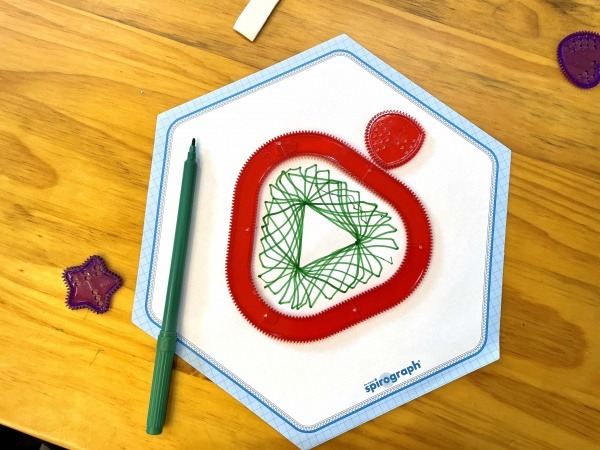 What I love about this craft is that it's another fabulous "open ended" activity. There's no set way to play with them; the only limit is your imagination! Figment would definitely approve!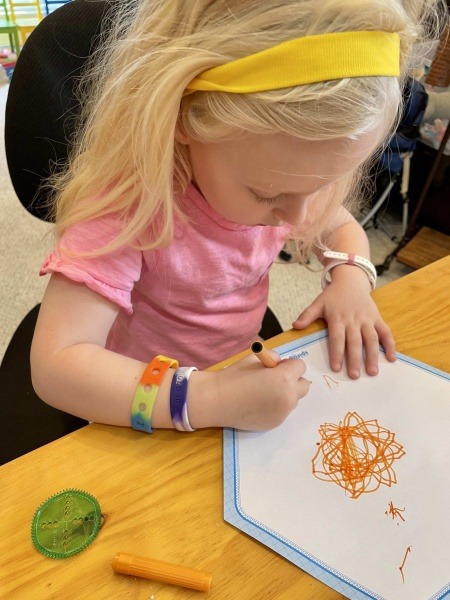 All in all we had a wonderful time playing together and exploring the different designs. The drawings we made this session turned out to look more like flowers than snowflakes, but that is part of the charm of this craft – it's experimentation mixed with art and it truly is beautiful!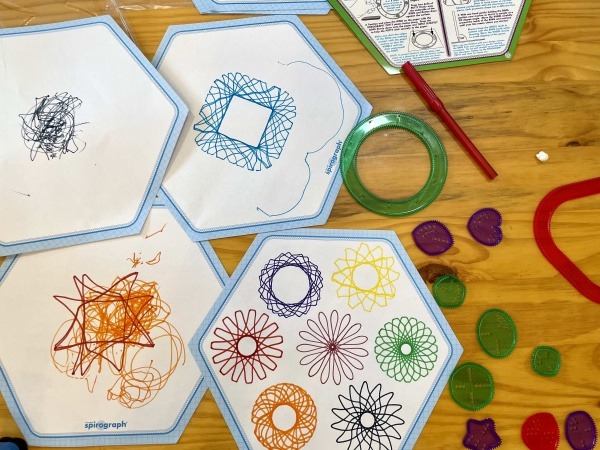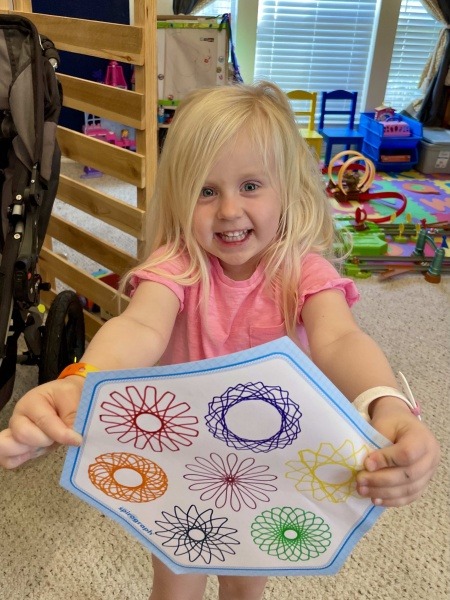 Have you ever used spirographs? Do you think this would be something your kids would enjoy?
Be sure to check out some of our other Disney-inspired craft ideas like our Lady and the Tramp inspired Valentines!
What fun Frozen inspired crafts have you done? Tell us about them in the comments or on Facebook or Twitter!
Did you like this article? Make sure to share it with your friends! Check below for easy ways to share!  
Want to visit a Disney Destination? Contact The Magic for Less Travel for more information and a free, no-obligation quote.

Incoming search terms:
https://www themouseforless com/blog_world/frozen-inspired-spirograph-snowflakes/
Spirograph snowflakes patterns