This post may contains affiliate links for your convenience. If you make a purchase after clicking a link we may earn a small commission but it won't cost you a penny more! Read our full disclosure policy here.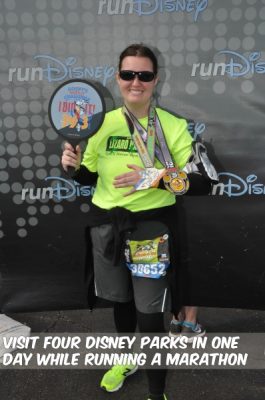 This is a two part article. To read part one of this article, click here.
Exiting Disney's Animal Kingdom means that you are more than halfway done with the 26.2 mile race that is the Walt Disney World Marathon.  It also means that you have two more parks to go, along with a visit to the ESPN Wide World of Sports.
ESPN Wide World of Sports
While some people may dread this portion of the Marathon, entering ESPN Wide World of Sports was a refreshing change of pace for me.  First, there was a change in scenery and running surface from the blacktopped roads between parks to paths, sidewalks, a track, and a lap around the baseball field.  While this might not seem like a big deal, having something different to look at and a different surface to run on is a big deal after having already run 18 miles.
Once you exit ESPN Wide World of Sports, you have slightly less than a 10k left of the marathon. It also means that you are approaching Hollywood Studios.
Disney's Hollywood Studios
With all of the construction occurring in and around Disney's Hollywood Studios, your time in this park is rather short.  However, there is enough time to something extremely important- grab some chocolate.  Also, if you can time a FastPass+ just right, you might be able to claim a ride on Tower of Terror.  Again, if this is your goal, you will want to make sure to train and plan for this accordingly to make sure that you stay in front of the balloon ladies.  (Spoiler alert: I didn't get to ride Tower of Terror this year, but plans are already in the works for next year to make sure that this happens).
Also, enjoy the opportunity here that comes with running down streets lined with people who are cheering you on.  Okay, they might not all be there cheering you on, but at least some of them are cheering and encouraging you in the last few miles of your marathon.
You will exit Disney's Hollywood Studios and continue your run onto the Boardwalk area.  Here is where the spectator support really picks up.  People will be lined along the race course in as many locations as what they possible can holding signs, offering food support, and even an occasional item to help relieve some of the pain that has accumulated in the previous 24 miles.  The man who had a muscle roller stick probably helped multiple people- including me recover enough to finish those last two miles strong.  Make sure to high five as many people as possible along the way as a way of saying thanks for cheering you on.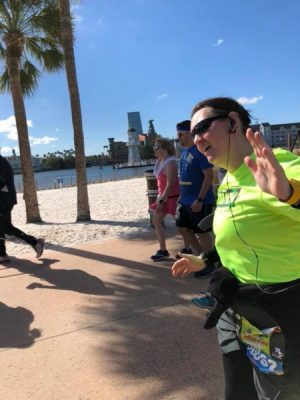 EPCOT
Just before mile 25, you enter EPCOT.  Now, depending on your marathon race goals, you have a lot of options here.  It is quite easy to run this last mile plus and finish.  Or you can enjoy the last mile with leisurely character stops and a snack or drink or even a ride on Grand Fiesta Tour.  Here you will find the shortest character stop lines of the marathon.  I was able to walk up to every character and take my picture without a wait of more than one person in front of me.  Of course, there were also non-runners also taking pictures with the Princesses, but as a runner, you went to the front of the line and were able to get right back to running.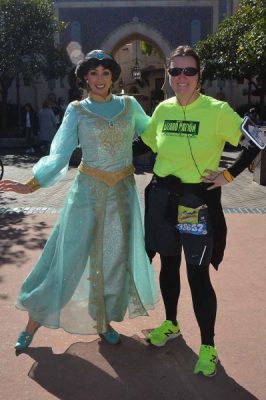 Since you run all the way around World Showcase, you have plenty of opportunities to stop for a favorite snack (personally, I will be finding ice cream somewhere in this last stretch next time).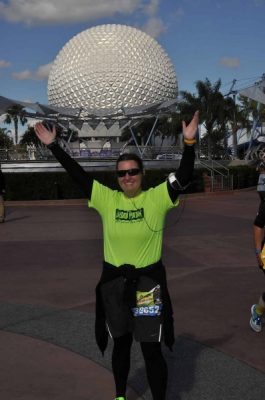 You will exit EPCOT to the sounds of the Gospel Choir and run right to the finish line.  This is your chance to enjoy your accomplishment.  Go ahead and cross the finish line and claim your medal.  Don't forget to take a few post-marathon pictures to celebrate.  Feel free to wear your medal to the parks the rest of your trip and snap a few pictures there as well. Tip for those of you running a challenge- only wear one of your medals at a time, your neck will thank you for it.
Most of all enjoy your accomplishment of visiting all four Walt Disney World Theme Parks in one day and finishing a marathon.
Have you accomplished the Four Parks – One Day – runDisney style? What were your thoughts and what tips do you have for those who may be looking to complete the same fete. Share them in the comments, or on Facebook or Twitter.
Did you like this article? Make sure to share it with your friends! Check below for easy ways to share!