This post may contains affiliate links for your convenience. If you make a purchase after clicking a link we may earn a small commission but it won't cost you a penny more! Read our full disclosure policy here.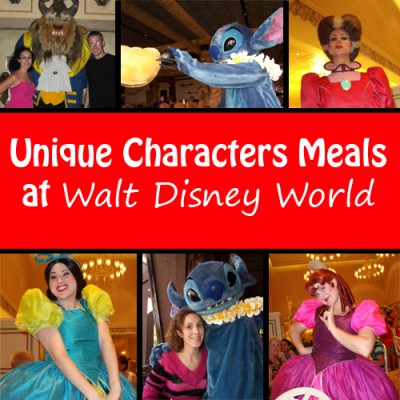 Everyone loves a good character meal.  It's always fun getting the opportunity to meet up with Mickey or Minnie, or Cinderella, or Ariel.  But did you know that there are some character meals that give guests the opportunity to meet some uncommon characters.  Today, I thought I'd share with you my top rare character, character meals.
As a note about character meals, I've always said that these dining experiences can be for everyone.  So whether you're there with your kids or just a a group of adults, everyone should get in on the excitement!  While the characters are visiting your table, make sure to engage with them and try to take photos of those candid moments that just sort of happen. (It's how I got the above photo of Stitch grabbing Pluto's nose, during a light-hearted moment one time.)
With those notes out of the way, let's get into the meat and potatoes. (Get it…I made a food joke…oh….nevermind…)
Winnie the Pooh and Friends: If you love that cuddly bear all stuffed with fluff, then Crystal Palace at the Magic Kingdom is the place to meet him and all his friends.  Pooh is joined by Tigger, Piglet, and Eeyore for the Buffet With Character meal and they meet with guests during breakfast, lunch, and dinner!  So, there are lots of opportunities to see this foursome. The meal is served as a buffet and there are lots of family friendly choices available, with a focus on offering traditional American options. Also keep in mind that this character meal is extremely popular because of its location in the Magic Kingdom.  Make your Advanced Dining Reservations early.
Menu:  https://www.themouseforless.com/walt-disney-world/dining/menus/crystal-palace-menu/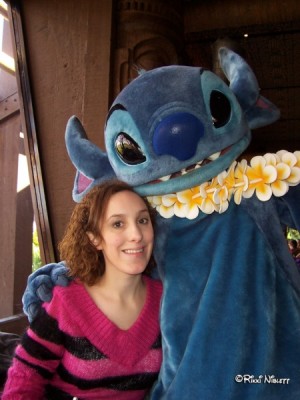 Lilo and Stitch:  This twosome joins Mickey and Pluto in a fantastic breakfast called Best Friends Breakfast Featuring Lilo and Stitch.  The meal takes place at 'Ohana at Disney's Polynesian Resort and food is served family-style (brought to your table, but you can always request more).  The meal is traditional breakfast items, like waffles, bacon, and scrambled eggs. Tip: Consider having a late breakfast here.  When I did, I got more quality time with the characters, because the restaurant was practically empty.  Most of the guests had already gone to one of the four theme parks.
Menu:  https://www.themouseforless.com/walt-disney-world/dining/menus/ohana-menu/
Doc McStuffins/Handy Manny/Sofia the First/Jake from Jake and the Neverland Pirates:  If you have a preschooler, you know exactly who these characters are. They are the loveable cast of Disney Junior! These four meet at the Disney Junior Play 'n Dine meal at Hollywood and Vine at Disney's Hollywood Studios. The characters only meet guests during breakfast and lunch, which is served as a buffet, but they have a great time during their meal, meeting with guests, dancing around, and singing songs.
Menu:  https://www.themouseforless.com/walt-disney-world/dining/menus/hollywood-vine-menu/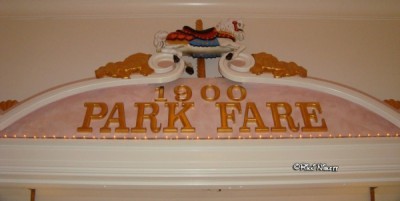 Mary Poppins/Alice in Wonderland/The Mad Hatter/Tigger/Winnie the Pooh:  While this is a very strange combination, it's also very reminiscent of a Disneyland character meal, with lots of random characters.  (It does have a common tie…all are characters from British stories.)  These characters meet at 1900 Park Fare found at Disney's Grand Floridian Resort during the Super-califragilistic Breakfast.  The meal is served as a buffet and features traditional breakfast fare.
Prince Charming/Anastasia/Drizella/Lady Tremaine: These four join Cinderella in the Cinderella's Happily Ever After Dinner at 1900 Park Fare at the Grand Floridian. What makes this meal incredibly fun are the interactions that you can have with the villains of the movie Cinderella, Lady Tremaine and the step-sisters.  The menu offerings for this buffet include traditional American fare.
Menu:  https://www.themouseforless.com/walt-disney-world/dining/menus/1900-park-fare-menu/
There are a few honorable mentions that I thought you all should know about too!  The first is Be Our Guest Restaurant.  Now, while this isn't a traditional character meal, at dinner, the Master (that would be The Beast) does often meet with guests in his study after you have dined.
Also, a fun experience for your little one is the Wonderland Tea Party, at Disney's Grand Floridian Resort. This snacky meal of tea and cupcakes has the kiddos meeting with Alice and The Mad Hatter, from Alice in Wonderland.  Here, guests ages 4-12 only get the opportunity to hear stories, take part in games, decorate cupcakes, and create crafts.
Finally, for those of you who will be down for Star Wars Weekends, for the first time ever, there will be two different Star Wars character meals.  They include the The Jedi Mickey's Star Wars Dine at Hollywood and Vine for dinner.  The meal includes Disney characters dressed as Star Wars characters, like Jedi Mickey, Princess Leia Minnie, Darth Goofy, Stormtrooper Donald, and Ewoks Chip & Dale. The other meal will take place for breakfast at Sci-Fi Dine In and is called the Star Wars Galactic Dine-In Breakfast.  Here guests can meet with Star Wars characters from the movies.  The character meals will run daily from May 4 – June 15.  Hopefully, if successful, they will continue on.
As with all character experiences, please know that characters are subject to change.
If you are looking for character meals, there are a ton of options, but I particularly like the ones with the unique characters.  It's fun getting to meet characters who you can't find necessarily everywhere. Which rare character's character meal is your favorite?