This post may contains affiliate links for your convenience. If you make a purchase after clicking a link we may earn a small commission but it won't cost you a penny more! Read our full disclosure policy here.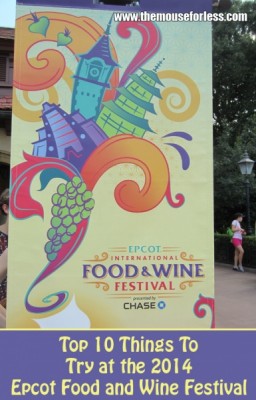 It's here!  The Epcot Food and Wine Festival starts today! We are ready for 53 full days of fun. (The last day of the Festival is November 10.) This year there seems to be a ton of new and updated items that help to make up the menus of the Festival.
While I could go on and on about every single food and beverage item this year's festival includes, I thought I would try a different approach.  So, here are the things that I'm hoping to try this year during the Festival, both new as well as a few things that have been around for a while that I have wanted to try that I've never gotten around to in all my years of visiting the event.
Potato and leek waffle with beer-braised beef (Belgium Marketplace) – This one has always sounded interesting…and it's looked interesting…so I finally want to give it a try.
Pao de queijo: Brazilian cheese bread (Brazil Marketplace) – Hello…cheese and bread…how can you get any better than the combo of the two?
Chocolate Espresso Opera Cake (Desserts and Champagne Marketplace) – You cannot go wrong with with chocolate and espresso too.  I always love stopping at this booth because they always have something unique. Each year the Desserts booth always comes out with something new that I'm excited to try.
Griddled Greek cheese with pistachios and honey (Greek Marketplace) – I've always heard great things about this treat and I've never tried anything from the Greece booth, so I'm excited to try this.
Baked lobster alfredo (Hops and Barley Marketplace) – This booth always seems to have something delicious and lobster influenced.  This year it's an alfredo and I am so excited to try it!
Fresh baked carrot cake with Craisins and cream cheese icing (Hops and Barley Marketplace) – Oh…I am a sucker for carrot cake with cream cheese icing. This is a must get no matter what.
FlanCocho: Vanilla caramel custard with chocolate coffee cake (Puerto Rico Marketplace) – oh yum!  This treat has vanilla, caramel, and chocolate?! You can't get better than that!  (Can you tell I like sweets?)
Sweet corn cheese cake (Mexico Marketplace):  This one sounds intriguing.  I'm not quite sure what to expect but I do want to try it.  I can't wait to share my views on this!
Seared sea scallop with spinach-cheddar gratin and crispy bacon (Scotland Marketplace) – I am a sucker for scallops.  Add cheese and bacon and you have won me over majorly.  I think this may be my favorite new thing I try this year.
Nueske's Pepper Bacon hash with sweet corn, potatoes, hollandaise and pickled jalapeños (Farm Fresh Marketplace) – This one sounds so intriguing.  I'm not a super spicy food fan, so I'll likely eat around the jalapenos, but this sounds like a great hearty dish.
Ok, so here's where I need your help! If you have any suggestions, please make sure to let me know what I should try.  Take a look at the menus to see what you would enjoy!
In addition, if there's something you want more information about with the Festival, let me know too.  I'm here right now as we speak and would be happy to report back!