This post may contains affiliate links for your convenience. If you make a purchase after clicking a link we may earn a small commission but it won't cost you a penny more! Read our full disclosure policy here.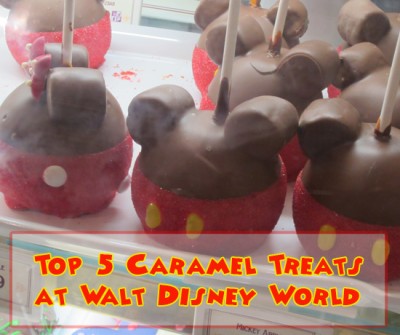 While this Sunday is Easter, did you know that it is also National Caramel Day? Um…awesome!  So, of course, with the momentous special day approaching, I thought we'd take a look at what some of the top caramel treats are in all of Walt Disney World!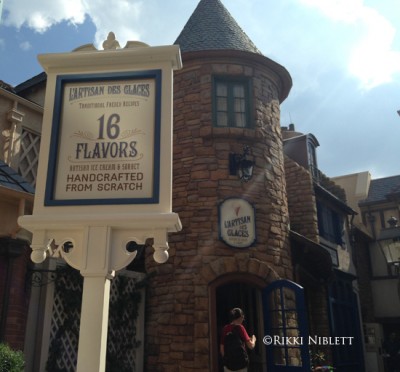 Caramel ice cream from L'Artisan des Glaces: L'Artisan is one of the most unique new shops in Epcot.  The best part is that they make lots of unique flavors on site, daily! Of course, one of the flavors that they specialize in is the Caramel fleur de sel.  The ice cream is extremely creamy and rich, with a great sweet and salty caramel flavor. Yummy!
Sea Salt Caramel Hot Cocoa from Ghirardelli Soda Fountain & Chocolate Shop:  While there are a ton of treat treats in Ghiradelli, like the The Ocean Beach Sea Salt Caramel Sundae, for me, the top pick out of this ice cream shop located in Downtown Disney isn't actually ice cream at all!  Instead, it's a delightful caramel hot chocolate beverage which is topped with whipped cream. Oh my goodness! Excuse me while I wipe the drool off my face!
Ooey Gooey Toffee Cake from Liberty Tree Tavern: I'll admit that I haven't tried this one, but it's only because I haven't been to Liberty Tree Tavern for lunch…however, this treat is on the bucket list!  How could it not be? It's like a chocolate chip cookie cake filled with toffee bits, ice cream, and covered with caramel sauce. While it may not be a full on caramel treat, it's still enough to satisfy any caramel craving!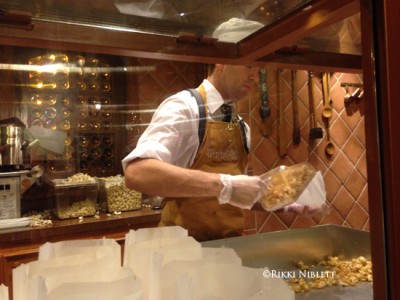 Caramel Corn from Karamelle-Kuche:  Ok…I mean the store is actually named Caramel Kitchen, so picking this one for the list was a no-brainer.  (And it smells so heavenly just walking past, so you're quickly drawn in.  There's really no avoiding this store.) Of course, there's some fantastic treats that are sold here..like the Caramel Apple Oatmeal Cookie or the Caramel Filled Chocolate Cookie.  But my best choice…the Caramel Corn!  It's made right on site!  You can watch them creating the delightful delicacy. This is honestly the best caramel corn I've ever had in my entire life.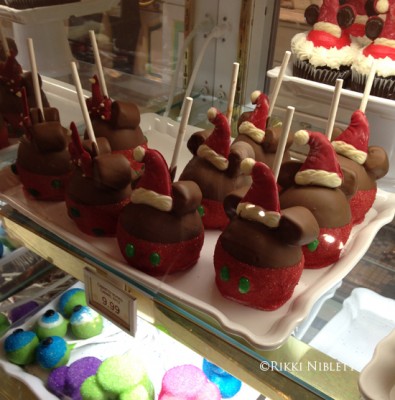 Character Caramel Apple from Disney Sweet Shops:  One of the most popular treats in all of Walt Disney World are the character caramel apples that are located at many different sweet shops.  Disney confectioners are wizards with what they can do with these things!  Recently there have been apples to resemble Olaf, Baymax, Sorcerer Mickey, Minnie, the Cheshire Cat, Goofy, and most recently, Cinderella's coach to promote Cinderella.  These apples are prolific and incredibly decadent!  (And did you know that if you ask, Disney will cut them up for you into pieces so you can easily eat them?!)
Of course, with only a list of five, I am clearly missing probably your favorite caramel concoction.  This is where you come into the fold!  Let me know in the comments what your favorite caramel treat is in Walt Disney World! This way, I can start dreaming about what delightful treat I'm gonna get on my next trip!