This post may contains affiliate links for your convenience. If you make a purchase after clicking a link we may earn a small commission but it won't cost you a penny more! Read our full disclosure policy here.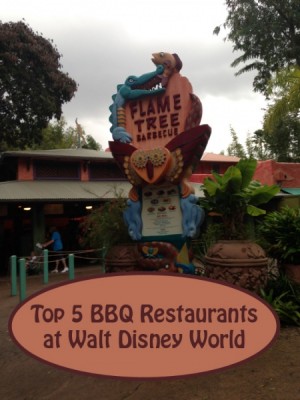 It's Memorial Day Weekend! It's a day of remembering those who we've lost. However, of course, many will be celebrating the long weekend is through cookouts and barbeques. Disney has quite a few barbeque restaurants, as well as places that serve barbeque offerings throughout the Walt Disney World Resort.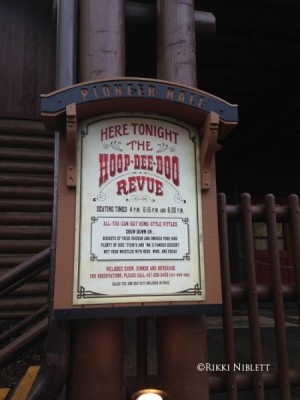 Trail's End/Hoop De Doo Revue: So, these are technically two restaurants, however, I am counting them under one category, because they are back to back at Disney's Ft. Wilderness Resort and serve similar food.  While Hoop De Doo serves meals as a family-style offering, Trail's End is a buffet at dinner.  Both offer delicious barbeque options, such as ribs and pulled pork. (the latter can be found at Trail's End at lunch.)  Both options offer down-home, country food perfect for anyone looking for a fantastic barbeque meal.
Mickey's Backyard BBQ: Also at Disney's Ft. Wilderness, Mickey's Backyard BBQ offers smoked chicken, bbq ribs, beans, and more. This is the epitome of a good old-fashioned barbeque.  Plus, guests will have the opportunity to experience a show and meet some of their favorite characters. Do keep in mind that this is an all outdoor experience, however, if you're wanting a good bbq meal, then dining outside just fits with the theme.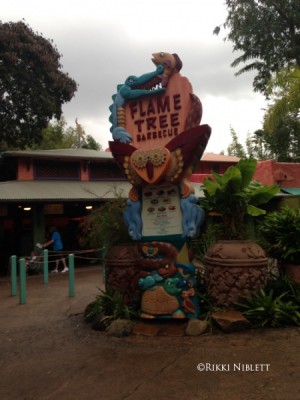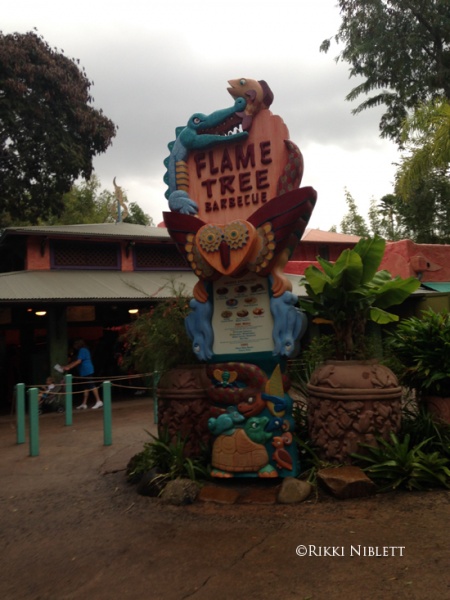 Flame Tree Barbeque: Over at Disney's Animal Kingdom is a place that tops the barbeque list for many visiting Walt Disney World. Flame Tree is a favorite among many and is quite delicious. Guests can dine on a half a slab of ribs or a pork sandwich or half a chicken.  The best part is that guests can choose which kind of bbq sauce they would like to enjoy on their dish and there are a few options to choose from, whether you are wanting something sweeter or a littler more tangy. Again, guests dine outside, but the views here cannot be beat, especially if you get a table overlooking Expedition Everest.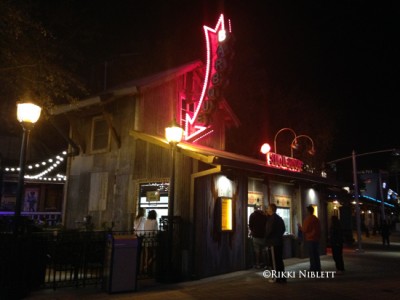 Smokehouse-House of Blues: This is a relatively recent addition to Downtown Disney. It's a kiosk that's part of the family that makes up the House of Blues Restaurant, however, it's its own individual entity. Options here include a beef brisket sandwich, pulled chicken sandwich and nachos with pulled chicken or pork.  I feel like this is the most well-rounded of the barbeque offerings, with lots of choices. Again, guests dine outside (that seems to be a trend with these bbq joints at Disney) and there's sometimes live music that's played on the outdoor stage to enjoy.
Cosmic Ray's Starlight Cafe: Ok, so not a true bbq restaurant.  However, they do offer bbq ribs. So if you are in the Magic Kingdom (which does not have much in the way of bbq) this is a great options for those with a hankering. They also have a delightful pulled pork sandwich on the menu.
Honorable Mention: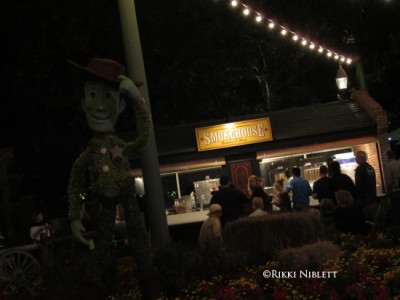 The Smokehouse-Barbeque & Brews: Are you visiting Walt Disney World during either the Epcot Flower and Garden Festival Then you need to make a stop at The Smokehouse, found near the American Adventure Pavilion. It offers delightful dishes, like Burnt Ends Hash and the Piggylicious Bacon Cupcake.  I honestly wish that this booth were open year-round serving up these delicious bbq-inspired treats, however, it is only available to guests during the spring, which is why it makes the honorable mentions list.
While I certainly wish there were a few more full-fledged barbeque options at Walt Disney World, there are at least some choices found across property that guests can stop at when they have a hankering for some good old fashioned, barbeque cooking.  Whether you are looking for ribs, chicken, or beef, you've got quite a few unique things to choose from.
What is your favorite stop when you're craving barbeque at Walt Disney World? Let me know in the comments!
Incoming search terms: