This post may contains affiliate links for your convenience. If you make a purchase after clicking a link we may earn a small commission but it won't cost you a penny more! Read our full disclosure policy here.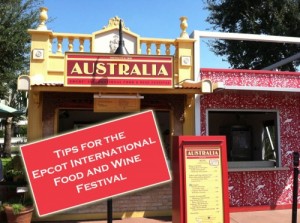 Today is the day!  The Epcot International Food and Wine Festival is here!  For those of us who love to eat at Walt Disney World, it's like Christmas!
With the past couple of posts, I shared with you a preview of what the Festival will offer, in the way of food and beverages, as well as what other activities you shouldn't miss when visiting.  (I did mention how much I love drinking chocolate, right?)  Today, I thought I would help and share some great tips for enjoying the festival.  It's such a huge event and I don't want you to miss out on something!
To avoid the biggest crowds, try to visit during the weekdays.  The weekends are crazy crowded with locals who love attending the event and flock the booths in droves.  By far, the best days to visit the Festival are Monday-Thursday.
Another tip in avoiding crowds is to start experiencing the booths when they first open at 11 am.
As the day wanes on, the crowds tend to get bigger, causing larger waits for booths and less tables to dine at.
Speaking of tables, I will admit, they are often few and far between.  Disney is getting a bit better about including more areas to eat at, but just keep in mind that you may have trouble finding a place to sit.  So, don't pass up that trash can as a table…trust me…while not ideal, it works.
Bring something to carry your food around with you.  You're going to be given these take-out "plates' of food and if you have more than one item you're ordering, it can be difficult to carry it all, especially while finding a table.  Disney is selling little tray like plates that have a spot for your food and beverage, consider picking one up.
While it's Fall, it's also still really hot in WDW this time of year.  (Trust me…I've been visiting the past 3 years!) so make sure to hydrate with water when walking around the promenade.  In addition, make sure to take in some of the shows and attractions around World Showcase.  There have been days when I have been so close to over-heated.
DON'T plan on eating everything in one day.  The Epcot Food and Wine Festival is a lot of food and you feel very full if you try to eat everything you want in one sitting.  Take in the event for at least a couple of days.  If you cannot, make sure to share your portions with someone else.  It will help.
I'm sure you've already done this, but if you haven't check out the menus ahead of time and get a game plan.  While things may change while you're there, at least you'll have a general idea of what you want.   (I'm guilty of this…I'll have a few things planned out and then when I get there, something on the menu at that particular time looks really good.  I just have to have it.  It has happened to me literally every year.)
Want a fun way to remember what you've eaten, as well as serve as a great souvenir?  Pick up a Marketplace Passport, which can be stamped at each booth.  Each one has it's own unique stamp!
Pick up a Festival gift card.  Put a set amount of money on it (so you know how much you're spending.  Nothing worse than budgeting $100 for food and drinks only to discover that you've actually spent $200!)  This gift card can be reloaded AND has a bungee cord attached so you can wear it on your wrist for easy access.  You can put any amount on it that you want.
Did you know that you can use your Disney Dining Plan Snack Credits on many of the options during the Festival?  This is by far one of the best uses of your snack credits, as many items can be upwards of $5 that are included.  Make sure to look out for the Disney Dining Plan logo on the Marketplace Booth menus.
I have children…will they like the Festival?  There's a lot of dishes on the menus that look a little weird (even for me…I am a pickier eater) so while it may seem like there's not a lot of options for kids, have them try a little bit of something that you've ordered for yourself.  Who knows…they could end up LOVING it.  In addition, some booths do offer things that are more kid friendly.
This goes for adults too…try new things.  These are tapas sized portions you're getting.  If you don't like something, you shouldn't feel guilty throwing it away.  Or passing it off to someone else in your group who does enjoy it.  I have tried something every year I was leery about (I told you…I'm picky…) and each year I come up with something else that joins my I Love It List.  (Of course, I still don't think I could eat escargot…)  This is also why I have yet to stand in the Italy Marketplace Booth line…I can get great Italian food at home…I want something unique and the festival certainly delivers on that.
Every year there is a cookbook sold that includes Disney recipes from both the event, as well as from some of the restaurants.  If you've ever wanted to cook Disney food at home, this is your best chance to do so.
If you want to catch the Eat to the Beat Concert for that night, consider going to the earliest showing, which is at 5:00 pm.  The later it gets, the more people start to pack the auditorium.
Make sure to get to any seminars you've signed up for early.  Seating is limited and if you want a spot close up, those spots will go quickly.
Whew…ok…that's a lot of tips…but not every tip for enjoying the Festival.  If there's something that you can think of that I missed, about ANYTHING relating the Epcot Food and Wine Festival, make sure to let me know in the comments section.
In addition, if you are going to the Festival, make sure to click here for even more info about the event.
Also, to help either with planning, or while down there, make sure to  check out the Food and Wine Checklist!  http://a.pgtb.me/N2TqKx
Stay tuned, as next Friday, I'll actually be down there for the event…so be on the lookout for a future article in a couple of weeks all about my experience with this year's Festival.  I can't wait!