This post may contains affiliate links for your convenience. If you make a purchase after clicking a link we may earn a small commission but it won't cost you a penny more! Read our full disclosure policy here.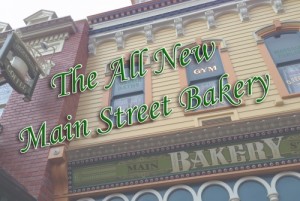 Ok…I know I said I was going to write about some of the best snacks in Disney's Hollywood Studios.  I promise that's coming!  However, the big news of the week is that the Main Street Bakery has reopened from it's refurbishment/change-over to including Starbucks products.  While I discussed it a little bit on my weekly News posting, the location officially opened on Tuesday, so I thought I'd share the information in it's own dedicated blog post.
To start off, the location has seen quite a few changes in decor.  Gone are the cream and pastel type colors and in is browns and woods and greens.  It doesn't initially scream Starbucks, however.  Minus a bit of signage outside, which is tastefully done, you wouldn't know it was Starbucks until you looked at the menu board.  Be on the lookout for special hidden "sirens" throughout the store.  (Part of Starbucks' logo.)
The location has very large pastry cases found in the middle of the counter, as well as a grab and go station with items like juices, fruit, sodas, water, milk, and more.  In addition, found in the mid-section of the store, there are some merchandise shelves where they sell pounds of Starbucks coffee and Via Packets, along with a few other small items, like cereal bowls and more fruit options.
Also gone is the indoor seating.  This was done to make more room and help things move more efficiently when the store is super busy, which will probably be a majority of the time now.   Granted, there wasn't a whole heck of a lot of seating to begin with, but it will certainly be missed.  I can understand the need for more room though.  This place is going to be hopping!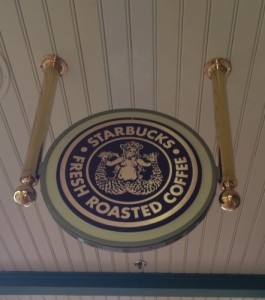 Guests will come in and meet a greeter who will help answer any questions you many have, as well as hand you a menu, should you need one.  From there, you will wind your way to the baked goods counter.  Here is where you will place your order for any of the delicious treats you would like.  Do keep in mind that these are almost all Starbucks goodies.  Gone is the cinnamon roll (however, you can still get a cinnamon roll at Gaston's Tavern in New Fantasyland.  While it may not be "exactly" the same to not have it on Main Street, at least a version of a cinnamon roll is still being offered and wasn't completely taken away.)  One thing to note, it does appear that after 11 am, a few Disney baked goods are rolled out, like cupcakes, brownies, and cookies.  At this counter is where you will also order any breakfast sandwiches you wish to dine on.
After you decide on your delectable goodies that you want, you then make your way over to the cash registers, where  you place your coffee order and pay for all items.  Once finished, you move down to the end of the counter to wait for your name to be called.   The cups are branded with the Starbucks logo on one side and a DisneyParks logo on the other.
Now, let's get to the drinks.  They are all here.  If you have something you like to drink at home, they can make it.  Frappucinos, Lattes, Iced Coffee, Tea, Refreshers…this location has it all.  What is also great, is that almost everything in here is included on the Disney Dining Plan as a snack credit!  That's right…if you want a Venti Caramel Frappucino and you are on the Disney Dining Plan, it's yours for one snack credit.  Most pastry items are also included on the Plan as a snack credit.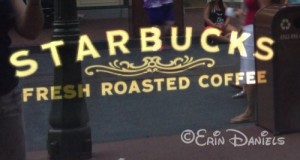 There is also an option to use a Quick Service Dining Credit here, by choosing either one entree and one beverage OR one beverage, one piece of fruit, and one pastry.
A few things to note:  This location does take your Starbucks cards, if you have them.  You will get your stars if you use your card, however, you CANNOT redeem any free food and beverage rewards you may have on your card here.  While this is a Starbucks, essentially, it is still run by Disney, so all the people behind the counter are all Disney Cast Members.
Once you are done, the condiment bar can be found, where you can add half and half, skim, or 2% milk.  You will also be able to add any vanilla, cinnamon, chocolate, or nutmeg powder to your cup, and any sugars.
The full menu for the Main Street Bakery can be found here:  https://www.themouseforless.com/walt-disney-world/dining/menus/starbucks-main-street-bakery-menu/
For many, it will certainly be nice to have a decent cup of coffee.  For others, the change over is not exactly winning them over.  Either way, Starbucks coffee has officially come to Walt Disney World.