This post may contains affiliate links for your convenience. If you make a purchase after clicking a link we may earn a small commission but it won't cost you a penny more! Read our full disclosure policy here.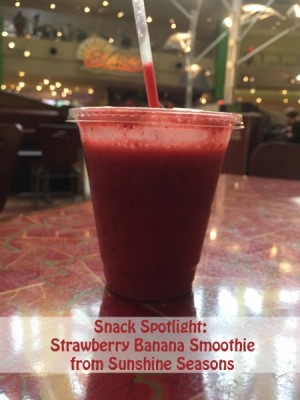 With the recent reopening of Soarin at the Land Pavilion in Epcot, Sunshine Seasons has begun selling breakfast items again! Breakfast items include a breakfast platter, cinnamon french toast bread pudding, breakfast paninis, muffins, and danishes. One of the items that isn't advertised well is that the quick service dining location serves smoothies, which makes the perfect breakfast treat!
On a recent trip, I wanted something healthy, since I was feeling a little run down and I saw the smoothie option and decided that I wanted to try it. (I'm also currently on a hard-core smoothie kick.)
The smoothies can be found with the other delightful dessert options, such as the cakes, brownies, and puddings. Honestly I was quite surprised to see it just sitting in there mixed among the sweet treats, but there it was, plain as day…a strawberry banana smoothie.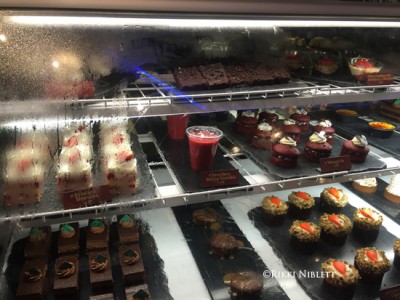 The smoothie contained a label showing what's included in it and two things stood out to me…1. that it had key lime juice (I'm not a big key lime person) and 2. that it included honey (which I don't mind). Of course, you could easily see that it included ripe strawberries, due to its exceptionally red hue. I decided to go ahead and give it a try. I really wanted fresh treat to enjoy. (Cause you know…sometimes you really do crave something semi-natural when visiting Walt Disney World.)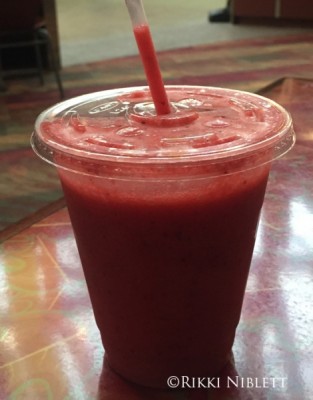 One sip of this smoothie and I was in love. The smoothie didn't contain any dairy, so it wasn't a creamy drink. Instead it was more of a runny consistency, but not juice-like. The strawberry and banana flavors were quite prevalent, but I also very much tasted the honey. It gave it a very unique flavor when mixed with the two fruits that I quite liked!
I would, hands down suggest that if you're in the mood for a healthy snack, you consider giving the smoothies at Sunshine Seasons a try. They are available all day, when offered and are a great and refreshing treat, especially on a hot summer day!
Have you ever had the smoothies from Sunshine Seasons? What were your thoughts? Share in the comments.