This post may contains affiliate links for your convenience. If you make a purchase after clicking a link we may earn a small commission but it won't cost you a penny more! Read our full disclosure policy here.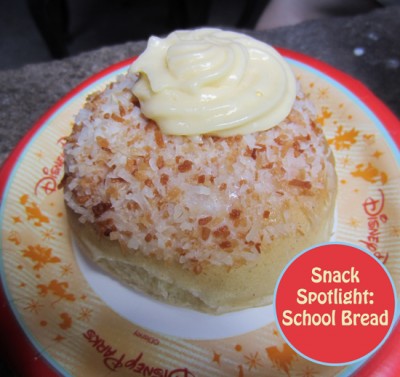 Most people love School Bread. It is one of those treats that has achieved cult status amongst the Disney Community. There have even been social media accounts created to honor the treat. Unfortunately, I am not one who has bought into the cult status. The dessert is good, but isn't something that I would necessarily make a special stop for, like so many others would.
The treat can be found in Epcot's Norway Pavilion at the Kringla Bakeri og Cafe, which is a small bakery themed after a Norwegian kitchen.  It features a lot of wood in it's decor, as well as rosemaling in decoration.  The only downfall about the bakery, which offers a lot of great sweet treats, pastries, sweet pretzels, as well as a few delightful sandwiches, is that seating is all found outside.  Luckily the outdoor area is covered from the elements, but on a hot Florida day, sitting outside may not be the best idea.  Luckily, School Bread is quite portable, so find a place that has air conditioning, if it's necessary.
School bread is actually a very simple desert overall; sort of like a very fancy and unique doughnut. It's made from a yeasty dough, with a creamy vanilla custard injected in the center, as well as toasted coconut shavings and icing on top.
When biting into it wasn't as sweet as I thought it would be. It tasted way more like a bread than a doughnut, to me. The thing that stood out the most to me overall though was the cardamom. In my opinion, you either really love cardamom or you don't. Apparently I fall into the category that does not particularly enjoy that flavor. If you do actually enjoy the flavor of cardamom, then school bread is a great treat, as the spice is quite prominent.
Moving on with the rest of the unique flavors found in the dessert.  The creamy vanilla custard center was light and delicious. Being someone who really likes custard fillings, I would have liked for them to have been a little bit more in there, but overall, it had a great flavor. I also really enjoyed the taste of the icing and found the coconut to be a good addition. The toasted coconut flavor added something unique to the pastry.
One would think, due to the nature of a treat like this that it would be super heavy, but it really isn't; it's actually much lighter than one would expect.  Guests can easily enjoy this dessert and not feel completely stuffed while touring the rest of World Showcase.  Do keep in mind that while School Bread could certainly be eaten by just one person, I would suggest sharing, so you can snack the rest of the way around to the other pavilions.
What are your thoughts?  Do you enjoy partaking in the delight of School Bread?