This post may contains affiliate links for your convenience. If you make a purchase after clicking a link we may earn a small commission but it won't cost you a penny more! Read our full disclosure policy here.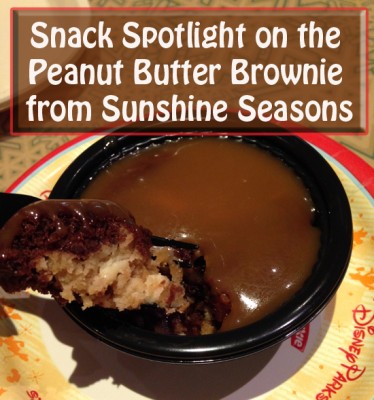 I was just at Walt Disney World last week and I was clued in to the newer snack delight….the peanut butter brownie from Sunshine Seasons. (Thanks to AJ from the Disney Food Blog, which if you haven't seen our contest to win a copy of "The DFB Guide to Walt Disney World Dining 2015", make sure head over to our blog post reviewing the e-book now.)
The sign advertising the brownie indicated that this was a seasonal offering, but if Disney is smart, they will keep this fantastic treat throughout the year.  Why? Because it's incredibly delicious and absolutely decadent; it really is a wonderful new Disney snack!
What makes it so wonderful?  It's a layer of chocolate brownie, then a peanut butter "brownie" and then it's all topped with caramel…served WARM!  Doesn't it sound perfect? As soon as I heard about it,  I immediately knew that I was going to have to try it.
I was on a mission for it the second I entered The Land Pavilion at Epcot. When I entered Sunshine Seasons, I headed towards the bakery section where I immediately saw the treat I was searching for. I requested one and it was served to me from a warming container.
Now…one thing I'm going to suggest…make sure that the treat comes with caramel on top!  When the Cast Member handed me mine, it was just the brownie…no caramel. Luckily while I was paying, another Cast Member saw there was no caramel on top and quickly ran to the back to liberally coat the dessert with the topping.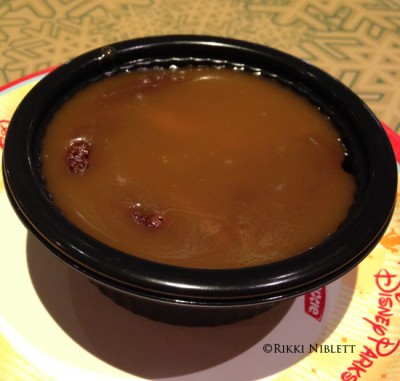 I found a seat and anxiously dug in…and oh my goodness…
This was the real deal. It was gooey, rich, decadent, and sweet. It was the perfect combination of chocolate, peanut butter, and caramel flavors; they all just melded so perfect together.  Honestly, for a chocolate/peanut butter-aholic, it doesn't get much better than this! I'm absolutely craving one of these bad boys right now.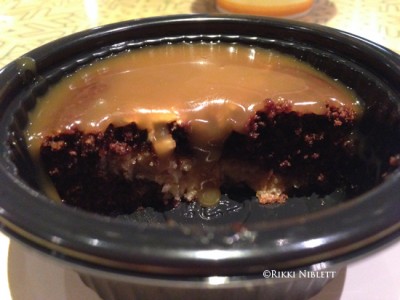 It seems so simple and it is, which is what makes it a great snack!
So the next time you visit Sunshine Seasons, whether you are passing by after riding Soarin', grabbing dinner, or just cooling off in the air conditioning, if your sweet tooth is calling, run, don't walk to the bakery counter and make sure you pick up the Peanut Butter Brownie!
Does this sound like a treat you would grab next time you're at Sunshine Seasons?
Incoming search terms:
disney world warm peanut butter brownie sunshine
disney world warm peanut brownie sunshine